The Best iPhone 8 Deal From Every Major Wireless Provider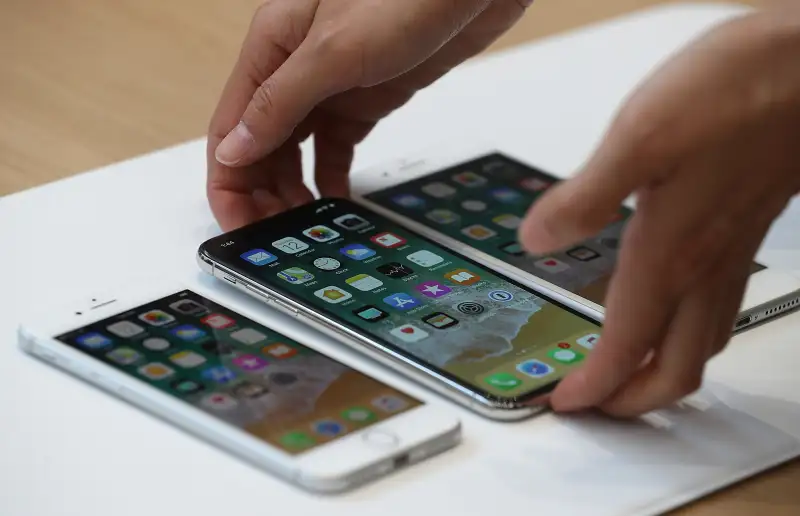 Justin Sullivan—Getty Images
The retail price for the new iPhone 8, which will be released on September 22 and is currently available for pre-order, starts at $699.
But that new iPhone could be free with a new promotion from Sprint. The other three major wireless providers have iPhone 8 deals too, including $300 credits for eligible trade-ins.
Sprint
With Sprint's new deal, customers can purchase an iPhone 8 64GB for $0 when trading in an eligible phone—specifically, the iPhone 7, iPhone 7 Plus, Samsung Galaxy S8, Samsung Galaxy S8+, or Samsung Galaxy Note8—and signing up for an 18-month Sprint Flex lease and wireless plan. (Sprint hasn't yet announced any deals or promotions for the new iPhone X, which starts at a whopping $999 and won't be available until November.)
Sprint says the monthly lease price for the iPhone 8 is normally $29.17 per month. But that charge will be credited back in full for qualified customers. Sprint also warns that if you cancel before the 18-month lease term is up, the full balance is due.
If you don't have one of the eligible phones mentioned above, you might still be able to get a deal on the iPhone 8 from Sprint. When you trade in fairly new smartphones such as the iPhone 6, iPhone 6s, Samsung Galaxy S7, or Moto Z Play, the normal lease price for the iPhone 8 is now being cut in half by Sprint—so, $14.58 per month, rather than $29.17.
Sprint's unlimited talk, text, and data plans are among the cheapest in the wireless industry: A plan with one phone costs $50 per month during a limited-time promotion, and a plan for four or five phones costs only $90 per month. Taxes and fees are additional. Sprint is waiving the usual $30 activation fee for orders online or over the phone too.
Before jumping over to Sprint, however, be warned that users often complain that its service and reliability is worse than AT&T and Verizon.
Other wireless providers are rolling out iPhone 8 promotions, too.
AT&T
AT&T has a few different new deals, including a $300 credit if you're trading in an iPhone 7 Plus. Alternately, you can get a $200 credit when trading in some other devices. Go to tradein.att.com or an AT&T store to find out exactly how much your trade-in is worth. The provider also has a buy-one, get-one-free deal on the iPhone 8 if you sign up or already subscribe for the company's DirecTV or U-Verse TV service.
Verizon
Verizon gives a $300 credit for iPhone 8 purchases with a trade-in of 11 different high-end smartphones, including the iPhone 7, iPhone 7 Plus, iPhone 6s, Moto Z2 Force, Galaxy S8, Galaxy S7, and LG G6. You can also get a $200 credit for trade-ins of devices such as the iPhone 6, iPhone SE, Galaxy S6, and Moto Z, or $100 for swapping in your old iPhone 5, iPhone 5c, iPhone 5s, Galaxy S5, or HTC 10. Check out all the details here.
T-Mobile
T-Mobile offers a $300 credit on the iPhone 8 and iPhone 8 Plus with eligible trade-ins, which include the iPhone 7, iPhone 7 Plus, iPhone 6s, iPhone 6s Plus, iPhone 6, or iPhone 6 Plus. T-Mobile notes that trade-ins must be paid off in full to qualify for the $300 credit. A $25 SIM starter kit must be purchased with the new iPhone 8 too, and customers have to pay the full taxes on the new device.