Friday the 13th Is Upon Us, and That Means Killer $13 Tattoo Deals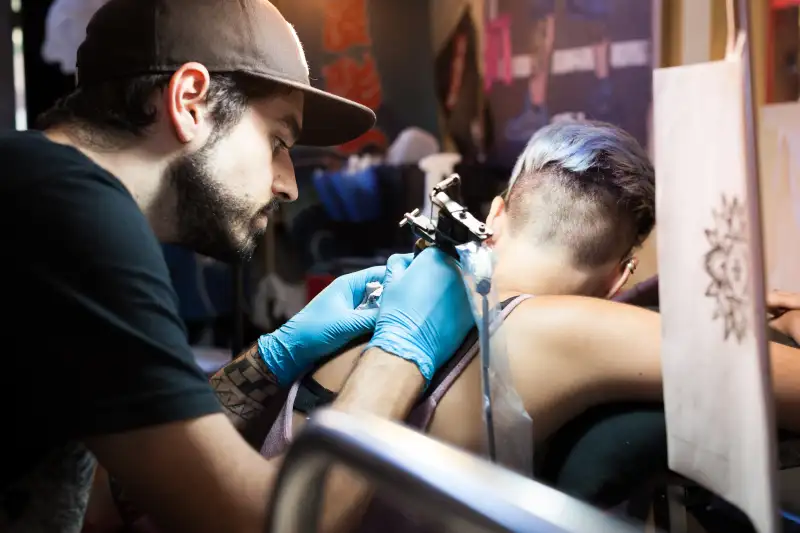 Marco_Piunti—Getty Images
$13 tattoos? It's a deal that sounds too good to be true. But Friday the 13th $13 tattoo deals are a regular occurrence whenever the calendar cooperates. And plenty of tattoo shops around the country have $13 tattoo deals this week, when that most ominous date resurfaces — on Friday, September 13, 2019.
Friday the 13th $13 tattoo deals have proven enormously popular over the years. Perhaps too much so. During our browsing, we haven't found quite as many $13 tattoo specials advertised for Friday, September 13, compared tattoo deals on previous Friday the 13ths.
But there are indeed deals available if you know where to look. We've rounded up a bunch of confirmed Friday the 13th tattoo deals around the country below. It's just a random selection, however. There may be more $13 tattoo and piercing deals available in shops near you on Friday, so check out your favorite parlor's website or call up to ask about Friday the 13th specials.
Before you show up at a tattoo shop on Friday expecting to pop in and out after getting a quick $13 tattoo, though, take note of the following. To take advantage of the cheap tattoo prices on Friday, you'll have to select among a limited number of designs (think: small tats, only in black and white, usually involving the #13 or something that's spooky). In all cases, you'll be expected to tip your tattoo artist. In fact, most Friday the 13th $13 tattoo deals actually cost $20 — because a minimum $7 tip is required.
Bring cash too. Most shops with Friday the 13th deals stipulate that the special offers on Friday, September 13, are strictly cash-only transactions. Also, expect long lines (remember: these deals are super popular), so show up extra early or try to pre-register if that option is available.
California Friday the 13th Deals
At Timeless Tattoo in Hollywood, you'll be able to get $13 piercings on a first-come, first-served basis on Friday, September 13.
Meanwhile, the Harley-Davidson in Huntington Beach, California, is hosting a Friday the 13th tattoo marathon, with $20 tattoo deals ($13 plus $7 tip) on a wide range of images. Or, if you elect to get a select Harley-Davidson tattoo, the shop will cover the bill entirely. That's right: You can get a free tattoo.
Georgia Tattoo Deals
Memorial Tattoo in Atlanta is offering a selection of Friday the 13th tattoo deals, priced at $13 each plus $7 tip — cash only. This tattoo shop also has a special Memorial Tattoo T-shirt and tattoo deal priced at $40 (again, cash only).
Illinois Friday the 13th Tattoo Deals
Among the many shops in the Chicago area that have had Friday the 13th $13 tattoo deals in the past, we've been able to confirm that Taylor Street Tattoo and Mark of Excellence have similar deals on Friday, September 13. Expect to pay at least $20 total ($13 plus $7 tip) for a small tattoo from a selection of designs.
Jade Dragon Tattoo, also in Chicago, is offering "basic" piercings for $20 on Friday, September 13.
Kentucky Tattoo Deals
In Louisville, Brother Raven's Tattoos is throwing a Friday the 13th Flash Event, with over tattoo designs that will cost $20 each.
New York Tattoo Deals on Friday the 13th
Daredevil Tattoo in Manhattan's Chinatown neighborhood offers $13 tattoo deals (plus a "lucky" $7 tip) on every Friday the 13th, including Friday, September 13.
Tennessee Friday the 13th Tattoo Specials
The Grace & Glory Tattoo shop in Murfreesboro has a $13 tattoo deal (plus $7 tip) on Friday, September 13, from 10 a.m. to 6 p.m. "All tattoos must be chosen from our flash sheet of pre-drawn designs, all designs will be posted the day of the event," the shop's Facebook page states. "CASH ONLY."
Over in Nashville, the One Drop Ink tattoo parlor has a few Friday the 13th deals on September 13, though you'll pay more than $13. Tattoo specials, which start at 2 p.m., range from $31 and up (get it, $13 in reverse), and piercing are $13 off starting at 4 p.m.
Texas Tattoo Deals
Elm Street Tattoo, in Dallas, always hosts a Friday the 13th Tattoo Marathon whenever Friday the 13th pops up on the calendar. And yes, there's an event on Friday, September 13, when select tattoos will cost you a total of $20 ($13 plus $7 tip). Pre-signups are available for the Friday the 13th tattoo deals, and Elm Street Tattoo expects all of the spots to fill up and sell out quickly.