We Can No Longer Say That Gas Prices Are Cheaper Than They Were Last Year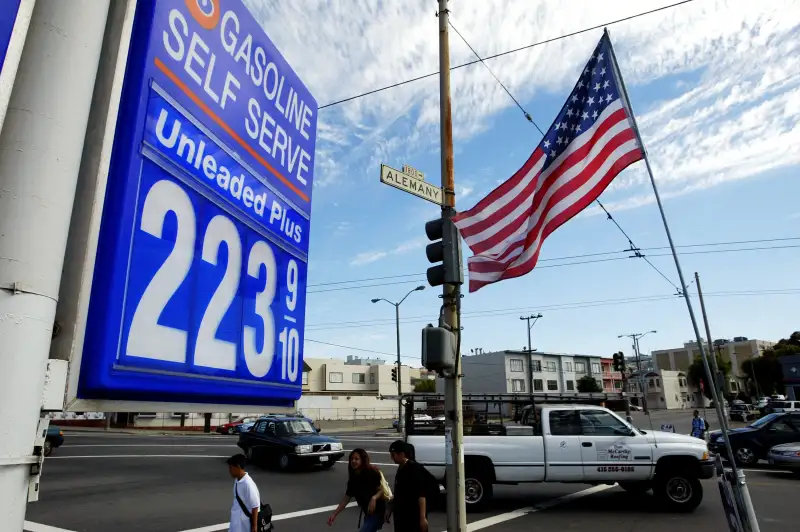 Justin Sullivan—Getty Images
Gas prices have dipped and climbed throughout 2016, reaching a national low of about $1.70 for a gallon of regular in February, then rising through spring and hitting high of $2.40 in June. No matter how prices fluctuated, however, one thing was always consistent in 2016: American drivers, on average, were always paying less at the pump than they were 12 months prior.
But this streak ended on Friday, October 21. According to AAA, the national average as of Friday was $2.23 per gallon—nearly the exact same price ($2.236) of a year ago. The average price for premium gas is now $2.734, which is a tiny smidge higher than one year ago ($2.729).
For most of 2016, gas prices have been significantly cheaper compared to the same period 365 days beforehand. In mid-January, for example, the national average was 16¢ lower than the year before. The price gap from 2015 to 2016 then increased and hovered around 40¢ per gallon from March and into the summer.
Toward the end of August, however, the difference between prices from the corresponding period in 2015 began to shrink. Gas prices for Labor Day 2016 were the cheapest drivers had seen on the holiday since 2004, though the national average was "only" 25¢ lower than the year before. Prices at the pump spiked in several states in September, partly due to a pipeline leak in the Southeast, and the pricing gap between 2015 and 2016 has continued to close since.
Read Next: Why the Lamest Car on the Road Has Become a Hot Seller
Earlier forecasts had called for gas prices to plunge in the U.S. this fall, but instead they've remained fairly flat. The national average has hovered between $2.20 and $2.25 for about a month.
At this time last year, by contrast, gas prices were on a slow, steady decline, dipping from $2.35 in mid-September to $2.19 in late October. (As incredible as it now sounds, at about this time in 2014, American drivers were amazed that gas prices were dropping below $3—which seemed super cheap back then.)
So where do gas prices go from here? As always, that's not entirely clear. Projections called for price decreases through the fall and winter, but oil prices have remained fairly steady, an indication that gas prices may do the same.
Though gas prices today remain very cheap in the historical sense, the fact that drivers are no longer paying less than they were a year ago may make prices at the pump feel like less of a bargain. That could have ramifications on consumer spending at a critical time—within weeks of the annual winter holiday shopping frenzy reaching a peak.
Read Next: Why This Might Be the Beginning of the End for the Toyota Prius
But consumers should keep things in perspective. Today's gas prices are a deal compared to 2012 to 2014, when they averaged more than $3 each year. And even if gas prices today aren't cheaper than they were 12 months ago, compared to 2015 overall drivers are paying much less—perhaps 25¢ less per gallon—for this year as a whole.