One Father's Radical Plan to Fight the Gender Wage Gap For His Daughter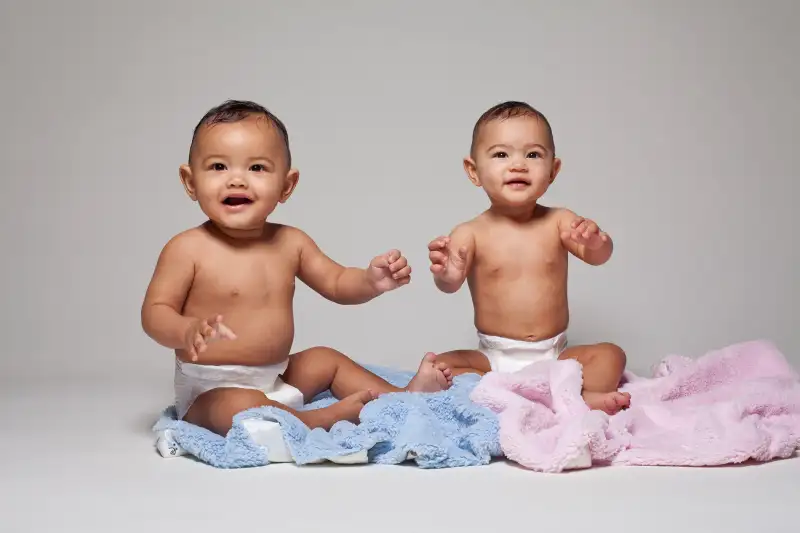 Paul Ford's twins Abe and Ivy have yet to celebrate their fourth birthday. But he's already thinking of 2032, when the two will enter the workforce—at which point Ivy, a girl, will likely make just 78 cents for every dollar that Abe, a boy, makes over the course of his career.
These missing wages—commonly known as the "gender wage gap"—are a stubborn fact of the U.S. labor market. Despite the passage of the Equal Pay Act in 1963, which made it illegal for employers to pay women less than men strictly based on their gender, the average gender wage gap has barely narrowed over the past five decades, from 59 cents on the dollar in 1963, to 78 cents in 2015. It remains even worse for women of color: Black women earn 64 cents for every dollar earned by white men; Hispanic women, just 56 cents.
"Let's say my daughter's starting salary (adjusted for inflation) is something like $80,000," Ford writes in a piece for Elle's September issue, published online Tuesday. "Further adjusted for inflation, getting out into 2070 or so, we're looking at somewhere between $1 million and $3 million of lost wages for her, at least according to my spreadsheets."
Ford, a prominent technology writer and entrepreneur whose Bloomberg Business Week cover story on writing computer code received widespread attention early this summer, despairs that the wage gap is likely to remain in part because of the career sacrifices women tend to make in order to bear children: moving to part-time work, choosing family-friendly industries (which tend to pay less), and taking time off from the workforce altogether.
Ford says he and his wife, Maureen, witnessed this effect firsthand: The leading breadwinner in the couple when they met at age 30, Maureen is now struggling to re-enter the construction industry after taking time off to care for the twins (she and Ford decided they couldn't afford double daycare). As Ford points out in his article, the World Economic Forum is thinking we may see gender equality in the workplace around 2095. Maybe.
But here's where things get interesting. Unlike many who have tussled with the unfortunate reality of the wage gap over the years, Ford is proposing a concrete, if highly personalized, solution. As he outlines in Elle, Ford plans to save as much as $3 million to compensate his daughter for the wages that she'll theoretically miss out on because of her gender. He is, as he puts it, "purchasing her equality." With her lost wages restored, Ford explains, Ivy will have the freedom to "take more risks, to schedule her own life, to find balance between her private and professional lives."
Ford isn't yet sure how he'll get all the way to $3 million or how he'll structure the fund. ("Perhaps it could be set up to disburse 25 percent on top of her salary, once a month...Or maybe it's better to just make it a plain old trust, let her have the whole lump sum when she reaches a certain age—35?") But the idea is clear: Rather than just tell his daughter that she can be and do whatever she wants when she grows up, Ford wants to ensure it.
Many readers will note that the plan has some logical flaws, some of which Ford attempts to address directly. What if Ivy doesn't want to have children? (Then she'll be sitting on a nice little nest egg, he replies.) What if Abe becomes the primary caretaker in his family? (Without a ticking biological clock, he can wait until he's 50 to have a kid.) Won't Abe be jealous? (Yeah, probably.) What if Abe is poor and Ivy is rich? (Hopefully Ivy will share with her brother.) And what if Ivy becomes a heroin addict or joins a cult and gives it all her money? (Well, that wouldn't be good...let's hope Ivy doesn't do that.)
Many, on Money.com and elsewhere, are likely to raise further objections. But there is one thing to be said for Ford's idea: As he notes, the "Of course I'm a feminist; I have a daughter!" claim of many fathers is an easy but empty response to gender bias and inequality. Ford may have chosen an imperfect response of his own, but at least he's putting his money where his mouth is.
(And while we wait for these issues to be addressed more broadly, here are 5 strategies women can use to close the pay gap for themselves, a reminder that women in certain fields tend to out-earn their male counterparts, and a list of the 25 careers with the smallest wage gaps for women.)