This Feature Instantly Makes Your Home Worth More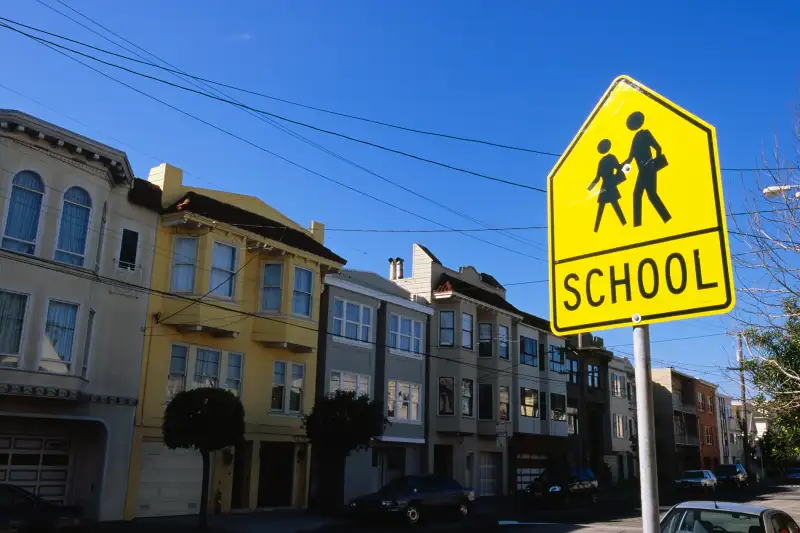 If you own a house in a good school district, it might pay off in more than the value to your child's education.
Homes within the boundaries of highly-rated public school districts are about 49% more expensive than the national median price of $269,000, according to a report released Wednesday from Realtor.com. They're also 77% more expensive than homes located within lower-ranked school districts, which have a median price of $225,000.
In its analysis, Realtor.com compared homes in districts with a 9 or 10 rating on GreatSchools.org to those in districts rated 6 or less. The researchers also looked at the premium good schools fetched in their local markets. Houses within the Beverly Hills United School District enjoyed the highest school premium relative to their neighbors: In this district, which has a 9 rating, homes sold for about 689% more—at a median price of $3.8 million—than other homes in Los Angeles County, at about $550,000.
Beverly Hills is followed by homes in Texas's Highland Park Independent School District, where prices are about 632% higher than in the rest of Dallas county. Homes within the borders of Kenilworth School District 38, in Cook County, Ill., are about 606% more expensive than those in the rest of the county.
Read More: Why You Should Think About Refinancing Your Mortgage (Again)
"It's common knowledge that buyers are often willing to pay a premium for a home in a strong school district," Javier Vivas, research analyst for realtor.com, said in a statement. "Our analysis quantifies just how good it is to be a seller in these areas."
Properties within above-average school districts also sell, on average, eight days faster than homes located in below-average school districts. They also sell about four days faster than the national average of 62 days.
It's no surprise that educational quality is an important consideration for many prospective homeowners. Indeed, the report shows that homes located in highly rated school districts are viewed an average of 26% more than the typical home—and about 42% more than homes in areas with below-average schools.
Rocky River City School District in Cuyahoga County, Ohio, ranks as the district with the highest demand for homes. Listings in the suburban Cleveland school district get 2.8 times more views than other areas in the same county. The second-most popular school district is Clear Creek Independent School District in Harris County, Tex., which gets 2.2 times as many listing views as the rest of the county.
"While highly ranked school districts in these markets have pushed home prices higher than their surrounding areas, the majority of these high demand markets are relatively affordable when compared to the national median, which is a big factor contributing to their popularity," Vivas said.