Housing Market Slowdown: Only 1% of Homes Have Changed Ownership This Year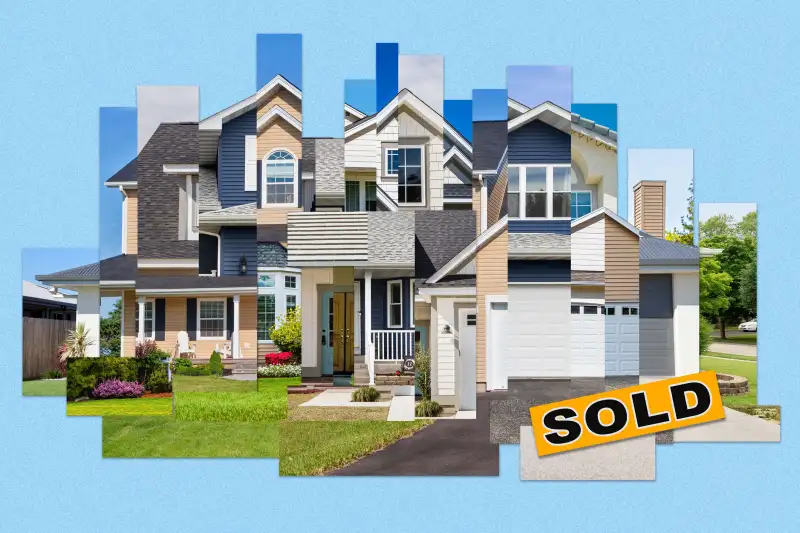 Vanessa Garcia / Money; Getty Images
There's a massive shortage of houses for sale this year, and buyers are struggling.
New data from real estate brokerage Redfin shows that just 1% of homes in the United States changed hands in the first half of this year — a paltry 14 out of every 1,000.
That's the lowest rate in a decade. During the same period in 2019, before the pandemic upended the housing market, 19 out of every 1,000 homes changed ownership. By Redfin's calculations, this means that homebuyers have 28% fewer houses to choose from than they did before the pandemic.
All homes aren't created equal when it comes to turnover. Redfin found that buyers searching for large homes in the suburbs have seen the biggest decrease in their options (the turnover rate dropped 33%) compared to 2019. It's no wonder: These types of homes were extremely popular during the pandemic, when remote work policies allowed urban professionals to leave cities in search of more space at a more affordable price.
On the other hand, the turnover rate for urban condos and townhouses didn't drop nearly as much (16%) between 2019 and 2023.
Mid-sized single family homes (those with 2 or 3 bedrooms) in urban areas have been hardest for buyers to find, according to Redfin. Just 10.6 out of 1,000 changed hands at the beginning of this year, compared to 14.2 out of every 1,000 in 2019. Redfin's experts say these types of homes have always been rare in all types of neighborhoods, because they aren't as profitable for builders and families tend to hold onto them for longer.
Why is it so hard to find a house for sale?
One of the biggest reasons for the huge drop in housing turnover is the state of mortgage rates, which are hovering near 7% today compared with roughly half that number before the pandemic.
Higher mortgage rates mean that many would-be sellers are opting to stay put rather than list their homes and be forced into a mortgage with a rate that's significantly higher what they already have.
And that's a big problem for buyers: Nearly a third of realtors named the inventory shortage as the most important factor preventing their clients from making a home purchase, a recent survey by the National Association of Realtors found.
Falling rates could help ease some of the pain, experts say.
"Mortgage rates dropping closer to 5% would make the biggest dent in the affordability crisis," Redfin deputy chief economist Taylor Marr said in a blog post, "by freeing up some inventory and bringing monthly payments down."
More from Money:
9 Best Home Equity Loans of 2023
Homebuyers Have Lost $60,000 in Purchasing Power in a Year
Housing Market Forecast: Will Home Prices Drop in 2023?