How to Watch the NBA Games Today Online for Free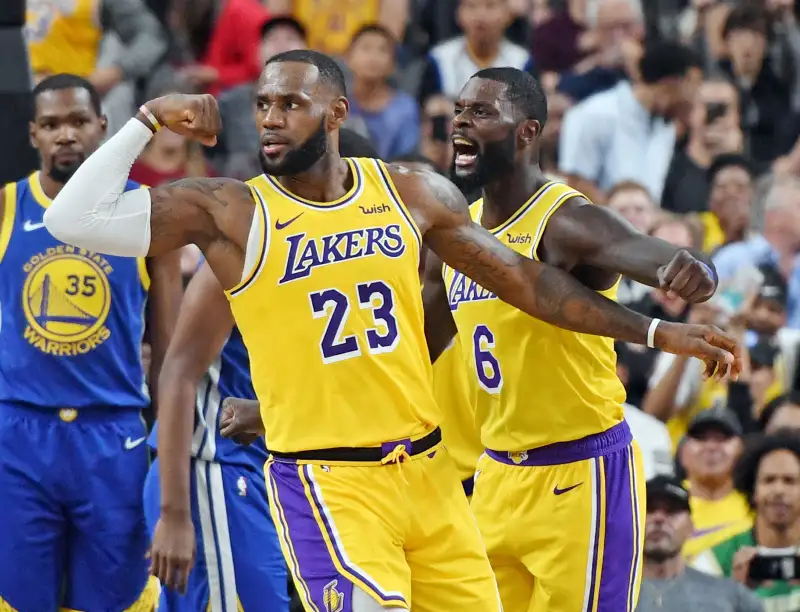 Ethan Miller—Getty Images
Basketball fans, rejoice: There are NBA games today on TV, at long last.
The start of the 2018-2019 season is finally here, with two nationally televised NBA games on Tuesday, October 16: Philadelphia 76ers vs. Boston Celtics, and Oklahoma City Thunder vs. Golden State Warriors. And there are many other NBA games scheduled throughout the week.
Here's all the info you need to watch the NBA games today, and through the early part of the season. And yes, there are strategies you can use to live stream NBA games for free, at least for a brief trial period.
What Channel Are NBA Games On Today?
The NBA game schedule for Tuesday calls for the 76ers vs. Celtics broadcast starting at 8 p.m. ET, followed by the Thunder vs. Warriors at 10:30 p.m. ET. Both opening night NBA games are being broadcast on TNT, and other NBA games this week are being shown nationally on ESPN and NBA TV.
TNT is a pay channel, included with most basic satellite and cable TV packages. If you don't have cable and want to watch the NBA games today online for free, consider signing up for a free trial of a streaming TV service that includes TNT in its packages.
Live streaming TV services work similarly to cable, in that you get a bundle of channels for one monthly price, with the main difference being that streaming customers watch online with any device they like — tablet, laptop, connected TV, and so on. Streaming TV prices are generally lower than cable, and come with fewer fees and more reasonable customer service; for one thing, you can cancel streaming TV online, whereas cable companies generally require you to call (and wait on hold) if you want to cancel.
The streaming TV services FuboTV, Hulu Live, DirecTV Now, Sling TV, PlayStation Vue, and YouTube TV all include TNT in their basic packages. The prices for these services start at $25 to $45 per month, but new subscribers can watch the NBA games online for free during a free trial period that lasts about a week.
What Is the Best Streaming TV Service to Watch the NBA?
TNT is one of several pay channels televising NBA games this season, and the channels included with streaming TV packages can vary. So figuring out the best streaming TV service for you depends on how much NBA action you hope to watch, which NBA team's games you absolutely must see, and how much you're willing to pay.
Here's a look at the NBA game schedule of nationally televised games throughout week one of the 2018-2019 NBA season. As you can see below, the season's first three games for the Los Angeles Lakers — who welcomed superstar LeBron James to the team this year — are being televised nationally:
Tuesday, October 16
• Philadelphia 76ers vs. Boston Celtics, 8 p.m. ET on TNT
• Oklahoma City Thunder vs. Golden State Warriors, 10:30 p.m. ET on TNT
Wednesday, October 17
• New Orleans Pelicans vs. Houston Rockets, 8 p.m. ET on ESPN
• Dallas Mavericks vs. Phoenix Suns, 10:30 p.m. ET on ESPN
Thursday, October 18
• Chicago Bulls vs. Philadelphia 76ers, 8 p.m. ET on TNT
• Los Angeles Lakers vs. Portland Trailblazers, 10:30 p.m. ET on TNT
Friday, October 19
• Boston Celtics vs. Toronto Raptors, 8 p.m. ET on ESPN
• Golden State Warriors vs. Utah Jazz, 10:30 p.m. ET on ESPN
Saturday, October 20
• Toronto Raptors vs. Washington Wizards, 7 p.m. ET on NBA TV
• Houston Rockets vs. Los Angeles Lakers, 10:30 p.m. ET on ESPN
Sunday, October 21
• Houston Rockets vs. Los Angeles Clippers, 9 p.m. ET on NBA TV
Monday, October 22
• Orlando Magic vs. Boston Celtics, 7:30 p.m. ET on NBA TV
• San Antonio Spurs vs. Los Angeles Lakers, 10:30 p.m. ET on NBA TV
In addition to the nationally-broadcast NBA games highlighted above, all other NBA games are broadcast on regional sports networks available in different parts of the country. So if you're a fan hoping to use a streaming TV service to watch the local NBA team, you must check and see if the package includes the regional sports network with rights to air the games.
For example, Hulu Live packages include NBC Sports Boston for streaming customers in Massachusetts and New England, so they have access to local broadcasts of Boston Celtics games. In Tennessee, Hulu Live customers get the Fox Sports Southeast channel, which broadcasts Memphis Grizzlies games. In the greater New York metropolitan area, Hulu Live packages come with YES, which airs Brooklyn Nets games.
These are just a few examples. Before subscribing to any live streaming TV service, check what channels are included and whether or not you'll be able to watch your favorite NBA team's games.
As for what national channels televising NBA games are included with basic live streaming TV packages, here's the rundown:
DirecTV Now:
ESPN, NBA TV, TNT
FuboTV:
NBA TV, TNT
Hulu Live:
ESPN, TNT
Sling TV:
ESPN, TNT
PlayStation Vue:
ESPN, TNT (and NBA TV with $5 per month upgraded package)
YouTube TV:
ESPN, NBA TV, TNT
How to Watch Even More NBA Games
You should be able to watch tons of NBA games with a basic streaming or cable TV package. But these services won't let you watch every NBA game.
If you want to watch NBA games that aren't televised nationally or on your regional sports network, check out NBA League Pass. A variety of options are available, ranging from the NBA League Pass Premium (showing all teams, commercial-free, from $39.99 per month) to a single NBA game ($6.99). You can live stream out-of-market NBA games for free with NBA League Pass during a seven-day free trial of FuboTV.
We've included affiliate links into this article. Click here to learn what those are.