Here's How Much Hailey Baldwin's Engagement Ring From Justin Bieber Is Worth, According to Jewelry Experts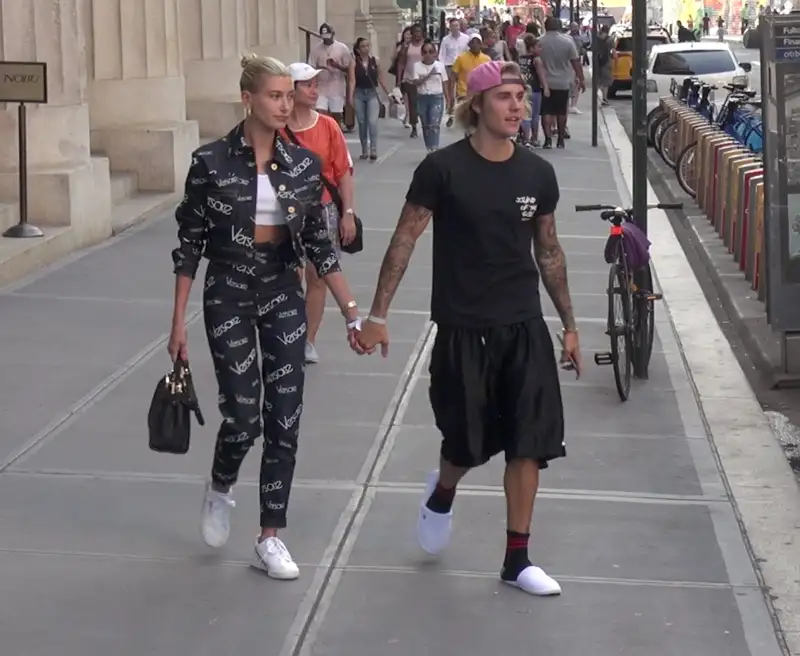 Hollywood To You/Star Max—GC Images
Another week, another young, filthy rich celebrity engagement. This time it's pop star Justin Bieber and model Hailey Baldwin, who reportedly got engaged over the weekend while on a trip to the Bahamas.
There are only a few photos of Baldwin's engagement ring, but those that do exist show a hefty, oval-shaped diamond set on a double band. Diamond and jewelry experts tell Money the ring likely cost hundreds of thousands of dollars — somewhere around $250,000 or higher. The diamond itself is likely between six to eight carats, experts say, and its oval shape has a similar look to an increasingly popular engagement ring look.
"It probably set him back at least a quarter million," said Michael Fried, the CEO of Diamond Pro, a company that helps customers find affordable diamonds, said in an e-mail.
The cost of an engagement ring — or, really, the diamond(s) that come with it — have to do with cut, clarity, color and carat. The six- to eight-carat diamond "is at least G color and VS1 clarity," Benjamin Khordipour, of Estate Diamond Jewelry, said in an email. That means the diamond is nearly colorless, and has a nearly flawless finish to the naked eye. (Khordipour estimated the ring cost around $380,000 — and, if it has a higher quality in color and clarity, around $540,000.)
The oval shape of the diamond has recently become more popular — growing "over four times faster than round stones" in the last year, said Kathryn Money, the vice president of strategy and merchandising at Brilliant Earth, an ethically sourced jewelry company.
Baldwin's engagement ring also shows off another increasingly popular trend — a double band. Game of Thrones star Sophie Turner's engagement ring from singer Joe Jonas has a similar band. And Fried, of Diamond Pro, said he has seen more interest in these bands throughout this year.
"Well, if that's good enough for the Biebs, it must be," Fried said of the band's rising popularity.
Most engagement rings bestowed on the rich and famous are far more expensive than the average cost most Americans shell out. (Take Paris Hilton's 20-carat, $2 million ring.)
The average American spends $6,351 on an engagement ring, according to a Nov. 2017 research from The Knot, which conducts regular studies on the subject. That's more than $1,000 up from the average cost just a few years ago, the site said. Higher spending can be attributed to people waiting until they're older to get engaged, which means they likely have higher incomes than if they were to get engaged several years earlier, according to The Knot. Through advertising and marketing in recent years, companies and jewelers have also seemed to convince average buyers to spend about two-months salary on an engagement ring. (There are cheaper alternatives, however.)
It's hard to imagine cost wasn't much of a factor for Bieber, who has raked in money throughout his career through sold-out tours and record-breaking album sales. Last year, Money determined the 24-year-old singer was the richest person of his age group. Forbes estimated the pop star had a net worth of $83.5 million — the 13th-highest-earning celebrity on the magazine's 2017 iteration of its Celebrity 100 rankings.