5 Live Streaming Sports Services Every Cord Cutter Must Know About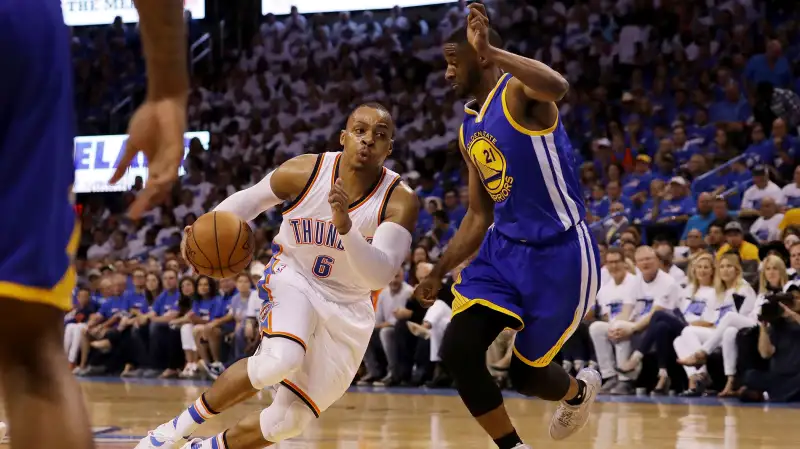 Ronald Martinez—Getty Images
History was made this year by the Golden State Warriors. The team ended the regular season with 73 wins, and Warriors' superstar guard Stephen Curry was elected the league MVP by unanimous vote—neither of which had ever happened previously in NBA history.
This week, however, the Warriors could make history for quite a different reason: Their opponents in the Western Conference Finals, the Oklahoma City Thunder, won Game 1 of the series in Oakland and now lead the matchup 2-1. If the Thunder can figure out how to win two more games—all they have to do is win both of their remaining home games—the Warriors would hold the historically dubious achievement of winning the most regular season games ever before failing to win the NBA title or even getting to the finals.
If you've been watching this potential history in the making, you're probably a cable TV customer. The Thunder-Warriors series is being broadcast on TNT, while the Eastern Conference matchup of the Toronto Raptors vs. the Cleveland Cavaliers is airing exclusively on ESPN. Both, of course, are pay TV channels, which shouldn't surprise anyone given how many big-time sports are partnering with cable rather than free broadcast networks, even if doing so hurts ratings.
Even so, there are ways to stream the NBA playoffs and many other major sporting events, sometimes for little or no cost. Here are some of the streaming services to keep on your radar if you're a sports fan who refuses to get on board with cable TV fees.
Read Next: How to Watch All the TV You Want Without Paying a Cable Bill
TNT Overtime
Curiously, while the TNT channel is only available on TV if you have a monthly pay subscription, the network's related NBA TNT Overtime app allows anyone to stream select playoff games—including all of the Western Conference Finals. (See below for streaming the Eastern Conference Finals.) The NBA Finals, meanwhile, are airing on ABC, which is free if you have an HD antenna, no cable package required.
Sling TV
The basic Sling TV package lets you stream a choice of roughly 20 channels, including ESPN, ESPN 2, and Turner channels such as TBS and TNT, for a flat $20 a month. In mid-April, Sling launched a new service in beta that broadcasts local and national Fox channels, including some Fox Sports channels, which might air NHL, NBA, MLB, and NFL games depending on where you live. That option is also $20 a month, but if you go that way you'll have to pay extra for ESPN. As we've pointed out before, Sling is available for a free seven-day trial if you haven't tested the service in the past.
PlayStation Vue
Free seven-day trials are also available for PlayStation Vue, the streaming service available through the Sony game console. The base PlayStation Vue package costs $30 a month and comes with roughly 55 channels, including two ESPN and Fox Sports channels, plus TBS and TNT.
Yahoo!
Though it's surprisingly hard to find—it took us no fewer than 10 Google searches to find the May schedule—Yahoo! is streaming one Major League Baseball game daily during the 2016 season. In some cases, the game being streamed is supposedly determined by a fan vote, but fans have complained that there apparently is no link to actually vote.
Twitter
For the upcoming NFL season, Twitter is broadcasting 10 Thursday night games. Viewing will be free for everyone, and the games will be simultaneously airing on NBC, CBS, or the NFL network.
Read Next: Guess Who Is to Blame for Fewer Fans Watching Sports on TV
Other Options Coming Soon
Hulu and YouTube both reportedly have streaming subscription packages in the works, and the bundle of channels they'll offer customers will likely have ESPN, Fox Sports channels, or both. While nothing is official, it looks like ESPN is investing in a service that would stream MLB games. And it's probably only a matter of time before Amazon, which bid on the NFL contract ultimately won by Twitter, manages to hop into the sports streaming business.