Health Care Providers Are Pushing Medical Credit Cards — Here's Why You Should Avoid Them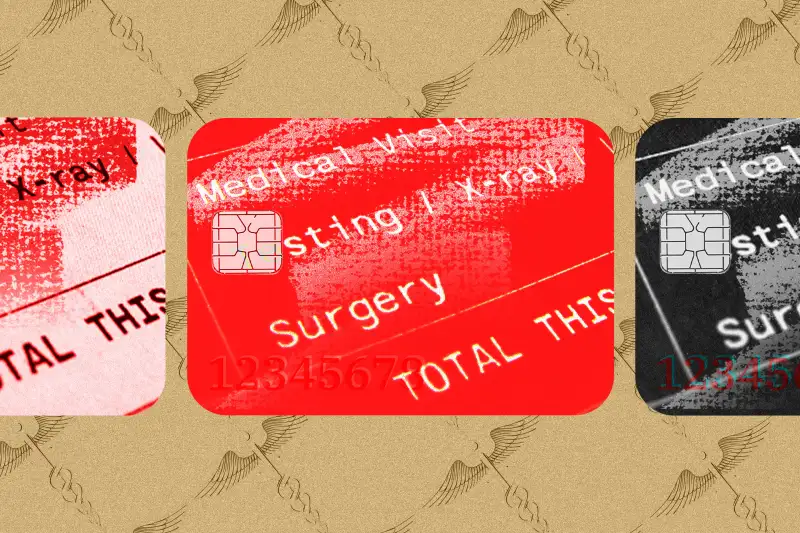 Olive Burd / Money; Getty Images
A hospital visit is hardly ever a comfortable or pleasant experience. Oftentimes, you're drowsy, in pain and generally stressed out. As such, it's typically not a good place for making financial decisions — like signing up for a new credit card.
Medical credit cards, sometimes advertised as health care credit cards, are cards used specifically to pay for medical expenses. You may have received a pitch to sign up for one of these cards during your last visit to the doctor or a health care clinic.
Companies advertise them as a way to pay for medical services not covered by insurance. They're promoted as having more favorable finance options than regular credit cards, such as longer deferred interest periods than normal. And, since they're offered only at health care facilities, they can seem at first like a convenient tool for patients suddenly hit with a big bill.
In recent years, companies like Synchrony Bank (through its subsidiary CareCredit) have been offering health care-specific credit cards in hospitals and doctors' offices to the companies' great success. A 2023 report on medical cards from the federal Consumer Financial Protection Bureau (CFPB) estimates that Americans had spent $23 billion on medical expenses with them between 2018 and 2020, plus an additional $1 billion in deferred interest payments.
For patients with limited access to health insurance, or those whose insurance won't cover their expenses, medical credit cards may seem like an easy way to pay for health-related costs. But consumer advocates say they can exploit patients with high APRs and massive late fees, and they might even be used to nudge patients into getting treatments they don't need. Most important of all, advocates say there are better and more cost-effective ways of coping with medical debts.
Medical credit cards draw scrutiny from the White House
Medical credit cards have become an increasingly popular tool for taking on medical debt. Some 250,000 health care providers are enrolled with CareCredit alone. But these cards are now drawing scrutiny from consumer advocacy groups all the way to the White House.
In early July, the White House published a press release detailing plans to reform health care payments to better protect patients. One of the initiatives is a plan to investigate medical credit cards. To start, the CFPB and several other agencies are releasing a Request for Information to see whether the companies that offer them are acting outside of consumer protection laws.
"Use of [medical credit cards] may complicate insurance coverage and the availability of financial assistance, and consumers may not fully understand the risks associated with these products, leading to higher costs and negative impacts on consumers' financial, physical, and emotional well-being," the press release reads.
Are medical credit cards good for paying off debt?
Patricia Kelmar of the Public Interest Research Group (PIRG) tells Money that medical credit cards are actually being used as a tool to exploit patients rather than help them. Her organization published a press release in early July calling for government action against them.
"[Medical] credit cards are charging much higher than your normal credit cards," Kelmar explains. "The normal credit card range might be 18%. With medical credit cards, we're seeing 27% interest rates. They're very expensive ways to pay for your medical debt."
While their APRs tend to be very high, medical credit cards will often offer an average of six to eight months of 0% interest, making them seem like a tempting option to push off dealing with debt.
As Kelmar details, though, medical card companies tend to aggressively punish missed or incomplete payments. "What ends up happening is that if you miss a payment, the interest goes retroactive," she says. "It can apply to the entire charge, even if you've made payments along the way, and then the late fees are very high; usually higher than what you see in a regular credit card."
For reference, the CFPB says large credit card issuers tend to charge an average $26 late fee. Synchrony Bank's CareCredit medical credit card, one of the most popular of its kind, charges a $41 late fee.
Kelmar says that a major point of concern is that these cards tend to eliminate protections states have in place for medical debt, like those prohibiting coercive reporting or surprise bills for out-of-network services. "The minute you put [medical debt] on a credit card, including 'medical credit cards,' it becomes consumer debt, and you lose those protections," Kelmar explains.
Essentially, from the moment you pay for a service with a medical credit card, the health care provider is no longer a part of the transaction. One consequence of this is that patients lose any leverage they may have had in terms of negotiating lower charges or a payment plan with the health care provider.
The way that patients typically sign up for medical credit cards is also problematic. "Inside a doctor's office after you've heard some troubling news or had a painful procedure is not the time or the place to be making a financial decision," Kelmar says. "There's a level of trust implied that this is a good thing for you because my doctor takes care of you. That's not the case when it comes to medical credit cards."
Some patients say they have felt "pressured by their clinics to enroll in health care credit cards to pay for care that they do not need or want or cannot afford," a report from the Minnesota Attorney General warns. "Patients should remember that clinics have an incentive to aggressively promote these credit cards as a guaranteed way for the clinic to get paid promptly but that the cards may not always be in the patient's best interest."
Regardless of the fine print and potential downsides, these cards have proven popular. A 2021 PIRG report studying bankruptcies in the state of Oregon found that CareCredit was listed as a creditor more frequently than any health care provider in the state; the median debtor owed the company $1,443.
Alternatives ways to deal with medical debt
The big takeaway is that medical credit cards probably aren't the best way to pay off that crushing medical debt. How are the 100 million Americans saddled with medical debt supposed to pay off that debt, then?
First, before strategizing plans to pay off debt, it's best to analyze your medical bill and be an advocate for yourself. PIRG recently released a guide for reading medical bills. Guides like these help patients to understand the cost breakdown of their bill so that you know what your health insurance is and isn't covering. They also give tips on how to dispute items on bills to help save some money.
"Medical billing is complicated, but all the more reason to take a pause," Kelmar says. "You don't have to pay that day. So, you want to make sure you're taking advantage of all the other ways that you can pay the bill, other than submitting it to your insurance or seeing if they'll screen you for some charity care support, or getting yourself enrolled in an insurance plan."
After learning how to parse through a bill and establishing what's your responsibility, then you can work on lowering that bill. The simplest plan, and one that can yield the best-tailored results for each patient's situation, is to just talk with your medical provider about paying off debt over time.
"All along we've been able to pay bills by having a conversation with the hospital billing department and coming up with a payment program that we can meet," Kelmar says. "That keeps the costs down, [with plans often including] zero interest or extremely low interest rates (in general, around 3%), and acknowledges your financial situation."
According to the CFPB, your health care provider could be required to provide financial assistance by law. Non-profit health care facilities — and sometimes even private ones — have to provide reduced fee services under the Affordable Care Act. These programs are aimed to help those without health insurance or those whose insurance doesn't go far enough to suit their needs.
Paying with a medical credit card means paying the credit balance becomes solely your responsibility. Providers are no longer a part of the transaction, meaning you won't be able to negotiate payment plans or dispute items. And, if you've already used a credit card to cover medical expenses, it's wise to resort to time-tested credit debt payment strategies.
For those trying to pay off debt at a lower income level, this might mean having to create a budget plan, changing spending habits and even taking on new streams of income. Those with more financial flexibility can prioritize paying debt off faster by utilizing strategies like putting more money toward the monthly minimum or working through debts from smallest to largest, aka the "Snowball Method."
More from Money:
5 Popular Strategies People Are Using to Escape Credit Card Debt
Hospital Bills Are Confusing and Expensive. Here's How to Advocate for Yourself
Investors Are Building up Their Cash Reserves — Millennials Especially