The 21 Most Valuable Career Skills Now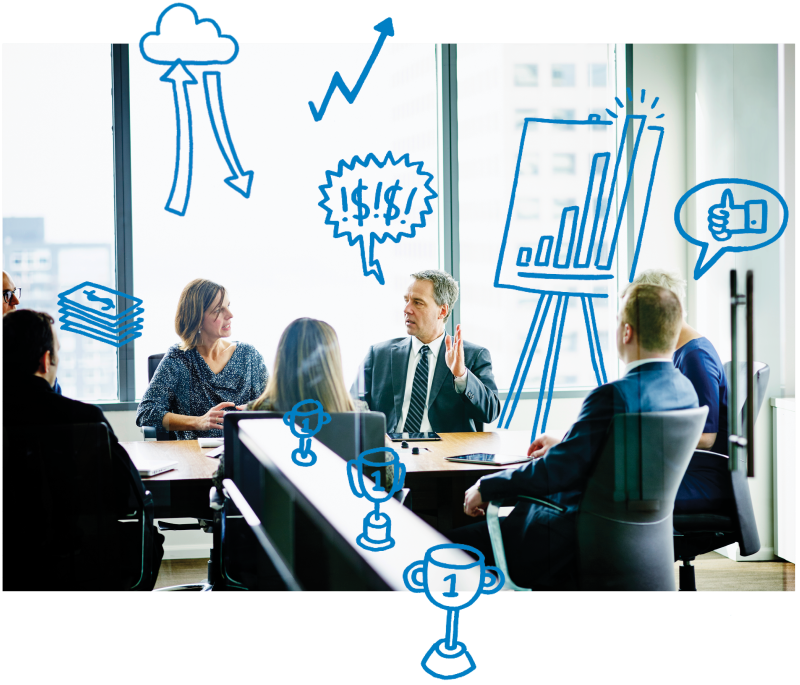 Illustrations by Adam Hayes; Getty Images
In this complex, fast-changing job market, just putting in the hours and being good at what you do may not be enough. You need an edge. And the surest one these days is to possess the skills that are most in demand in your field, that help your employer keep up with the technological, economic, and social forces that are transforming so many industries. The key, of course, is to know exactly what those skills are, how to get them, and what the payoff will be.
To provide that critical insight, Money and compensation data and software company PayScale.com teamed up to develop a unique new analysis of the skills that employers place the highest value on now. Adding this know-how to your arsenal is essential. "You can't remain stagnant," says Lydia Frank, PayScale's editorial director. "You always want to be learning something new; you always want to be advancing." (See more skills coverage from PayScale here.)
The Best Career Skills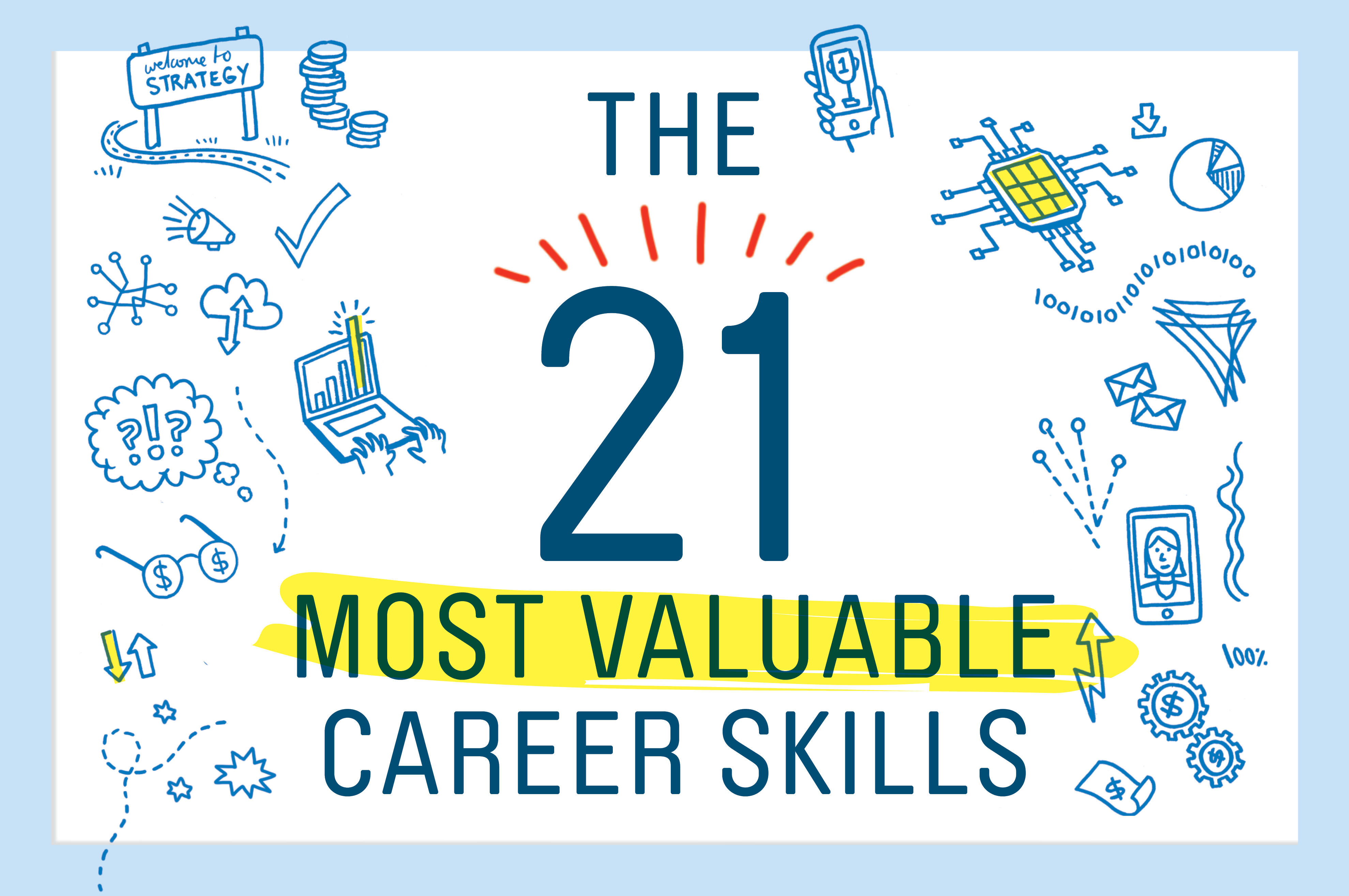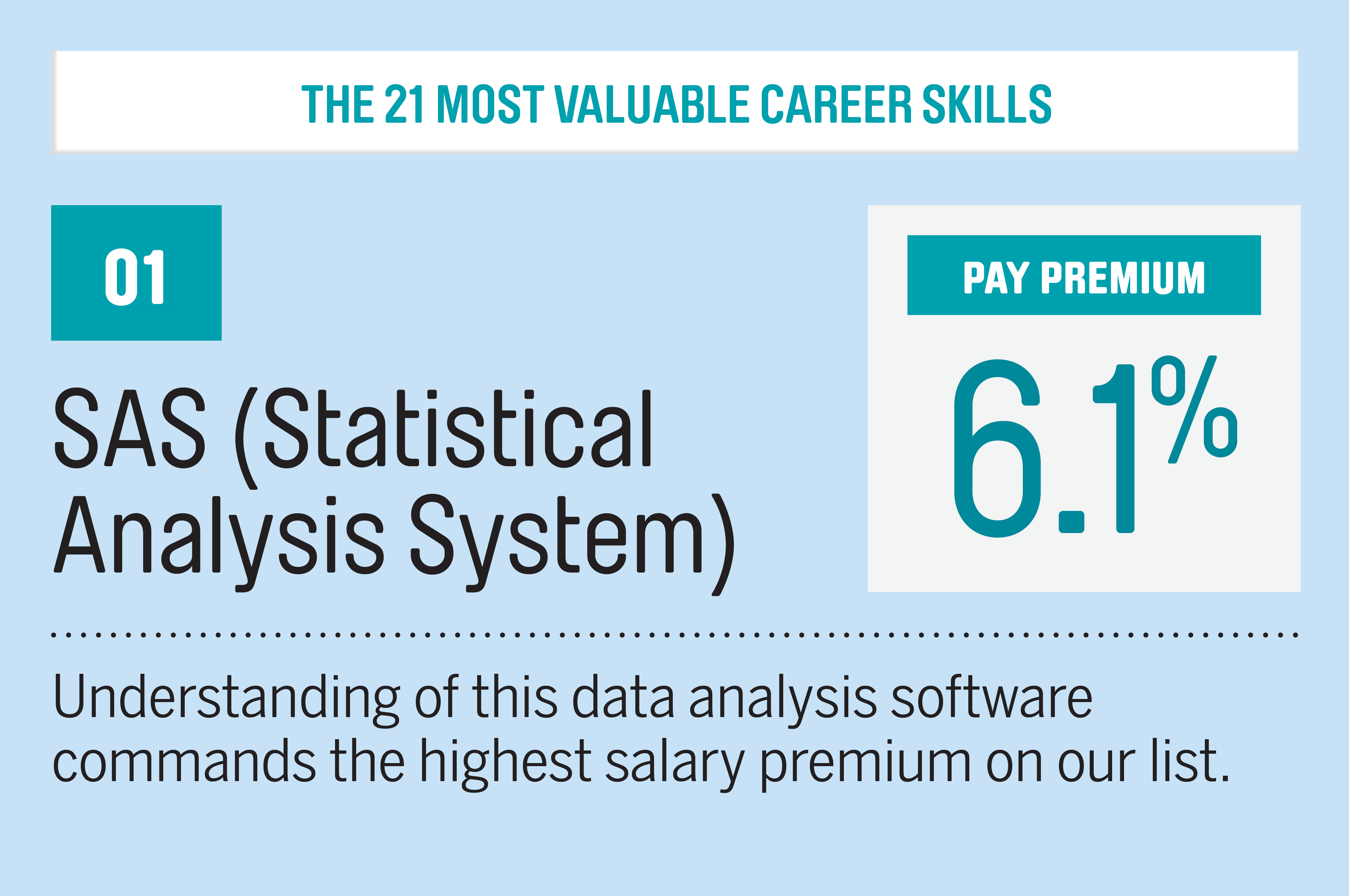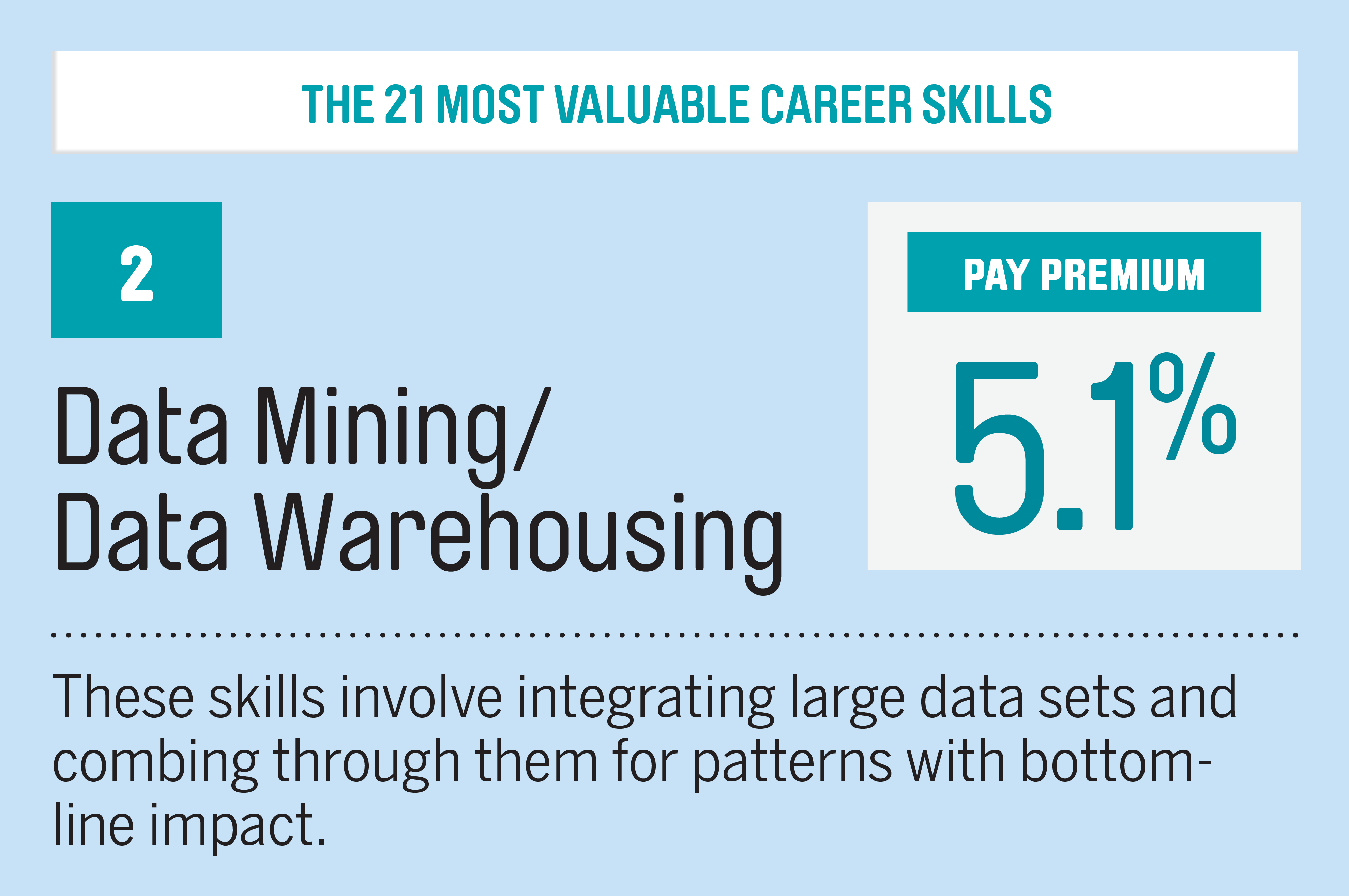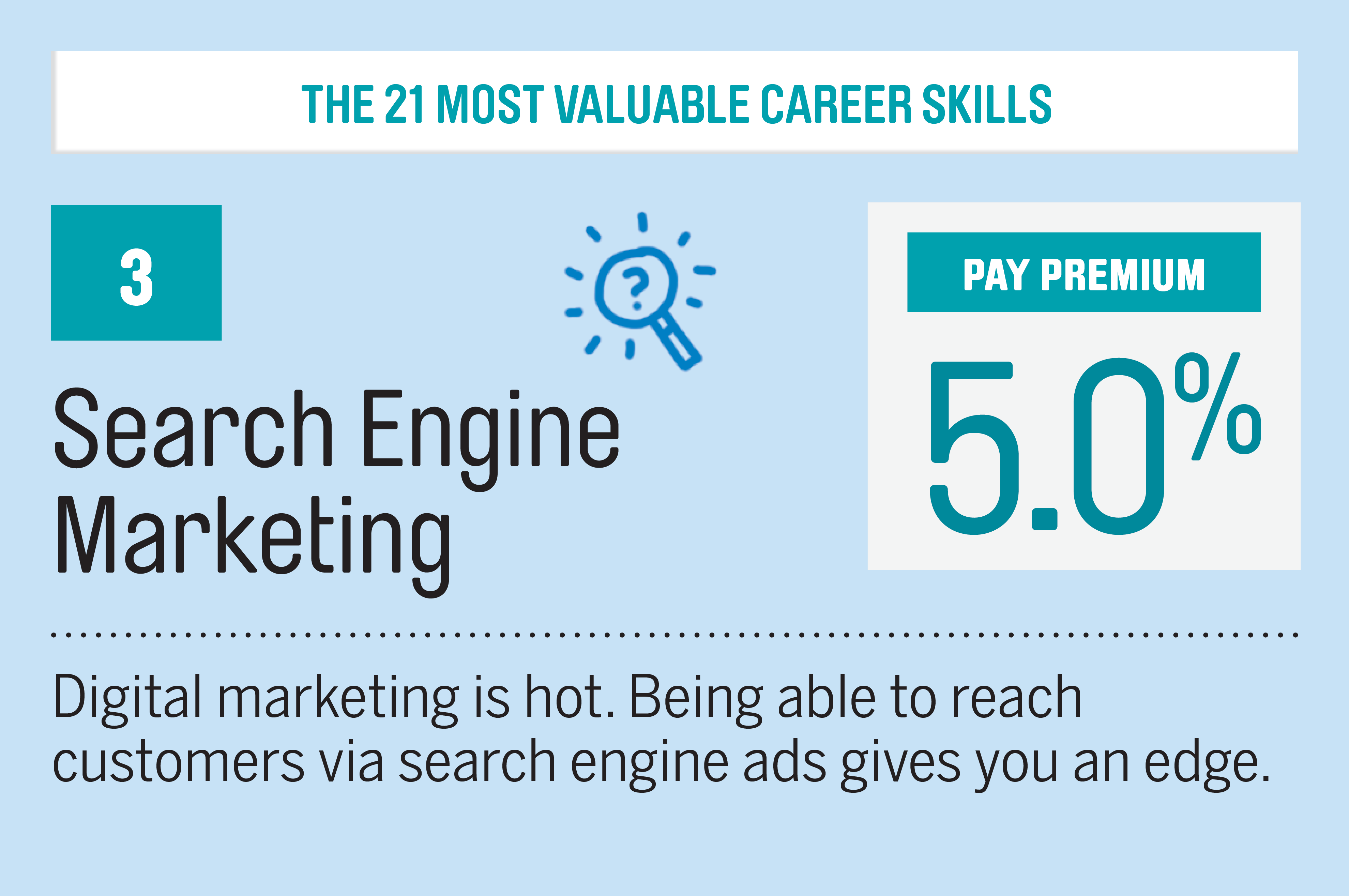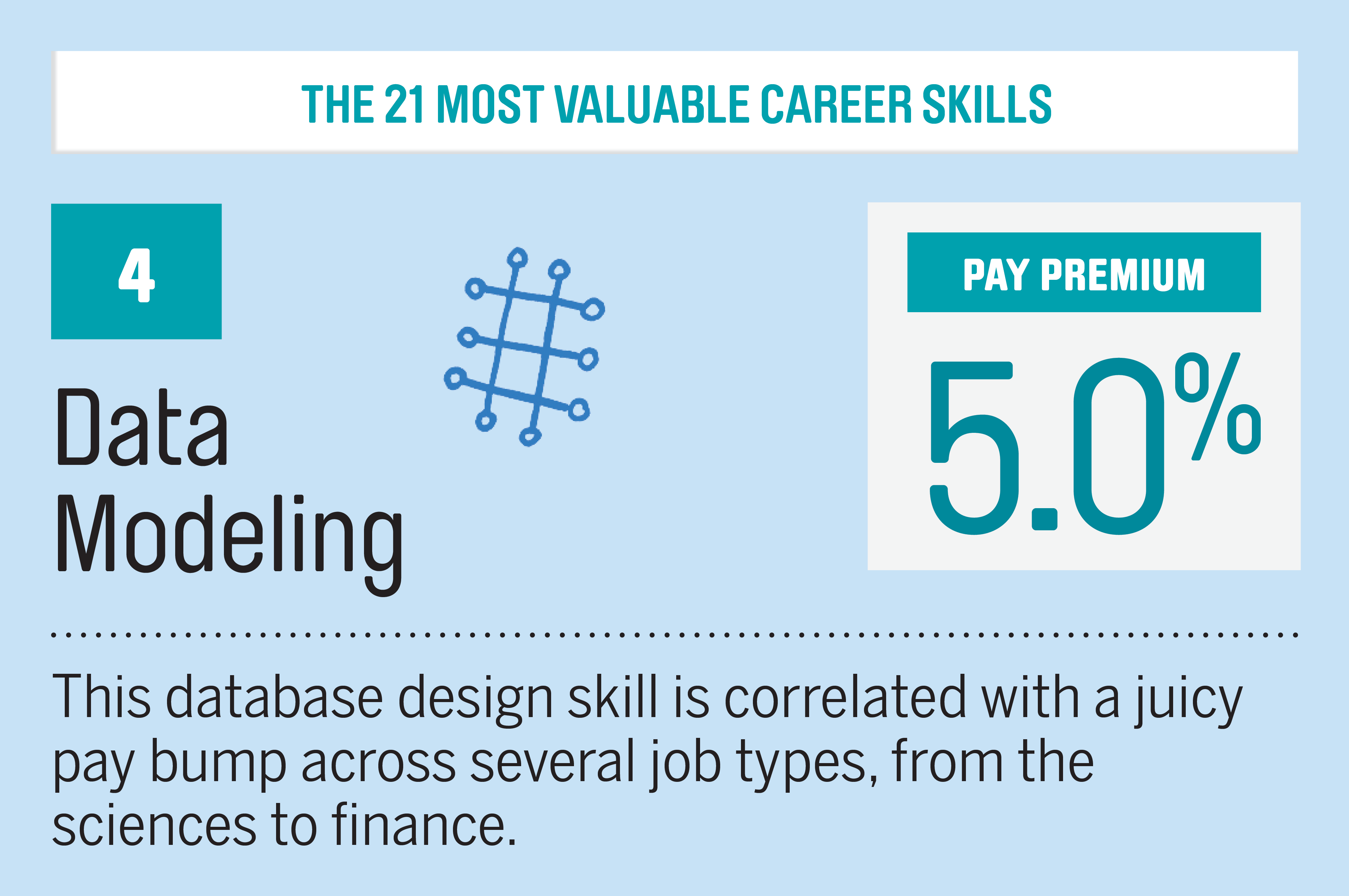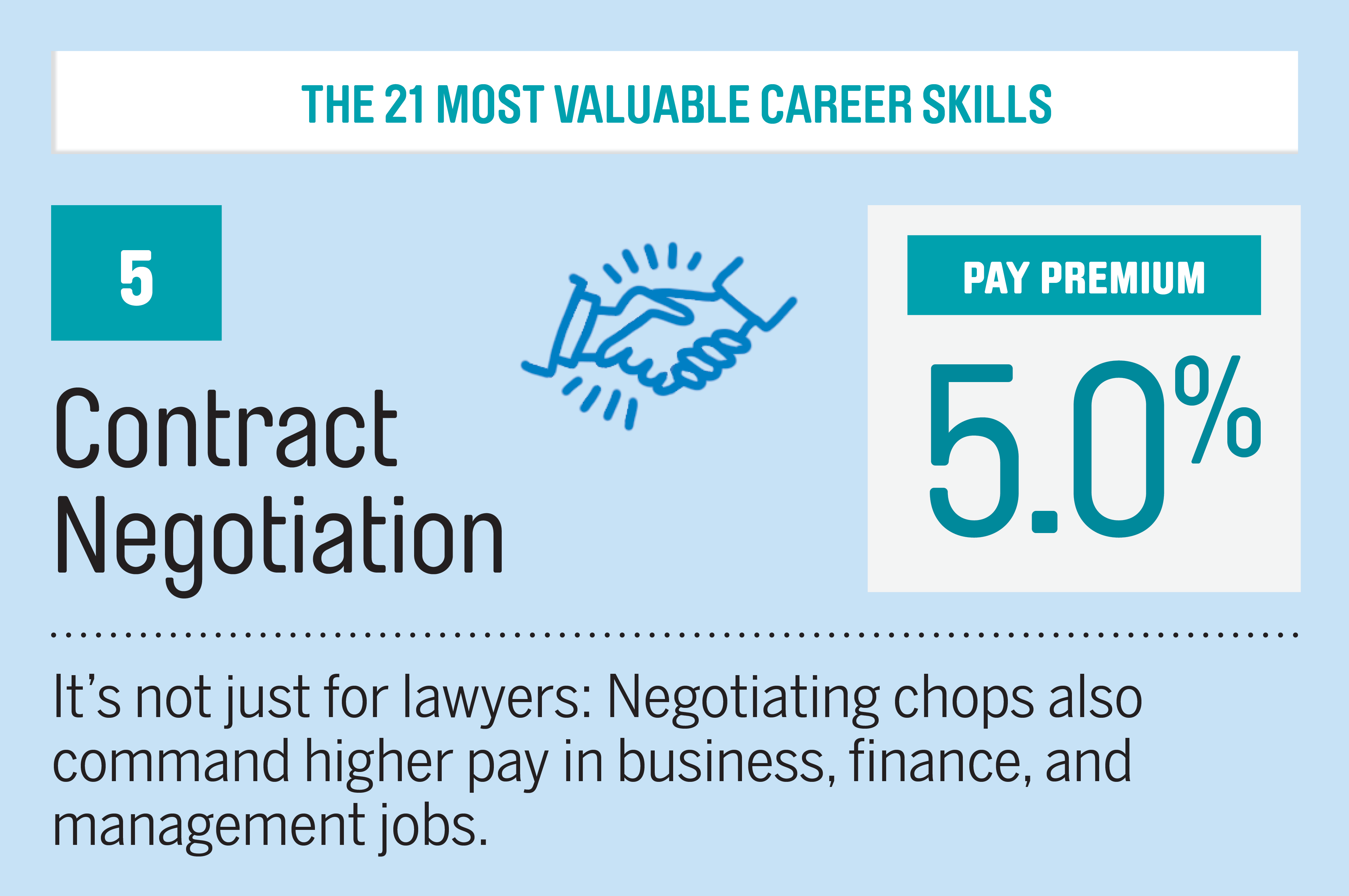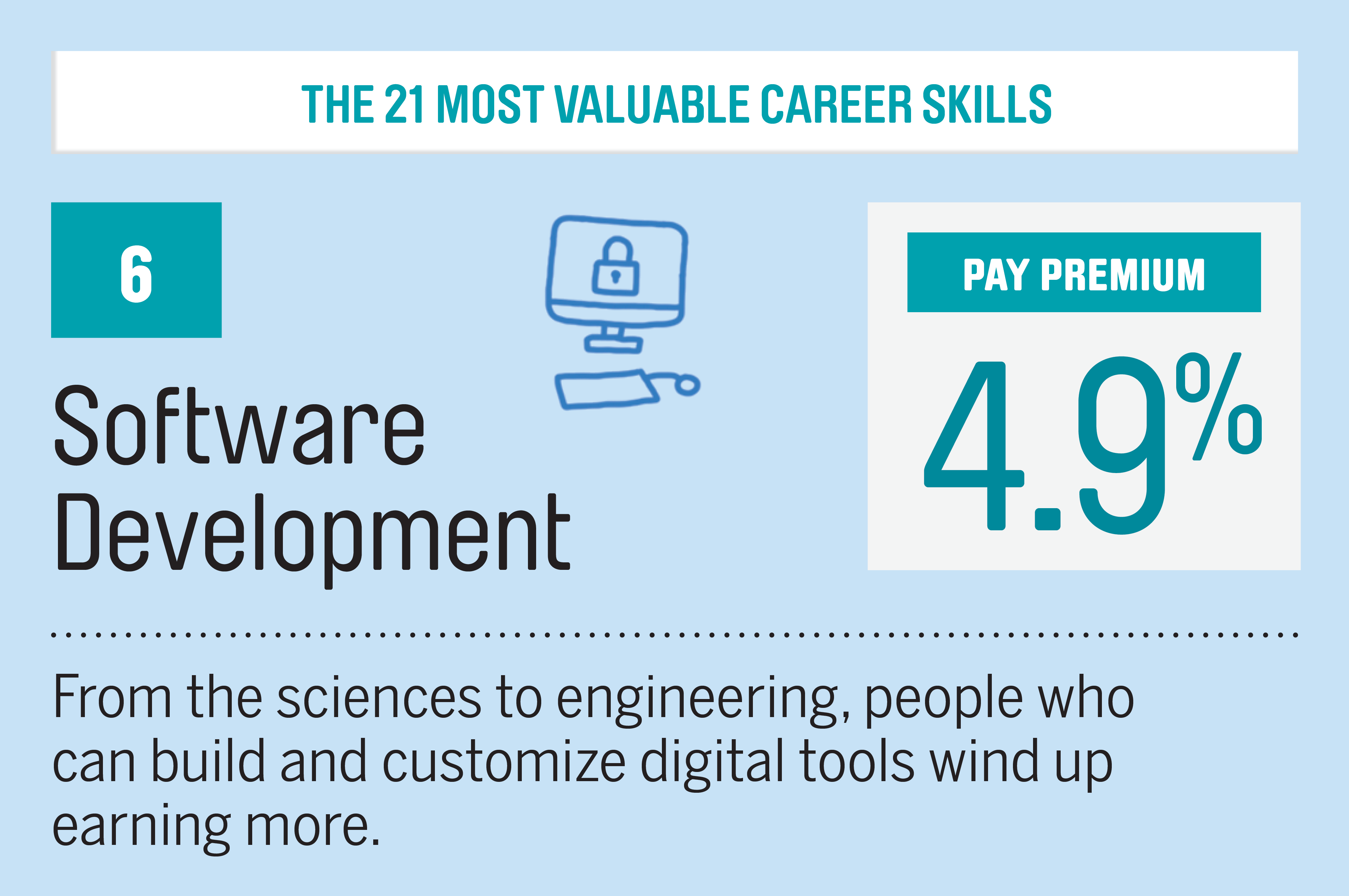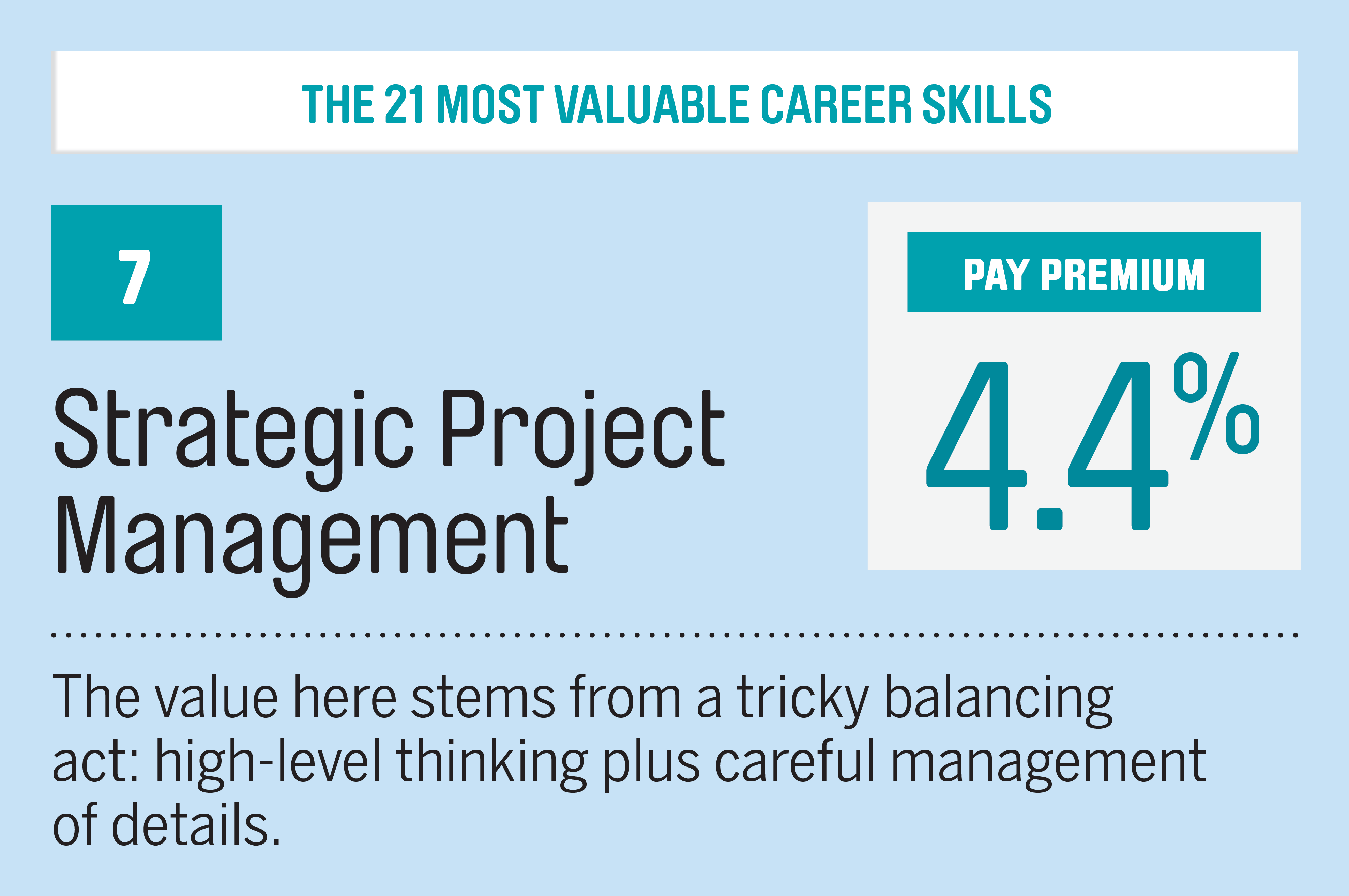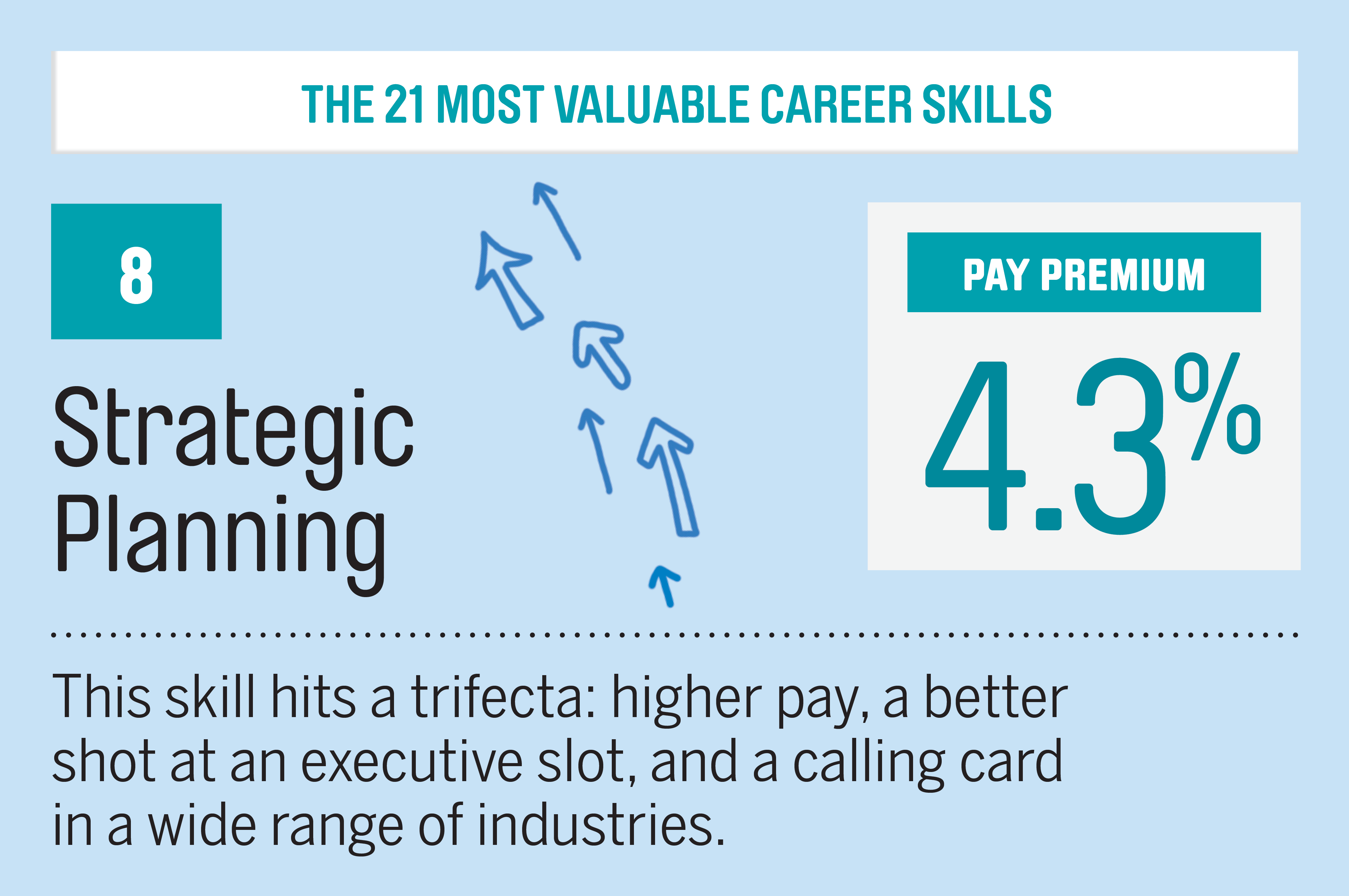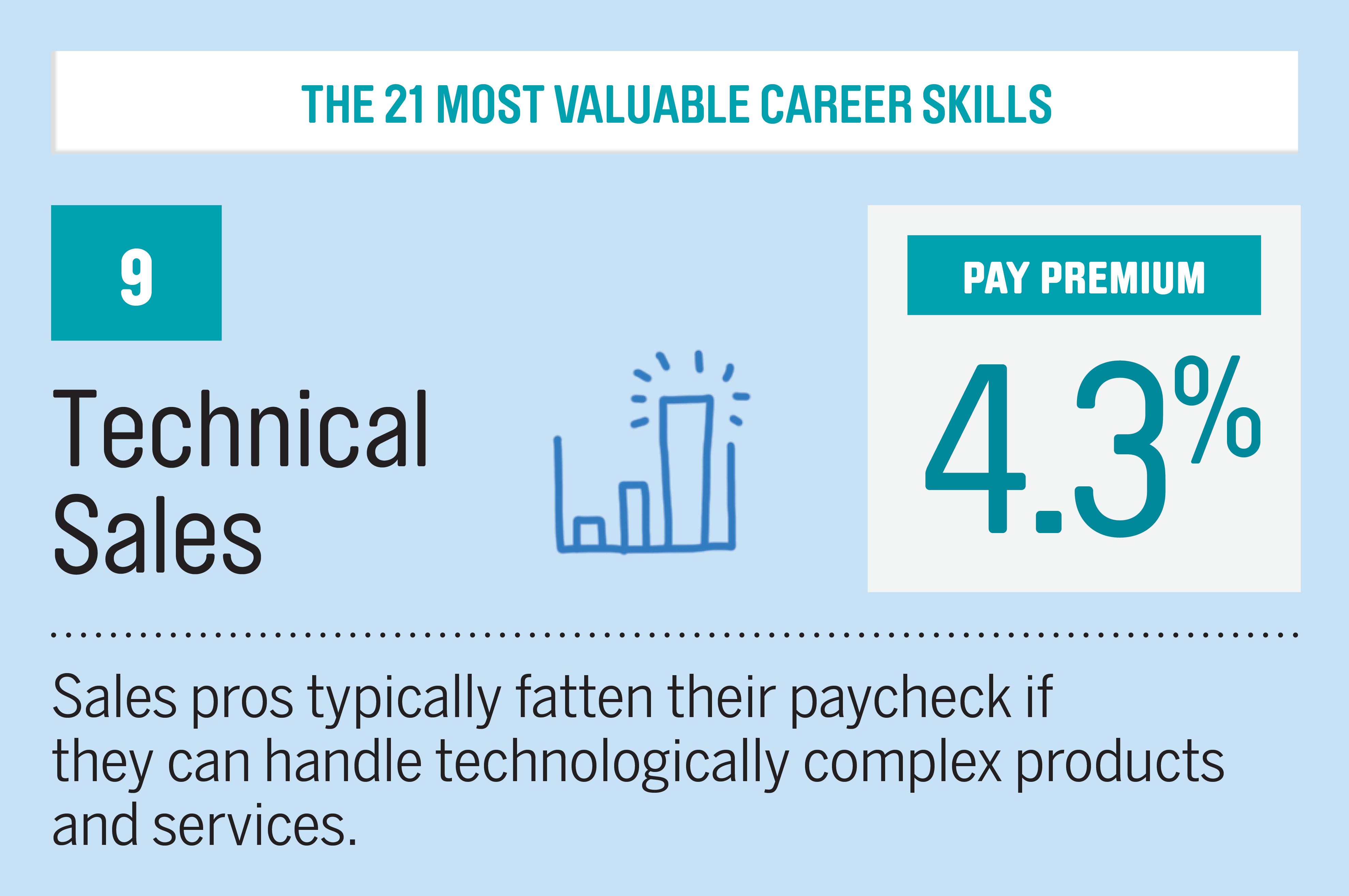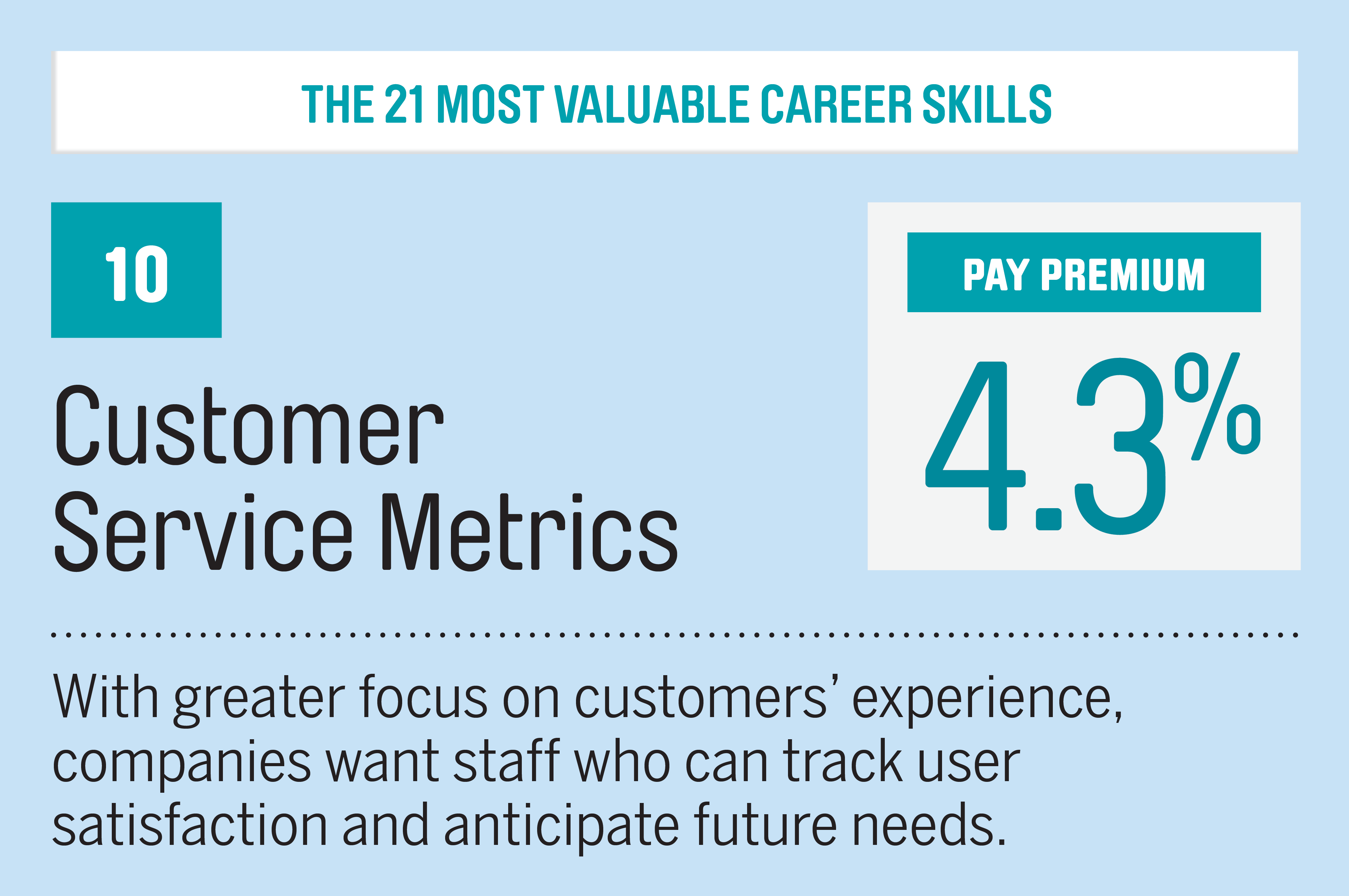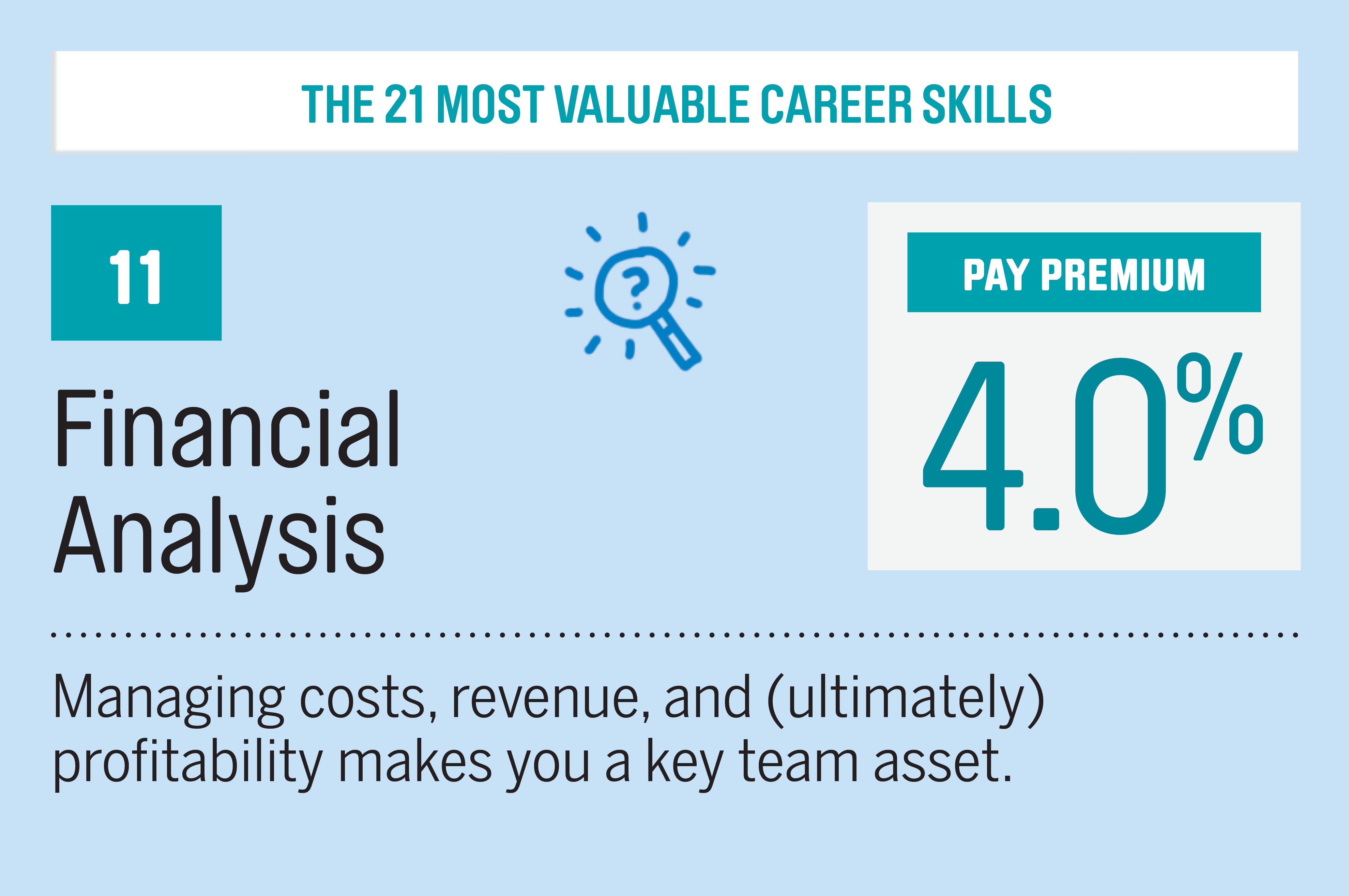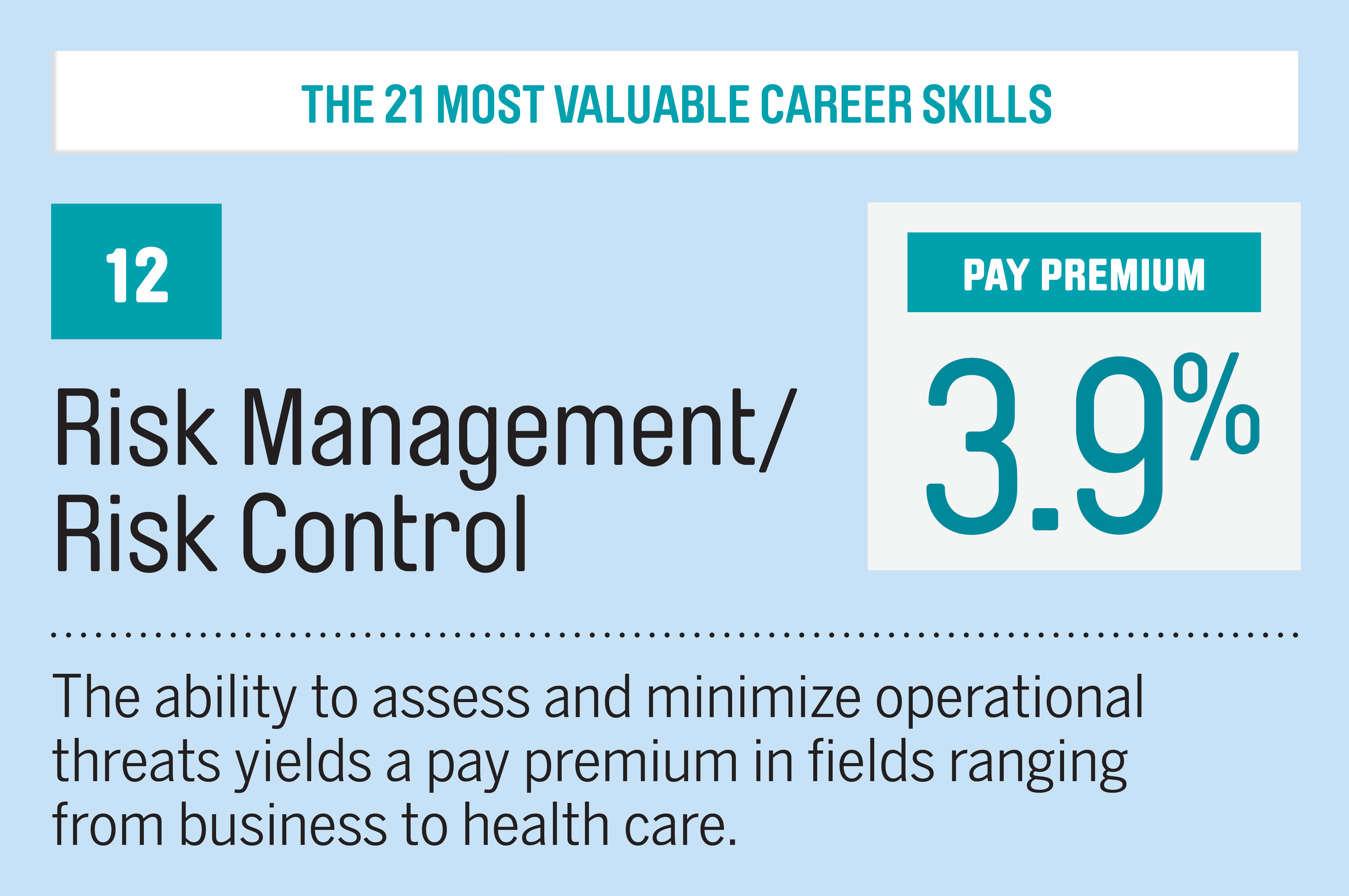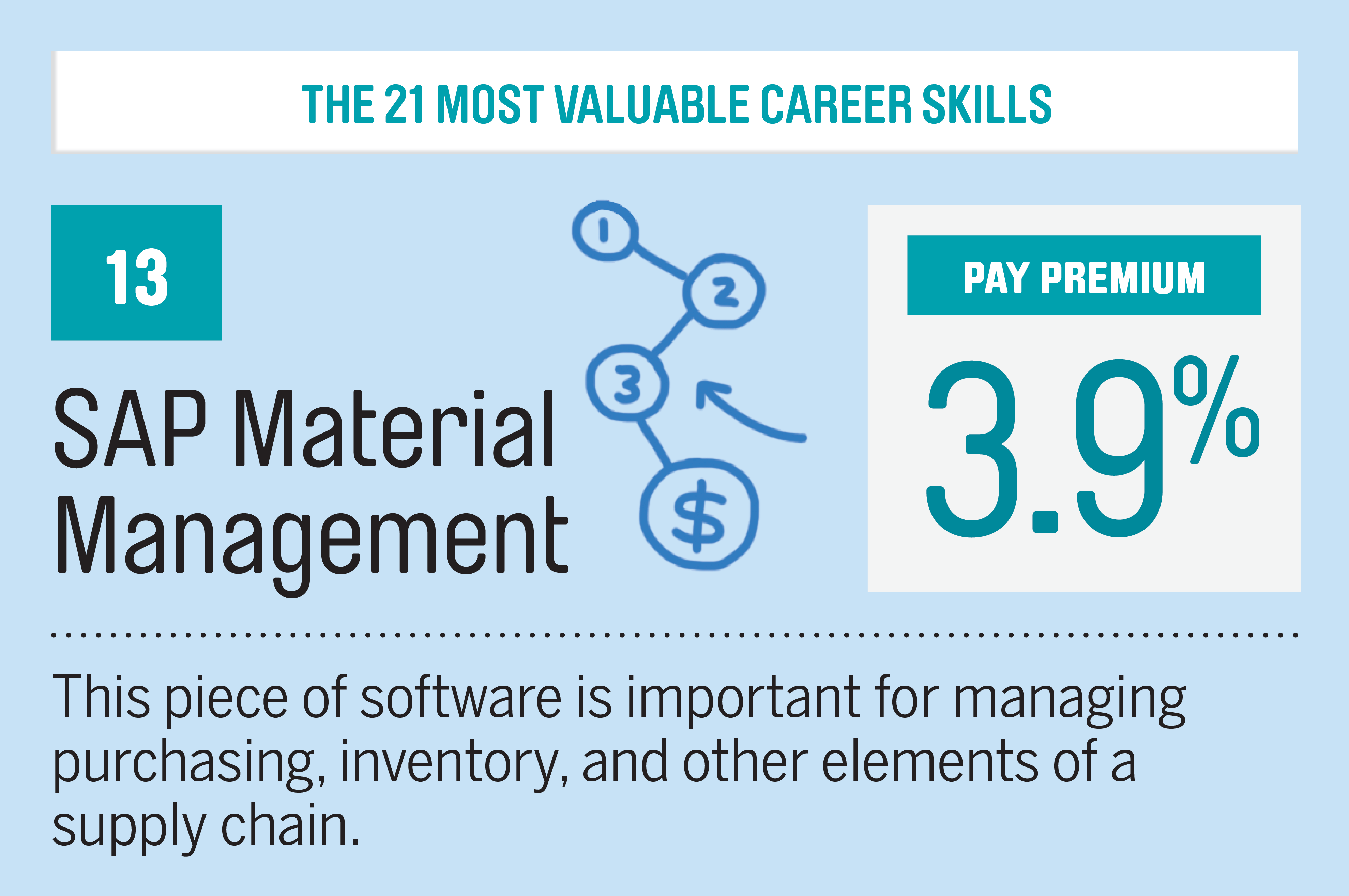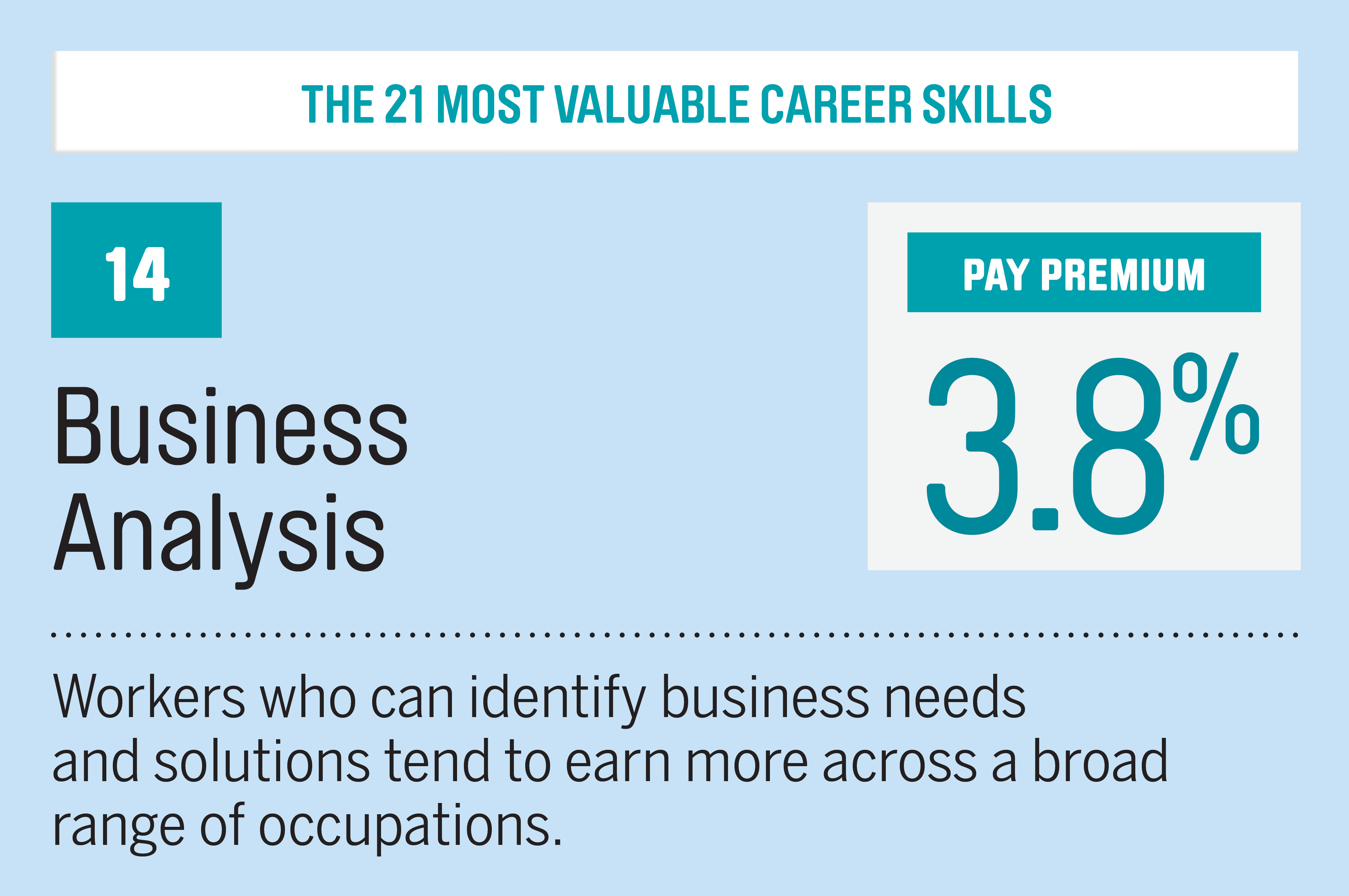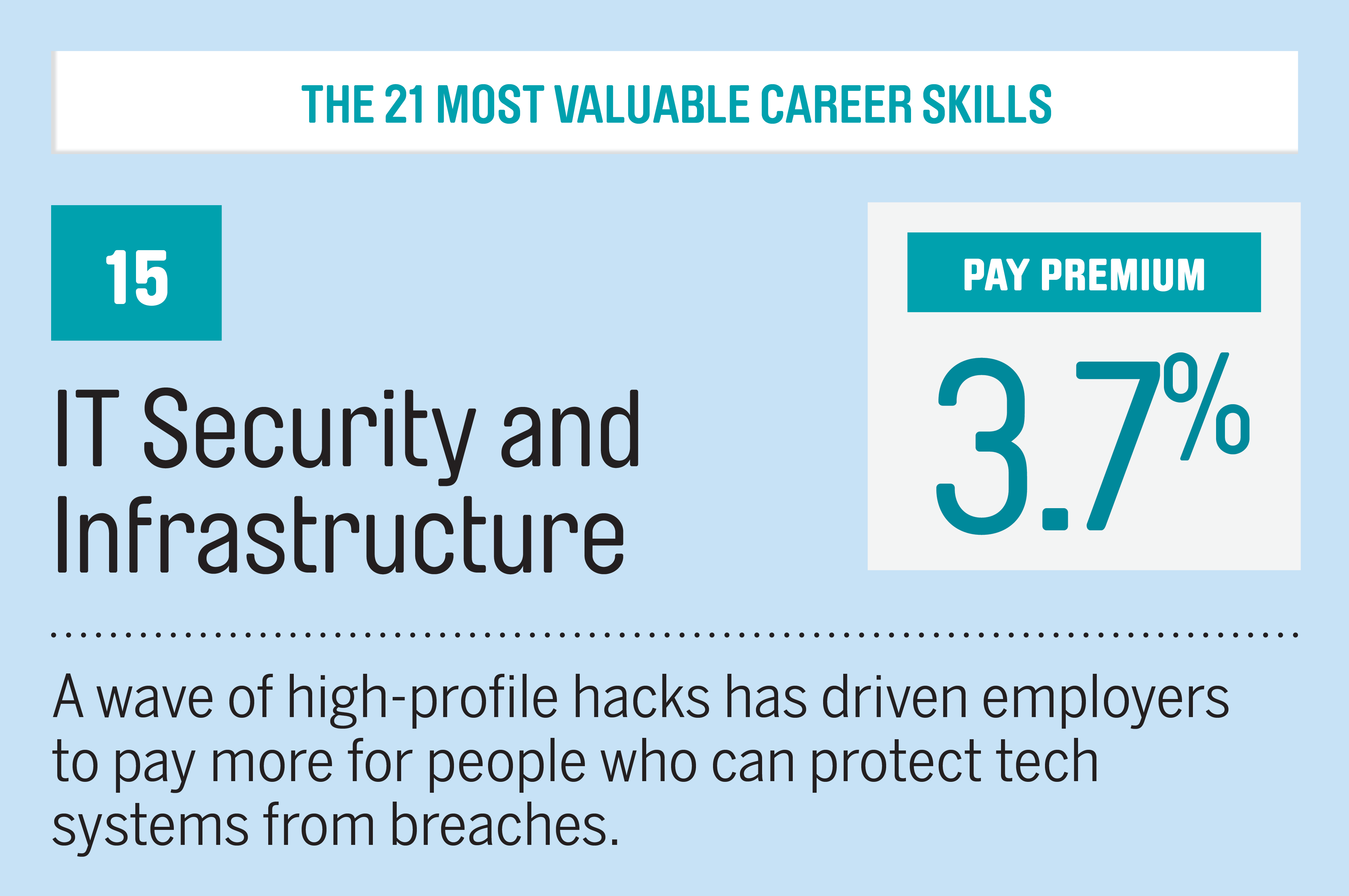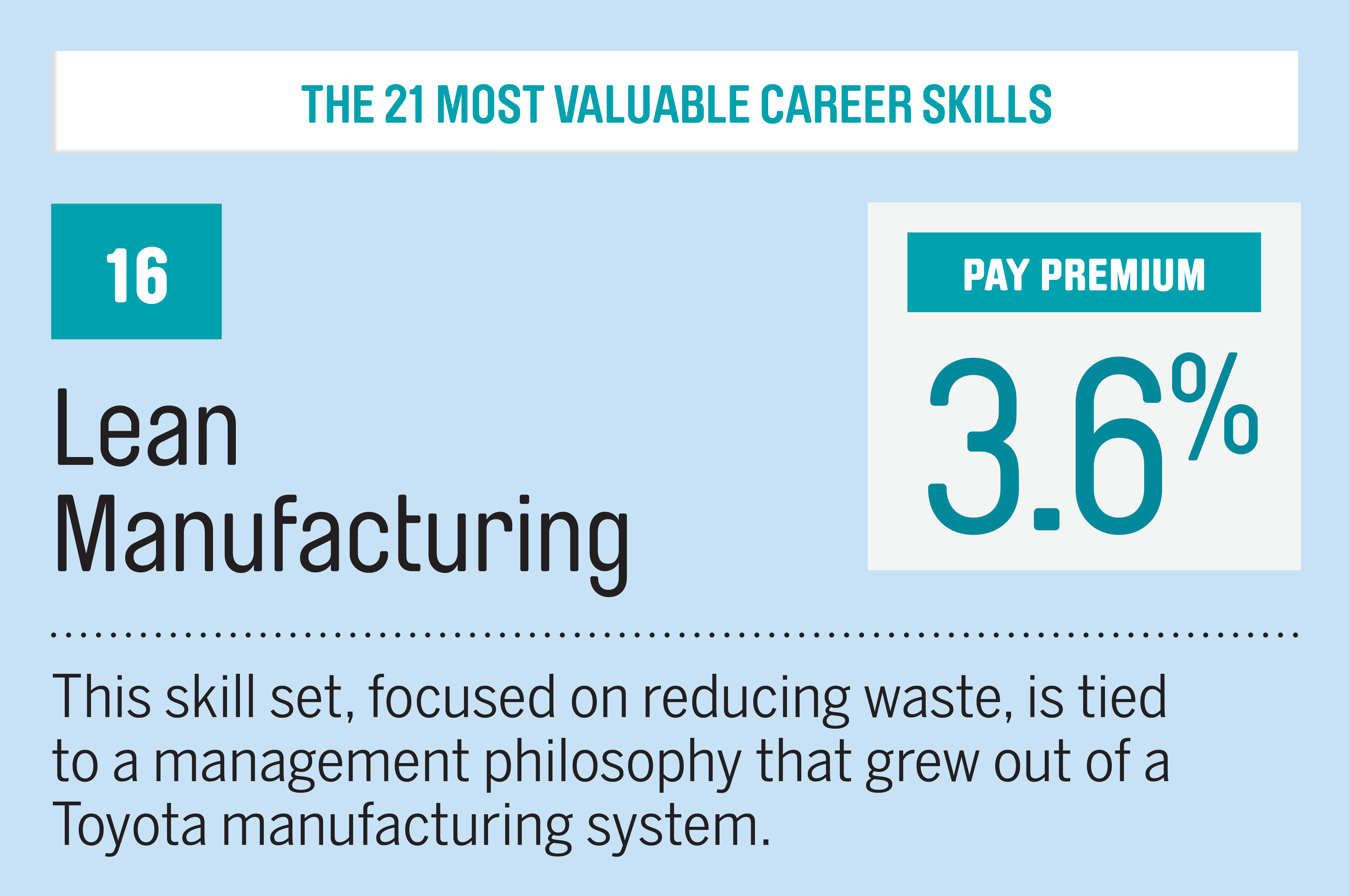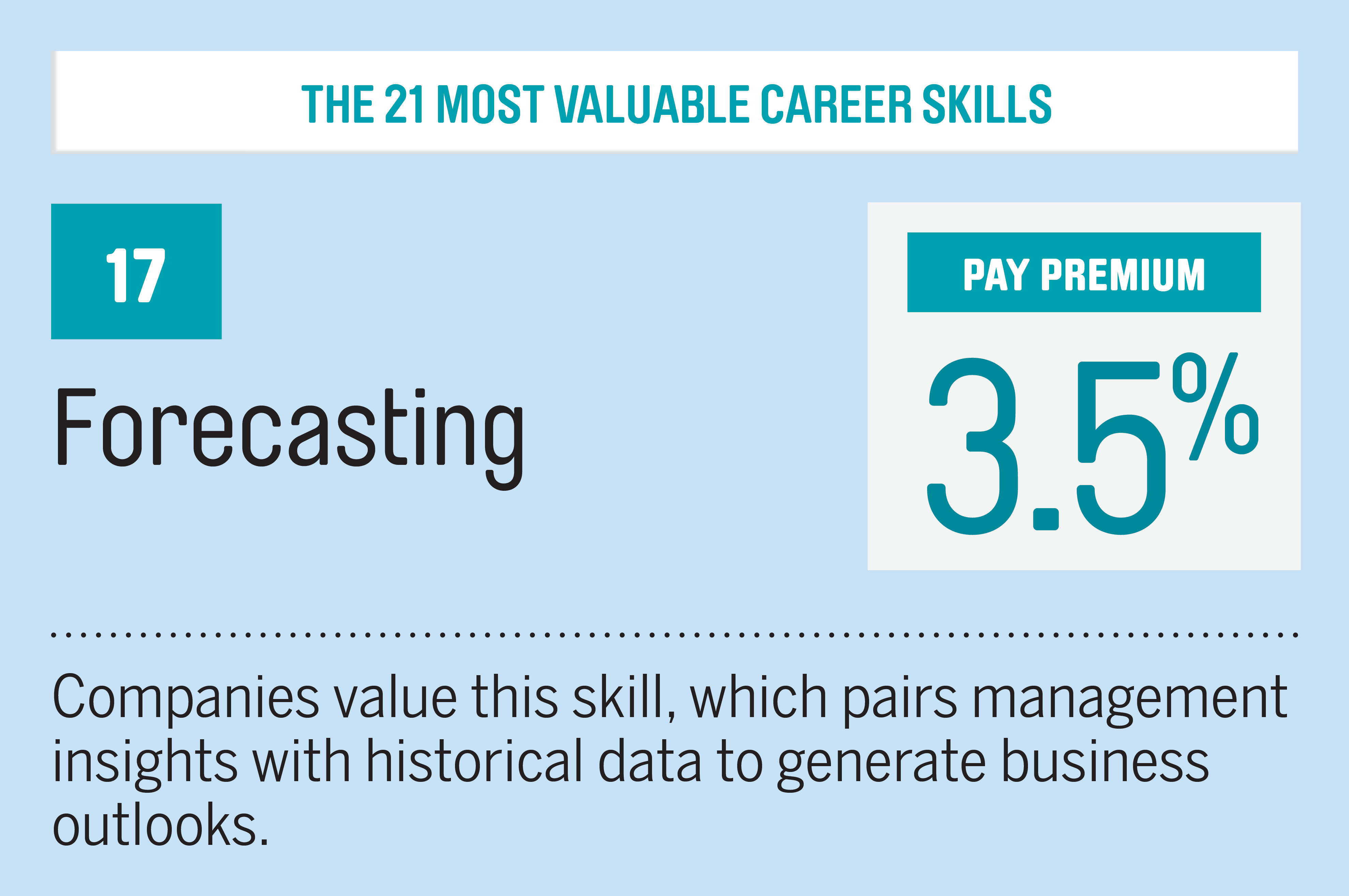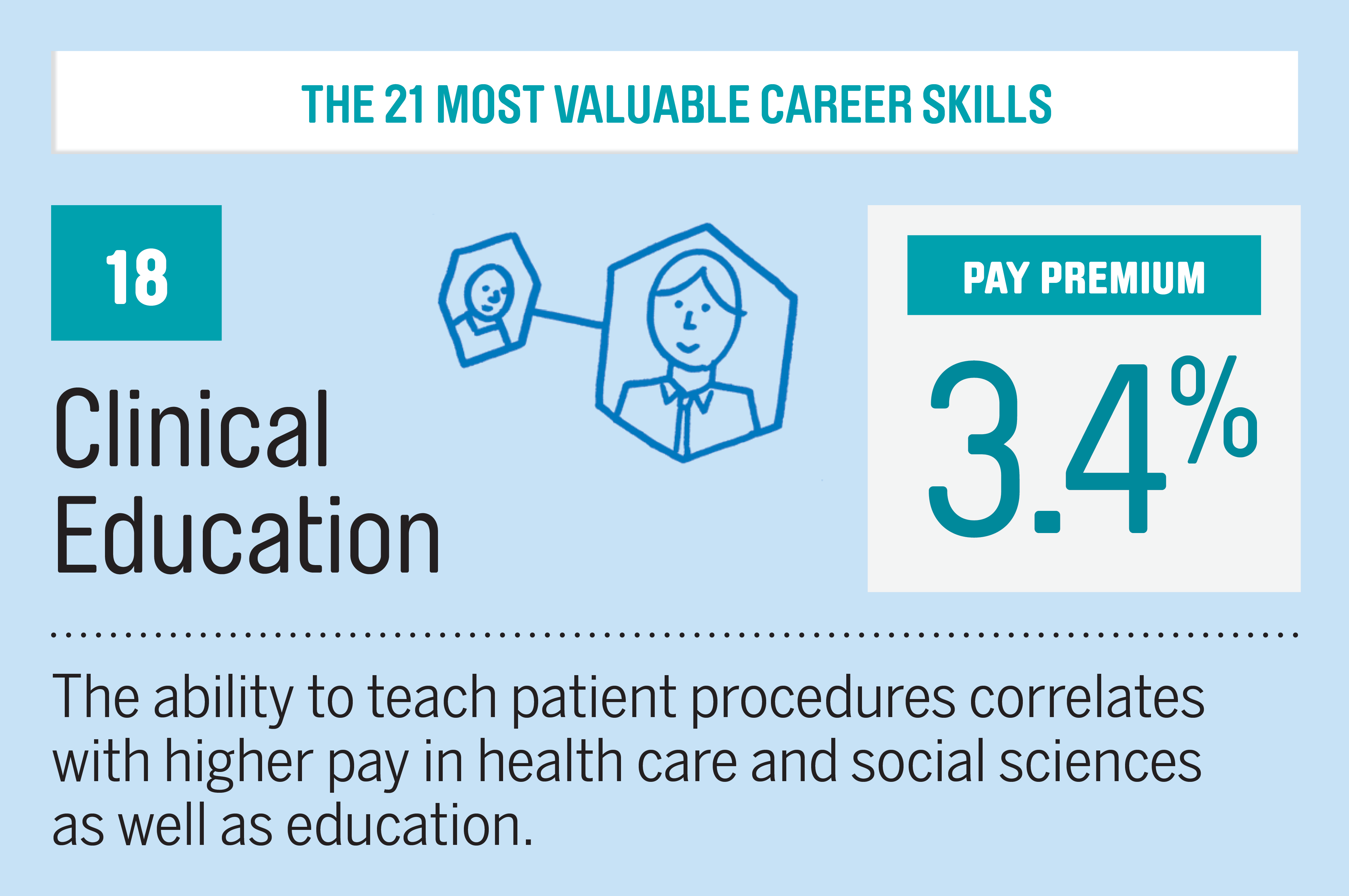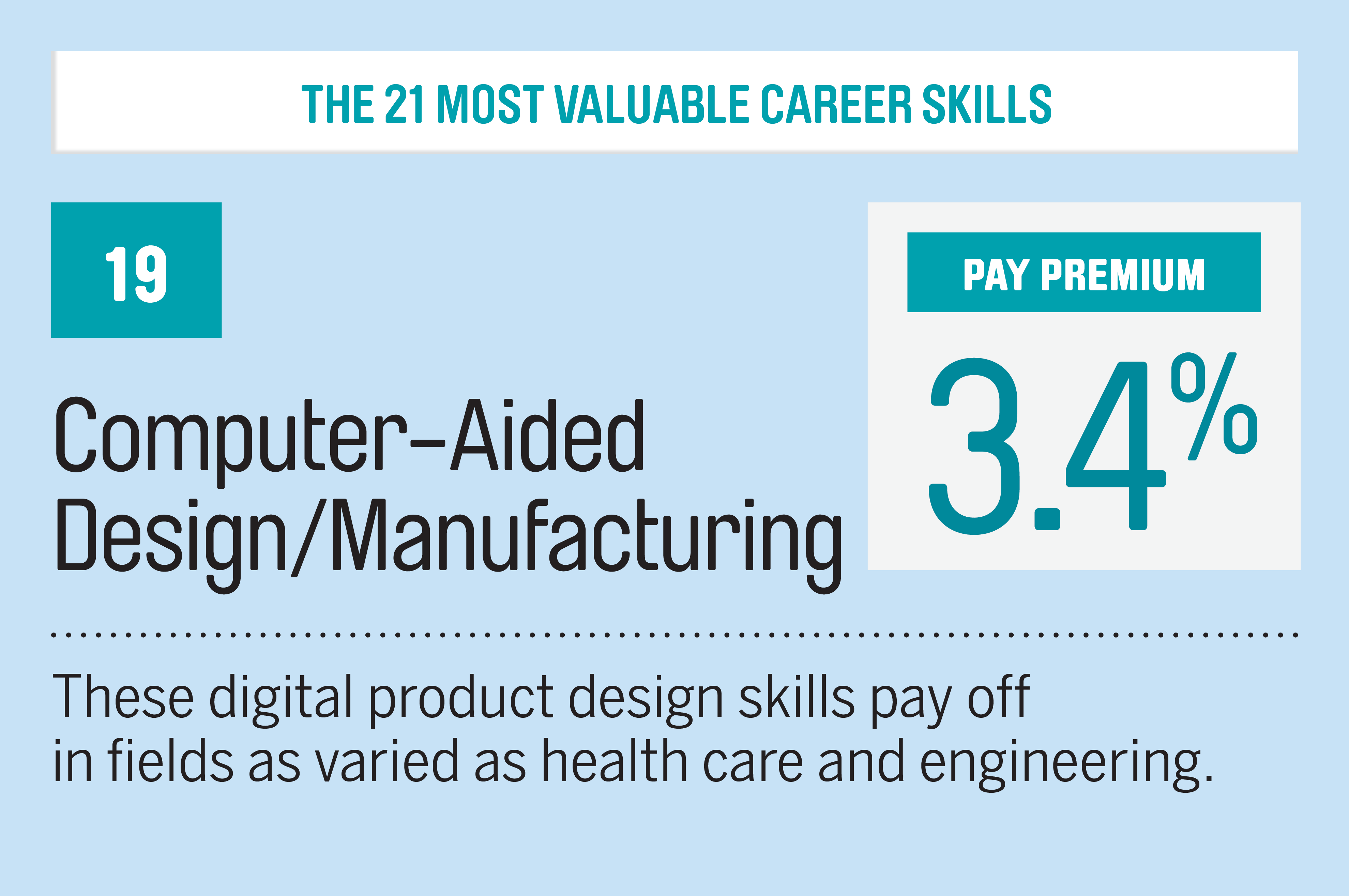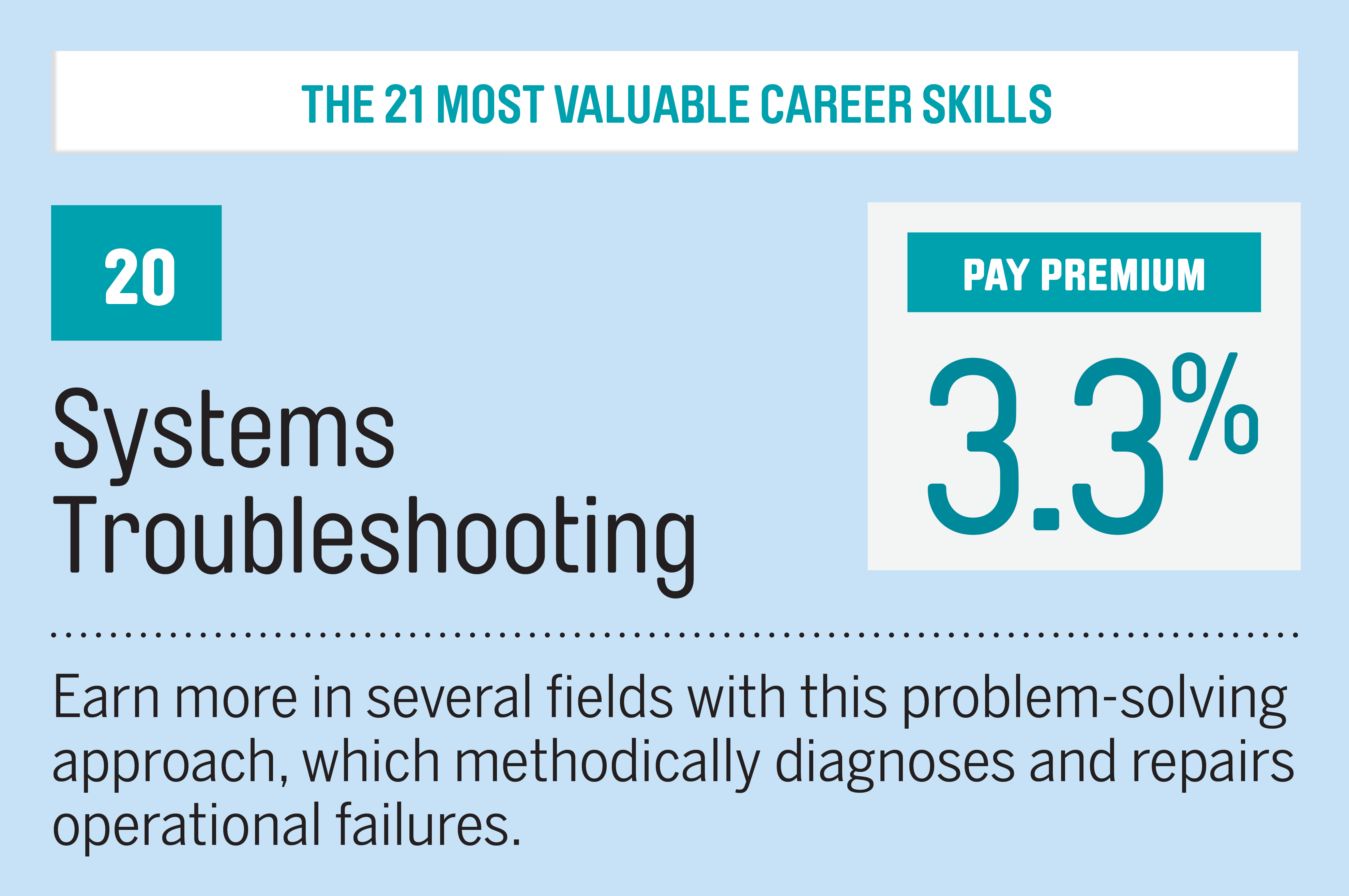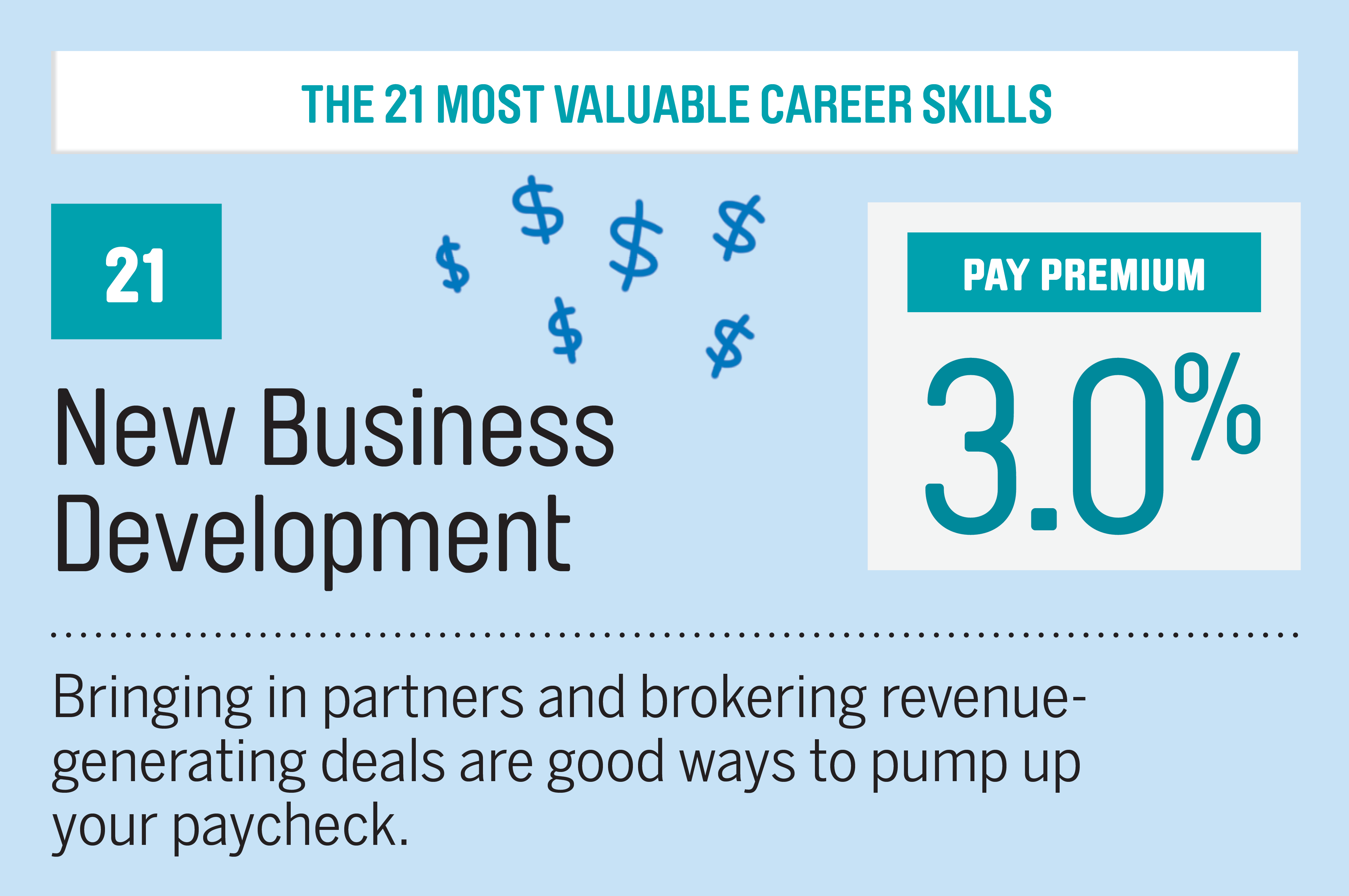 To identify the abilities that bring the greatest rewards, Money and PayScale analyzed 54 million employee profiles, across 350 industries, with 15,000 job titles—from entry-level workers to top execs. We compared people with the same title, age, location, and experience, isolating the specific skills (from a universe of about 2,300) correlated with higher pay, advancement, and career opportunity. The result: an authoritative list of the skills with the best payoff in the workforce today. In general, we found that employers are willing to pay up for these four types of talents.
Read More: 5 Ways to Get the Career Skills You Need
Making Sense of Big Data
Across a variety of fields, workers earn more when they can make sense of the exponentially more complex data now available about the markets their employers serve. Although companies have long tracked information about customers, sales, and suppliers, businesses today have access to a far richer vein of information. Every time you click on a website, shop online, watch a video, or do pretty much anything else, you leave behind crumbs of information. "People now create more data in an hour than they used to in a month," says Traci Fiatte, a group president at Randstad, an international provider of HR services.
Thanks to massive improvements in the software that collects, stores, and integrates data, companies can use this information to do things like target new customers, improve service, and offer more personalized products—as long as they employ folks who understand how to organize, analyze, and apply it.
Enter the data maven. "Mainstream American companies have come to realize that in order to become more effective in the marketplace, they need to analyze data," says Matt Sigelman, the CEO of Burning Glass Technologies, which analyzes job listing information. "And we're seeing those skills showing up at a premium in a variety of industries, including marketing, logistics jobs, and operations management jobs, just to name a few."
Top data skills and their average pay boost:
SAS (Statistical Analysis System): +6.1%
Data Mining/Data Warehousing: +5.1%
Data Modeling: +5%
Managing the Bottom Line
If you're not a finance wonk, you might be tempted to leave the numbers stuff to the bean counters upstairs. But no matter where you sit in your firm's org chart, you'll get a boost by understanding what keeps the company in the black. "When we ask our alums what they'd do differently in their career, the most common response is that they wish they'd taken more financial accounting classes," says Thomas Lys, a professor emeritus at Northwestern University's Kellogg School of Management.
Understanding how day-to-day deals and decisions affect profitability becomes even more important as you advance. A separate analysis of the skills that set apart executives from junior staff puts management of profit and loss statements in the No. 2 spot. Executives with that skill also earned 5.4% more than their peers.
"When I work with executives, I find that what's really missing is an understanding of big-picture questions," says Lys. "They will be trained in how to book a transaction, but they don't know how to look at financial statements and answer whether this company is doing well or not and why."
Read More: How We Picked the Best Career Skills
Even workers in creative fields may need to make business decisions that affect the bottom line. "One of my clients was a photographer who wound up working for a photo agency," says Paul McDonald, senior executive director at staffing firm Robert Half. As this person advanced, he wound up working more with the agency's clients, McDonald says. "And all of a sudden he was involved in the finances and budgeting of the entire company."
Top business skills and their average pay boost:
Contract Negotiation: +5%
Financial Analysis: +4%
Wrangling New Tech
It's hardly news that hard-core tech folks—coders, IT managers, server administrators—have a major edge when it comes to valued job skills. A LinkedIn analysis of the most in-demand skills for 2016, for instance, found that 19 of the top 25 were technology-related, with the top of the list dominated by cutting-edge areas such as cloud computing, software development for mobile devices, and online security.
But IT skills are only a minor part of the story, says LinkedIn spokesman Joseph Roualdes: "Tech is in demand across nearly every industry."
Most employers favor technical skills specific to the field, notes Katie Bardaro, PayScale's vice president of data analytics. Just within human resources, for example, a separate PayScale analysis found that workers who can use the popular Workday software are paid 9.6% more than their peers. Those in health care earn 8.5% more if well versed in Epic software, which helps companies manage electronic health care records. Marketers, meanwhile, must build skills in search engine optimization, interpreting customer analytics and managing a company blog—a process that requires a lot of learning, from using a domain name generator to pick an available name, to installing the right content management system, writing content that'll bring in more of your target customers and eventually converting readers into customers.
Not sure what matters most in your field? Ask your manager what technical skills are missing from your team, says Robert Half's McDonald.
Top tech skills and their average pay boost:
Search Engine Marketing: +5%
Customer Service Metrics: +4.3%
SAP Material Management: +3.9%
Strategic Thinking
If you right-brain types are starting to feel discouraged, take note: Some of the most sought-after skills have nothing to do with science and technology. Two of the 10 most valued skills involve high-level thinking and organization: strategic project management and strategic planning. "Strategy is about understanding the business purpose of a job rather than just the tasks of a job," says Boston-area recruiter David Hayes.
Read More: Check Out the Full Career Skills Package Here
And the higher you go, the more valuable strategic thinking becomes. Both "strategy development" and "business strategy" are skills that set executives apart, for instance. Moreover, even within that elite stratum, workers with those skills earn 9.1% and 8.2%, respectively, more than those without.
Top strategy skills and their average pay boost:
Strategic Planning: +4.3%
Business Analysis: +3.8%
Now that you know the skills you need, learn what steps you need to take to get them.