The Average NBA Player Spends $42,500 a Month, Including Big Bucks on Clothing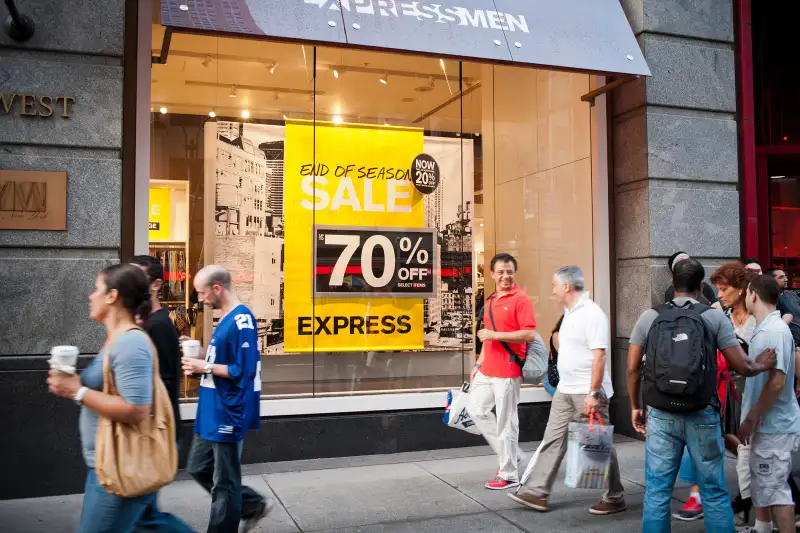 The average NBA player spends $42,500 per month, or $510,000 over the course of the year, and 11% of that money is dropped on clothing and shoes—the biggest overall category for spending. Whole Foods, Neiman Marcus, Louis Vuitton, Apple, and Mercedes are among the top retailers in terms of NBA player spending, but so are some more middle-of-the-road stores like Target and Walmart.
And the retailer that attracts the most NBA player cash of all is Express, the mall fashion staple that's known for affordable business clothing for men and women alike. Express also features plenty of bold colors favored by basketball players, and apparently must have quite a great selection of Tall & Extended sizes. It probably doesn't hurt that Steph Curry, the reigning league MVP Golden State Warriors guard and greatest shooter on the planet, has been a brand ambassador with Express since 2014 and refers to it as "one of my staple stores."
The data all comes from a new study conducted by Personal Capital, a personal finance tool that tracked the spending of more than 50 NBA players from December through March. As a San Francisco Chronicle column noted of the study, "The results should be taken with a grain of salt, considering the small sample size."
According to the study, "clothing/shoes" wasn't truly the largest spending category. Instead, it was the vague "other," accounting for 39% of the players' money output. This is because it was difficult to classify many expenses, such as rent paid to an individual or mortgage paid via a bank.
Regardless, even though the average NBA rookie salary is $4.7 million (before taxes), the staggering amount of money spent each year by players—roughly 10 times the median annual household income in the U.S.—is cause for concern. Researchers have chronicled how professional athletes, and NBA and NFL players in particular, report extraordinarily high levels of bankruptcy or financial stress in the immediate years after retirement. What generally does them in is the combination of saving too little while their earnings are high, and becoming accustomed to a lavish lifestyle that's hard to drop when the money is no longer coming in.
Read Next: Meet the Professor Who's Teaching Future Pro Athletes How to Hang Onto Their Millions
On the flip side, there are financially savvy pro athletes like the NFL's Ryan Broyles, a wide receiver for the Detroit Lions who has committed to living on a $60,000 annual budget even though his contract pays him $900,000 a year. Rob Gronkowski, the New England patriots' dominant tight end, is another pro athlete who prides himself on saving. He says he hasn't spent a dime of the $10+ million he's made in salary and signing bonuses throughout his career, and has lived quite comfortably off of endorsement earnings instead.
"I live off my marketing money and haven't blown it on any big-money expensive cars, expensive jewelry or tattoos and still wear my favorite pair of jeans from high school," Gronkowski wrote in his book, It's Good to Be Gronk.