3 Sneaky Homebuying Fees You Can Negotiate Away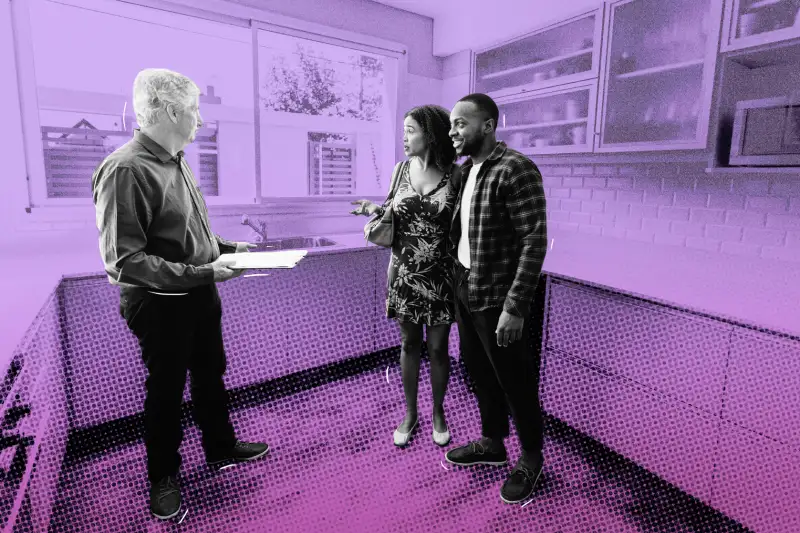 In a housing market where everything seems to cost an arm and a leg, finding a home in your price range can feel like a pipedream.
Buyers have turned to rate buydowns and seller concessions to help ease the financial burdens of high mortgage rates and home prices. But it's possible to bring down the cost of the slew of fees that come with the expense of buying, too.
An essential part of understanding the true cost of a home purchase is taking note of all the different services you'll need to use — like a home appraisal and inspection — and how much they cost, says Nick Boniakowski, head of agent partnerships at the real estate platform Opendoor. Your real estate agent can give you a rundown of all the services you'll need to pay for prior to closing, and the closing disclosure will detail any additional mortgage-related fees.
Some fees will be set in stone because of state-level mandates. Others, however, are negotiable.
If you're a first-time homebuyer, "be curious and ask questions," Boniakowski says. "It's tough to negotiate a fee when you don't know about it."
Lender fees
Lender fees are typically baked into mortgage closing costs, and cover the work the company has to do to evaluate you as a borrower, determine your credit risk and fund the loan. Altogether, lender fees cost an average of 2% to 6% of your loan amount.
These fees can vary from one lender to another. Some may not charge an application fee while others may have lower origination costs — which is why you should always shop around and not settle on the first company you apply to.
Some lenders offer general concessions on closing costs, so be sure to ask each company you're considering if they'll reduce these fees to gain your business. Many lenders are open to being flexible on specific costs, too. If one company doesn't charge an application fee, for instance, use that as a negotiation tool with the competing lenders that do.
Broker fees
Your real estate agent may refer you to a mortgage broker, who can save you the hassle of researching and choosing a lender yourself. Mortgage brokers also help negotiate terms and fees with the lenders they have a working relationship with.
Brokers charge a fee for their services — typically between 1% to 2% of the loan amount — if you choose to finance through one of their recommended lenders. So if you borrow $500,000, that's another $5,000 to $10,000 you'll have to pay on top of your closing costs and down payment.
A mortgage banker, on the other hand, usually works in-house at a bank or credit union and won't charge any additional fees. If you go directly to one of these institutions (or to a private lender) you'll bypass the mortgage broker entirely.
Some people will fare better with the help of a mortgage broker regardless, says Kirsten Jordan, team leader at Douglas Elliman in New York.
Brokers are experts at finding the best lender for borrowers who have special financial circumstances, like a low credit score, or who want to use an asset like stocks or gold as collateral.
For example, a 1% commission on a $500,000 loan amounts to $5,000. But if the broker finds a lender that is willing to accept an alternative asset as collateral, the fee could be well worth paying.
Service provider fees
Get ready to deal with more than a realtor and a banker when it comes to buying a home. You'll have to do an appraisal, for starters. Homeowners insurance is a must. Depending on where you live, you might have to get a mortgage land survey, too. All these services add to the cost of a home purchase — ask your lender for a complete list so there are no surprises.
The good news is, you still have some leeway about how much cash you have to cough up.
For example, your lender may recommend using an appraiser they're familiar with. It's up to you whether you want to use them or not. As with a mortgage, the key is to shop around. Appraisals vary from $300 to $500, although larger properties may charge higher fees. It could be worthwhile to talk to a few appraisers, compare services and get estimates.
If you need a land survey as part of the home purchase, Boniakowski recommends checking county records to see if one has been done within the last year. You should be able to get a copy instead of having a new survey done — and save about $1,000.
Buying a home is a big investment. To ease the financial burden, Boniakowski says, get "comfortable asking [about], understanding, and negotiating" the fees that come with it.
More from Money:
The Best Mortgage Lenders of 2023
The Median Home Price is Nearly $18,000 Lower Than a Year Ago
Priced Out of Your City? New Research Shows Where You Can Find Affordable Suburbs