5 Things to Know About Paying With Your Phone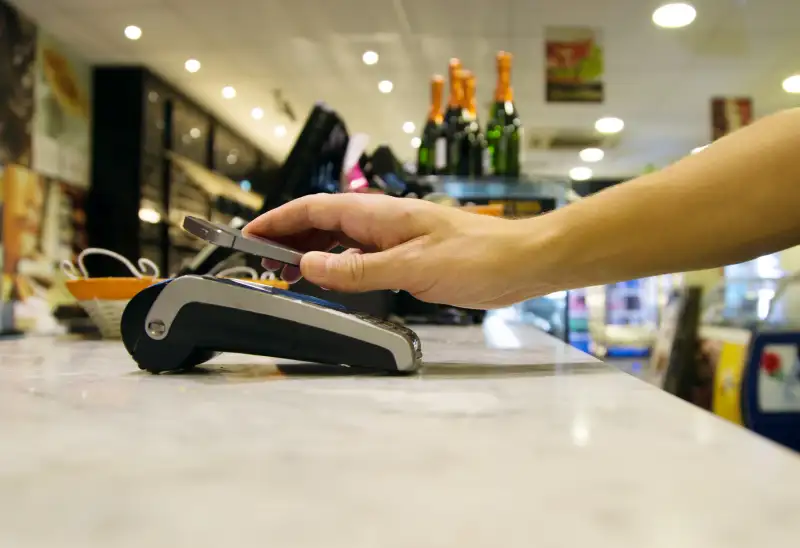 This holiday shopping season, you'll be reaching for your wallet a lot—consumers are expected to spend nearly $656 billion, according to the National Retail Federation. But this year, while you're fumbling around for your cards or cooling your heels at the chip reader, you might see the person at the next register simply tap their phone on the reader and go on their merry way.
Paying with a smartphone is no longer unusual. Almost one in four consumers have tried a so-called mobile wallet, and half of those users plan to pay with mobile technology this holiday, according to a Capital One Wallet Survey. Other studies say as many as 54% of shoppers have used mobile wallets in some capacity.
Sales volume is still small—an estimated $27 billion in the U.S. this year—but adoption by consumers and merchants is on the rise. U.S. mobile payments are expected to reach $210 billion by 2019, according to an eMarketer report. If you haven't gotten on the bandwagon yet, here's what you need to know about the big three: Apple Pay, Android Pay, and Samsung Pay.
1. Using a mobile wallet is safer than shopping online or swiping a physical card.
Unlike Amazon or physical card terminals, Apply Pay, Samsung Pay and Android Pay do not use your card information for transactions. Instead, they generate tokens—random 15- to 16-digit numbers that look and work like credit card numbers, but are useless if stolen. Token service providers, such as a bank or credit card network, can further strengthen transaction security by configuring tokens to work only with a specific retailer, below a certain dollar limit, or before a designated expiration date.
Once you register your cards with the mobile wallet applications, the information is stored in a token vault managed by the service provider. That "reduces the attack surface to a few players—banks and other organizations where security is their primary job," says Rob Clyde, board director of the international IT governance trade group ISACA, formerly known as the Information Systems Audit and Control Association.
If you lose your phone or smart watch, simply deregister your credit cards from the mobile provider account (accessible at icloud.com/find, myaccount.google.com, or findmymobile.samsung.com, depending on device) and re-register them on another device. Keep in mind, not all apps on your phone use tokenization.
2. Mobile wallets get the job done faster than chip readers.
At checkout, you currently either swipe your card or insert it into the chip reader. The latter option will eventually become the only choice when you use a physical card: Card networks prefer chip cards for their stronger security, and merchants without a chip reader are now liable in the event of fraud. The problem is, it takes 13 seconds on average to pay with a chip card, while swiping or using a mobile wallet takes only six seconds, according to a Wall Street Journal report.
To pay with your phone, hold the device close to the terminal until it buzzes or beeps, then scan your fingerprint or type in your PIN to complete the transaction.
3. You can save money with mobile wallets.
Mobile wallets can perform some other tricks, like reminding you before a coupon expires or offering reward points just like credit cards. Think of the app as a smart binder, where you can keep your loyalty cards, coupons, gift cards, tickets, and boarding passes, all of which update in real time. And you can save money: The State of Mobile Wallet Marketing 2016 study by mobile marketing firm Urban Airship found that 41% of consumers always or often forget to bring paper coupons when shopping.
To sweeten the pot—and capture new customers this holiday season—Apple, Google, and Samsung are each offering exclusive deals for their wallet users. Samsung Pay is also giving out quadruple points per transaction between Dec.19 and 24. In November, the company started rewarding users with points that can be redeemed for gift cards and Samsung Gear products. Earlier this year, Google promoted Android Pay with its "Tap 10" rewards program, which offered anyone who used the app 10 times or more a free Chromecast or downloads from the Google Play store.
4. Many, but not all, shops and restaurants accept mobile wallets.
At least 2 million merchants accept Apple Pay and Android Pay. Samsung has a leg up in the adoption department: Almost everywhere that takes credit cards also accepts Samsung Pay (that's more than 90% of top retailers).
Because Apple Pay and Android Pay depend on near-field communication (NFC), a technology that relies on radio waves, merchants have to upgrade their point-of-sale terminals to accommodate contactless payments. (McDonald's, Macy's and Nike are among the adopters.) You know a merchant accepts mobile wallet payments if you see the contactless payment symbol, which features a hand holding a card next to wavy lines that look like the Wi-Fi sign.
Samsung Pay is compatible with both NFC terminals and traditional card readers. The wallet uses magnetic secure transmission, which emits a magnetic signal that mimics the strip on your credit card.
5. You can't ditch your physical wallet yet.
If you only shop, eat, and bank at certain brands, you may be able to get by for a while without a physical wallet, says Rekha Ramesh, head of global IT and digital at retail consulting firm Daymon. But the day to bid farewell to that overstuffed leather accessory has yet to come.
Besides the obvious reason that certain merchants are cash only, some items you carry in your wallet don't have digital equivalents yet, such as your driver's license and transit pass. And, of course, there's one big drawback to mobile wallet technology: You can't use it when your phone runs out of juice.