How To Get Pet Insurance Through Your Employer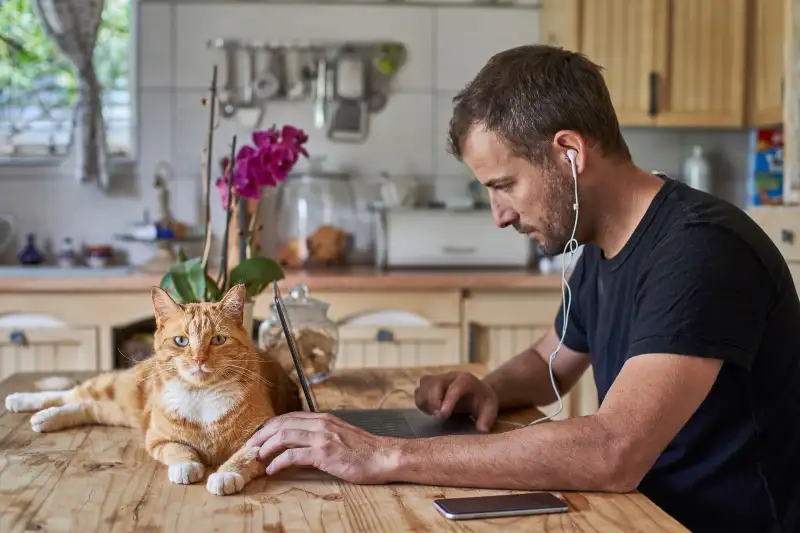 You assume your employer will offer you and your dependents insurance benefits, but you may not realize it could also extend to your furry family members. While not widespread yet, more employers are offering pet insurance benefits.
When available, employer-sponsored pet insurance might be a better choice than purchasing it on your own. Here's everything you need to know about how to get pet insurance through your employer.
Do some employers offer pet insurance as a benefit?
Pet insurance is one of the fastest-growing industries in the United States. With over 4 million pets insured in North America as of 2021, the market is estimated to reach over 30 million dollars by 2030. While this may have been unheard of a few decades ago, it makes sense when you consider the current cultural climate.
Since more millennials are choosing to delay parenthood and instead focus on pet ownership — surely you've come across the phrases "fur baby" and "dog mom" on your social media feeds — it's unsurprising that companies realize the benefit of offering pet insurance to employees.
How to get pet insurance through your employer
While employer-sponsored pet insurance is on the rise, some companies are still wary about extending this specific benefit to employees. Here's what you need to know about getting pet insurance benefits through your employer.
1. Check if pet insurance plans are included in your employee benefits package
The first step is to review a copy of your employee benefits package and see if pet insurance plans are available. This might be a physical document at some companies, while others may have the information available online. Contact your human resources department if you have any questions about the available benefits.
2. If your employer doesn't offer pet insurance, convince them why they should
If your employer doesn't offer this benefit, you have two options. You could always opt to purchase pet insurance independently. You can find out how to begin the process in our guide on how to buy pet insurance.
Alternatively, you could try to convince your employer to add it as a company perk. Here are some points to mention.
Gaining a more competitive edge
In February of 2023, The Department of Labor's Bureau of Labor Statistics reported that unemployment rates were at a 54-year low. This means employers need to offer new and innovative benefits to prospective employees if they want to stand out in a competitive market.
While baby boomers might not have placed much emphasis on employer pet insurance, the dog moms and cat dads of the millennial and Gen Z generations certainly do.
Improving employee retention
Offering pet insurance is about more than just attracting new employees. It's also about keeping the ones you already have. One survey found that even when Gen Z employees express loyalty to their employer, 70% will continue to seek other job opportunities passively in case something more lucrative comes along.
Providing employees with peace of mind
An employer-sponsored pet insurance policy can provide pet owners with invaluable peace of mind regarding paying for their fluffy family member's potential veterinarian bills. When cultivating a content and loyal workforce, that peace of mind is worth its weight in catnip and doggy treats.
3. Assess your pet insurance coverage needs
People are no longer barred from health insurance policies based on pre-existing conditions. However, our pets don't have the same luxury. Most pet insurance companies will factor in pre-existing conditions when you sign up for a policy; some will even refuse to cover any treatment related to those conditions.
Age is also a factor because young animals are typically cheaper to insure than their senior counterparts. And while your pet tarantula might mean the absolute world to you, policies are often only extended to dogs and cats, especially in the context of pet insurance through employers.
Pet insurance coverage can vary across providers and policies. As with human insurance, there are caps and limits on how much they will cover in a calendar year. However, the protection can still drastically reduce your expenses in the event of an emergency surgery or veterinary intervention.
4. Compare the costs of buying pet insurance on your own versus using your pet insurance employee benefit
If you've won victory for all the pet lovers in your office and your employer is finally ready to extend pet insurance benefits as part of their overall benefits package, don't sign on the dotted line quite yet.
Pet insurance can be affordable, yet sometimes purchasing a plan independently is more cost-effective. Compare what your employer offers to some of the best cheap pet insurance options on the market before you sign up.
5. Enroll in a pet insurance plan through your employer
If you've done your research and have decided that pet insurance through your employer is the best way to go, then there's nothing left to do but sign up. You can consult with the HR department if you have specific questions.
Workplace pet insurance vs. private pet insurance: Which is the better buy?
Just as there's no one-size-fits-all pet, there's no one-size-fits-all pet insurance plan. Here are some things to factor into your decision when choosing between private pet insurance and workplace pet insurance.
Cost: Price will be a factor in any insurance buying process, but it shouldn't be the end-all-be-all. Consider the policy details. Will a slightly more expensive plan provide significantly more coverage?
Coverage: Even if your puppy or kitten seems healthy and spry, you don't know what the future could hold. Be sure to factor in coverage limits if your pet develops an illness or has an accident. While the cheaper policy might seem enticing now, you could regret it if your pet needs surgery far pricier than what the pet insurance provider is willing to cover.
Pre-existing conditions: When comparing policies, read the fine print. Remember, insurers can deny pets coverage due to pre-existing conditions. Make sure you choose a policy that protects your pet, no matter their medical history.
What is the best employer-sponsored pet insurance?
You may be at the mercy of whichever pet insurance provider your employer is willing to work with, but if you're part of the decision, keep in mind that coverage options and details vary by company.
For example, companies like Spot and Pumpkin offer comprehensive coverage, while companies like AKC and Pets Best are great for older animals and those with pre-existing conditions.
A good place to start your search would be to learn more about the best pet insurance companies available to consumers and what they offer.
Summary of Money's how to get pet insurance through your employer
Love it or leave it, plants are the new pets, and pets are the new kids — at least in the eyes of today's up-and-coming workforce. If you want to be financially prepared should your pet require unexpected veterinary care, then you must consider pet insurance.
While private pet insurance is available, obtaining it through your employer might be cheaper. If your employer doesn't yet offer pet insurance as part of your benefits package, consider asking them to add it. It can be a great way to boost employee morale and retention.