8 Reasons Your Home Warranty Claim May Be Denied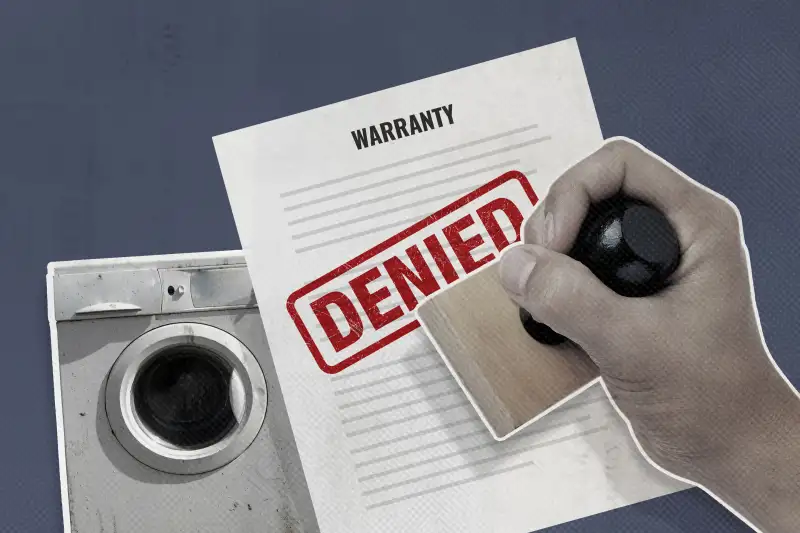 A home warranty is a contract that covers the repair costs or replacement of a home's appliances and systems when these break down due to regular use.
While there to give you peace of mind, warranties can also be the source of added stress when you have to deal with denied home warranty claims. A common problem is when consumers don't know how home warranty works.
Read on to learn more about some common reasons why even the best home warranty companies may deny a claim and what you can do to prevent it.
Table of contents
Why home warranty companies may deny a claim
There are various reasons why your home warranty company may deny a claim, including lack of maintenance, incorrect installation or unauthorized repairs. To learn the reasons why your provider may deny a claim we suggest you read the contract as it contains the details and extent of your coverage.
While each company sets its own terms and conditions, the most common reasons why providers deny claims are:
The appliance or system is not covered by the home warranty
A home warranty is a service contract that helps you pay for the necessary repairs or replacements of appliances and systems in your home. You can have a systems (heating, plumbing, etc.) repair plan, an appliance repair plan or a comprehensive plan that includes both.
However, a home warranty might not cover every appliance or system in your home. It's important, then, to read the fine print carefully since exclusions vary by company and could surprise you.
Exclusions, for example, may include specific parts of a system or appliance. For example, your contract may cover the repair of your garage door but not the remote.
The item could also be excluded from coverage if a pre-existing condition (present before the warranty began) was found to be at least partly at fault for the failure.
Make sure to read our article on what is a home warranty and what it covers to learn more.
The appliance was not maintained properly
Appliances and systems must be given proper maintenance in order to be covered by the home warranty contract. If the company finds that you didn't take care of the appliance in a way that could have prevented it from breaking down, your claim could be denied.
The appliance was installed improperly or has code violations
Your claim could also be denied if the appliance or system was not installed correctly or if the installation violates local building codes. This is true even if the improper installation was performed by a professional.
The appliance has unusual wear and tear
Home warranties only cover an appliance or system when it's had normal wear and tear. The home warranty company could deny your claim if they determine you haven't been using the item properly.
So if your kids are in the habit of jumping on and off the dishwasher door when it's open, it's probably a safe bet your claim will be denied.
The damage was caused by animals
Some home warranty companies exclude from coverage any damage caused by animals, including pets and vermin. If the damage to your appliance or system was caused by any kind of animal, your claim may be denied.
The damage is secondary to a primary breakdown
Many companies only cover direct damage to your appliances or systems themselves. If you submit a claim for secondary damage — i.e. the dishwasher overflows and ruins the carpet — your claim could be denied. The secondary damage may be covered by your homeowner's insurance company, however.
The coverage limit was exceeded
Home warranty companies place annual coverage limits on each covered appliance or system, and often annual caps on all payouts. These caps are different for each appliance or system, but on average they range between $500 for smaller items and up to a $50,000 aggregate limit. Even if your appliance would otherwise be covered, if you've already exceeded the coverage limit for that covered item, or the annual cap, you may be out of luck.
An unauthorized technician performed repairs
Your claim may be denied if you hired an independent contractor to perform repairs on a covered appliance or system. When you have a home warranty, you file a claim and the provider arranges for an approved service provider to evaluate, fix or replace the item. Having someone else do the repairs — or doing them yourself — would make that specific item ineligible for coverage in the future.
How to file a home warranty claim
You should file a claim when a major home item, such as a fridge or plumbing system, malfunctions.
First, check if your policy covers the appliance or system that needs repair. Once you've confirmed your item is covered, contact your service provider and make a service request. Note that response times vary by company, but the average wait is 48 hours.
Next, the provider will arrange for a service contractor to evaluate the damage and write an inspection report.
The contractor will then repair the item or begin to process the replacement. While home warranty contracts do not feature deductibles, you will have to pay the service fee — usually between $50 to $150 — stipulated in your contract for the repair or replacement. Also note that you'll have to cover part of the expenses if your contract has coverage limits and you've already surpassed it.
How to avoid getting claims denied
As we explained above, there are legitimate reasons why claims get denied, but there are also steps you can take to avoid this disappointment and hassle. Understanding your contract, giving your appliances routine maintenance and a practice of good record keeping go a long way.
Read the fine print
Study your home warranty contract carefully before you sign and make sure you understand the terms fully before you buy. Learning as much as you can about your contract and coverage is the most important step you can take to avoid a claim denial.
Keep maintenance records
Frequent maintenance will keep your appliance and systems purring along for years, but when it comes to claims, meticulous record-keeping will be your best friend. These records will show that you've followed the manufacturers' instructions to the T.
Record-keeping is a common provision in some contracts, but you should do this even if it's not required by your provider. With these notes you'll be better prepared to prove the appliance or system didn't malfunction because of improper care, but from a defect or regular use.
Take steps to mitigate damage when possible
Pay attention to any glitches, system errors or even funny sounds as these may precede larger problems. Don't limit yourself to just routine maintenance on each appliance or system. If you notice anything out of the ordinary, do whatever you can as soon as possible to prevent further damage.
How to dispute a home warranty claim denial
If your claim is denied by the home warranty company, there are steps you can take to appeal the decision.
Review the terms and conditions of your home warranty contract. Double check the coverage. If you don't already have one, ask for a PDF of the contract to find keywords and relevant sections quickly.
Contact your home warranty company. Let them know you want to appeal and ask them to provide you with the documents you need to begin the claims process. Also, log dates, times, representatives and any information obtained during your customer service calls.
Request a copy of the inspection report. The service technician that evaluated the item, if the company sent one, must write a report diagnosing the issue. Knowing the information on this report, and by extension the reason behind the denial, will help you focus on the crux of the issue in your appeal.
Get a third-party assessment. As the first assessment could have missed an important detail, having a second, impartial opinion may help your case. You'll have to pay for this assessment yourself, so make sure that what you have to gain is more than the cost of the evaluation itself.
Follow the appeals process. Sometimes the home warranty provider may request additional documents or records. It's also best practice to follow up with the company if you don't receive a response within 30 days.
File a complaint with the Better Business Bureau. If the provider is unresponsive or you feel the denial is unjustified, filing a complaint with the BBB might prompt them to respond. Companies like to stay in good standing with the BBB and other review sites to uphold their reputation.
If your appeal fails and you feel you've been defrauded, consider calling in the authorities. First, contact your state's consumer protection office and file a complaint. The agency that usually investigates fraud is the attorney general's office, but to make sure you're contacting the correct office, find your state's consumer protection office.
If all else fails, you can also take the legal route. There are small claims courts where you can sue for up to around $10,000 depending on the state. If you believe the home warranty company owes you more than what your small claims court awards, you'll have to file a lawsuit in State court. In this case, we advise you to consult with your attorney before filing to ensure this is the correct course of action for your particular case.
Home warranty claims FAQ
Are home warranties legit?
Home warranty companies can help you save thousands of dollars in home repairs to household systems or appliances. However, there are companies out there that have less than honorable intentions. Popular scams include signing people up for overpriced contracts or contracts the company doesn't intend to service.
What is an extended warranty?
An extended warranty is a type of protection plan you can purchase separately. It's often offered by manufacturers or retailers and resembles the manufacturer's warranty in its terms. It's different from a home warranty contract because an extended warranty only covers a specific appliance, while a home warranty covers multiple appliances or systems in your home. Extended warranties are much cheaper than home warranty contracts because of that limitation in their coverage.
What does a home warranty cover when buying a house?
There are many extra costs associated with buying a home, such as homeowners insurance, taxes, moving and furnishing, among others. In this process, a home warranty protects you from unexpected costs of repairing home appliances or systems if these break down due to wear and tear.
While you may prefer to forego this protection given the rising cost of homeownership, we advise you to add home warranty to the "must get" list as not getting it is considered one of several home buying mistakes people usually make.
When can you make a claim with home warranty?
Each company has a waiting period between the time you purchase a plan and the time you can file a claim, but these tend to range between one to 30 days. There are, however, exceptions to this rule, such as when you purchase the warranty as part of a real estate transaction. In this case, you're exempt from the waiting period as the warranty goes into effect on closing day.
Why would a home warranty company deny a new plan?
Here, the reasons can overlap with home warranty claim denials. An example is when you get denied a claim or plan because an item has not been maintained properly or the damage to the item was caused by animals.
One unique reason that can lead a company to deny a plan is when a buyer chooses a home inspection waiver when purchasing a home, which can prevent them from finding out that an appliance or system has pre-existing conditions. A company can deny coverage or a new plan if it determines that an appliance or system needed repair before the buyer purchased the policy.
Are homeowners insurance and home warranty the same?
What happens if a home warranty is not honored?
In the event that your service provider doesn't honor the contract, you can and should contact your local or state government office (usually the attorney general's office) to file a complaint for breach of contract.
Another avenue you can explore is filing a lawsuit in a small claims court or in regular court. However, if you're thinking of doing the latter, we suggest you consult your attorney first to determine if this is the best course of action.
Summary of Money's Reasons Home Warranty Companies Deny Claims
Home warranties help homeowners pay for necessary repairs and replacements of covered appliances or home systems.
Home warranty customers are often confused about why their claim was denied. There are many legitimate reasons why this happens.
Among the most common reasons your claim could be denied is because the item isn't covered by the service plan, the item wasn't installed or maintained correctly, it displays unusual wear and tear or the damage was caused by animals like vermin.
The claim could also be denied if the damage is secondary, meaning it was caused by another item breaking down.
Once you exceed the home warranty coverage limit for a specific item, the claim could also be denied.
To avoid unexpected claim denials, be aware of what your home warranty plan covers and excludes, keep detailed maintenance records and mitigate the damage when you can.