Rental Car Insurance Explained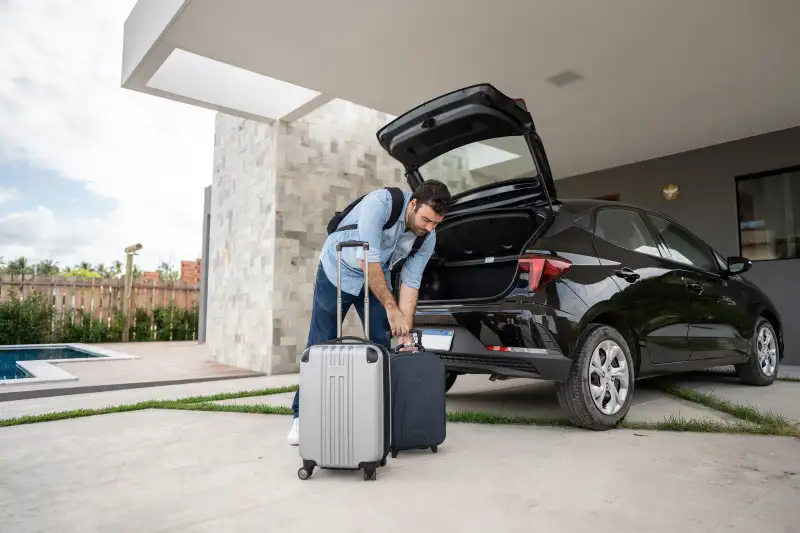 Like driving your own car, there's a risk associated with being behind the wheel of a rental. These risks include harm to yourself, another driver, passenger, or pedestrian, damage to the rental vehicle or your personal belongings in the car, and even vehicle theft. Without the appropriate insurance coverage, you may be burdened with hefty medical bills and vehicle repair or replacement costs should an unfortunate incident occur.
Understanding how insurance works when renting a car is important to ensure you have enough protection. Keep reading for information on rental car insurance coverage options and answers to frequently asked questions.
What is rental car insurance?
Rental car insurance provides coverage when driving a rental. Its primary purpose is to shield you from costly out-of-pocket expenses if the vehicle incurs damage or is stolen while in your possession.
For example, insurance typically covers the repair costs if a rental car is damaged due to a hail storm. Obtaining this coverage reduces the risk of paying unexpected out-of-pocket expenses.
Types of rental car insurance
Rental car insurance offers various coverage levels that will shield you from financial liabilities depending on what occurs during your rental period.
Having the option to protect yourself allows you to focus on your destination instead of worrying about the things that could go wrong. To secure the best protection, you want to understand your coverage options. Here are the most common types of rental car insurance.
Collision damage waiver (CDW)
A Collision Damage Waiver (CDW), also referred to as a Damage Waiver (DW), absolves you from paying for damage to your rental car or the cost of a stolen vehicle in some instances.
It's worth noting that the collision damage waiver typically comes with certain caveats. For instance, if damage occurs while driving recklessly or under the influence of alcohol or drugs, the waiver may not apply. Therefore, be sure to read the terms and conditions of the CDW before entirely relying on its protection.
Loss damage waiver (LDW)
With a Loss Damage Waiver (LDW), the rental company can't ask you to pay for physical damages to the rental vehicle. Insurers usually sell it along with CDW, and while it isn't technically insurance, it performs a similar role in covering rental car damage.
The coverage typically includes both collision damage and theft, but it doesn't usually pay for things like tire or mirror damage.
Self-insured rental companies provide this LDW coverage, applying conditions and exclusions to determine whether a loss applies. While signing, you must be cautious as these conditions and exclusions may hold you accountable for damage if you violate the terms. For instance, should you use the vehicle or equipment unauthorizedly, you could be liable for damages regardless of LDW coverage.
Supplemental liability insurance (SLI)
Supplemental Liability Insurance (SLI) provides robust coverage to protect you against a driver's claims for damages or injuries resulting from an accident. This policy covers liabilities up to $1 million, ensuring a substantial protective layer against potential financial consequences.
Personal accident insurance (PAI)
Personal Accident Insurance (PAI) specifically covers medical expenses following an accident. If you're involved in an accident while driving the rental vehicle, PAI covers medical costs for you and any passengers in the car.
The scope of this coverage is vast, extending from emergency healthcare services such as ambulance fees to more extensive medical requirements like hospital charges. In extreme cases where the accident leads to a fatality, PAI can even provide death benefits.
Personal effects coverage (PEC)
Personal Effects Coverage (PEC) is optional insurance rental car companies offer. It provides coverage if your belongings are lost, stolen, or damaged while in the rental vehicle.
This could include clothing, electronics, equipment, and luggage. PEC policies typically come with a set limit, meaning they'll only cover up to a certain amount. The provided limit usually varies depending on the insurance provider and how much you paid for the insurance.
Does my car insurance cover rental cars?
Many personal auto insurance policies provide some degree of car rental insurance. It varies from policy to policy but typically includes liability protection for damages to other vehicles or property during an accident and collision coverage for any damage to the rental car. Some policies may also offer comprehensive coverage that can protect against non-collision-related incidents, such as theft or natural disasters.
Because of the potential variability and specificity related to car insurance on rental cars, it's a good idea for you to contact your car insurance provider before renting a vehicle. Ask about the extent of coverage and whether it applies to rental cars, as well as any questions about the limitations, deductibles, exclusions, and potential out-of-pocket costs if an accident occurs in a rental.
Will insurance pay for a rental car during repairs?
Rental reimbursement coverage is a specific add-on, or rider, to a personal auto insurance policy. It's sometimes referred to as "rental car insurance," "rental car coverage," or "transportation expense coverage." It covers the cost of a rental car while your vehicle is being repaired following a covered event, such as an accident.
Not all auto insurance policies automatically include rental reimbursement coverage. It's typically an optional coverage you elect to add to your policy for an additional cost. Moreover, this coverage usually has certain limitations and requirements, such as daily and per-claim limits on the amount the insurer will pay for rental fees.
What insurance do you need for a rental car?
The insurance requirements for a rental car vary significantly based on many factors. One key determinant is the scope of your existing insurance coverage.
Your regular auto insurance policy often extends its coverage to rental cars. This typically includes collision and comprehensive coverage, protecting against damage to the vehicle from accidents or non-driving-related mishaps like fire, theft, or vandalism. It also usually includes liability coverage protecting you if you harm others or their property while driving. However, the specifics depend on your policy, so verifying what's covered is essential.
Remember that many credit card companies provide rental car insurance as a perk. Depending on the card, this could include collision damage coverage, theft protection, or even coverage for personal items in the vehicle. However, it usually only applies if you use the credit card to pay for the rental.
Rental car insurance FAQ
How much is rental car insurance?
Rental car insurance costs can vary significantly depending on several factors, primarily the type of coverage you opt for and the rental car company's pricing scheme.
Rental car companies generally charge between $10 to $30 per day. It's advisable to carefully consider what coverage you may already have through personal auto insurance or credit card benefits before purchasing additional coverage from the rental company.
How long will insurance pay for a rental car?
How long your insurance pays for a rental car after an accident largely depends on the terms of your policy. Most policies have a limit or cap on this coverage, either in total dollars spent, the daily rate of rental reimbursement, or the number of days you can have a rental car. Once you reach those limits, the insurance company's responsibility to pay for your rental vehicle ends, even if your car repairs are incomplete.
Which credit cards cover rental car insurance?
Many credit card companies offer rental car insurance as a cardholder perk. Credit cards that cover car rental insurance serve as secondary insurance and usually cover damage or theft of the rental up to a certain amount. The extent and terms of this coverage can vary greatly from one credit card issuer to another.
Is rental car insurance worth it?
The value of rental car insurance highly depends on your situation and needs. Key considerations should include the scope of your existing insurance coverage or whether your credit card or travel insurance covers rental vehicle damage or theft. If adequate safeguards are already in place, purchasing additional rental car insurance may not be necessary. However, if coverage gaps exist, extra insurance for a rental car could be well worth the expense.
Summary of Money's rental car insurance explained
Understanding rental car insurance is crucial as it can save you from potential financial headaches. Knowing the various types of protections available, including waivers for collision and loss damage, liability coverage, and personal accident insurance, can help you make an informed decision.
Remember that your current insurance policy and credit card benefits provide some coverage for rental cars. Always read the fine print, ask about exemptions, and base your decision on cost and receiving comprehensive protection. You might incur additional charges upfront, but rental car insurance can provide valuable peace of mind in case of any mishap.