Fired Secretary of State Rex Tillerson Will Forfeit Up to $180 Million if He Returns to the Oil Industry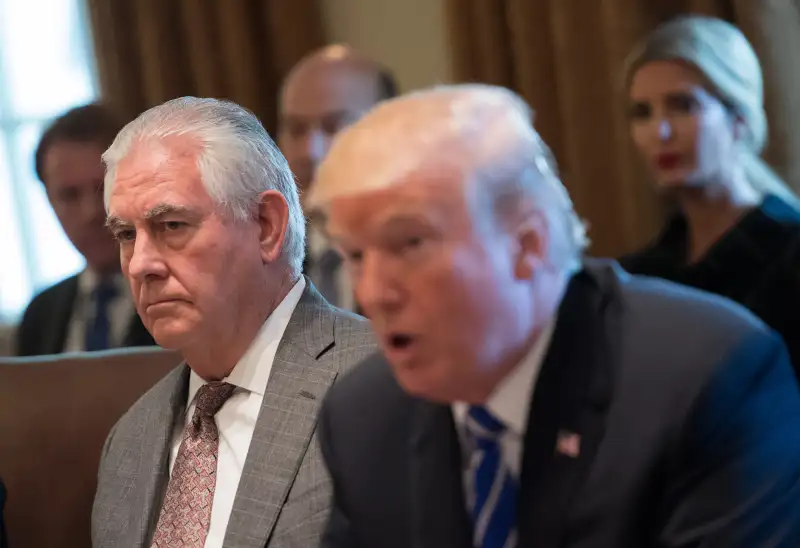 Rex Tillerson, the former CEO of Exxon Mobil, is being removed as Secretary of State by President Donald Trump.
It's unclear what Tillerson will do after leaving the administration, but don't expect him to head back to his old industry: A clause in his Exxon exit agreement stipulates that Tillerson would forfeit up to $180 million if he takes a job in the oil business again within 10 years.
When Tillerson accepted the job as Trump's Secretary of State in early 2017, he resigned as head of Exxon Mobil and agreed to a retirement package worth $180 million, representing the value of two million shares Tillerson would have inherited if he stayed at Exxon. But as the Associated Press reported, the money was placed in a trust in order to avoid conflict-of-interest issues. Tillerson's exit agreement stated that the money in the trust would be paid out over 10 years—or given to charity if Tillerson took another job in the oil and gas industry within that period.
Tillerson was one of several wealthy former corporate executives in the Trump administration, which is by far the richest presidential cabinet in American history. Rex Tillerson had a net worth of $330 million as of last year, according to Forbes.
Combine Rex Tillerson's net worth with that of other Trump administration appointees such as Education Secretary Betsy DeVos (net worth estimated between $1 billion and $5 billion) and Secretary of Commerce Wilbur Ross (net worth: $700 million to $2.9 billion), and the collective wealth of Trump's cabinet was once estimated as high as $14.5 billion. This total does not even include the estimated wealth of Donald Trump (net worth: $3.1 billion).
It has been rumored for months that Trump wanted to fire Rex Tillerson. The New York Times reported last November that the Trump White House planned to oust Tillerson and replace him at Secretary of State with Mike Pompeo, the CIA director, former congressman, and member of the Republican Tea Party from Kansas. On Tuesday, Trump confirmed in a Tweet that this switch would indeed take place, and that long-time CIA veteran Gina Haspel would replace Pompeo and become the first woman to be CIA director.
Tillerson's removal is the latest in a long string of Trump administration departures. As of last week, 35 Trump staffers had come and gone since Donald Trump entered the White House, CNN reported, including the recently announced high-profile resignations of communications director Hope Hicks and top economic adviser Gary Cohn.
It is said that during his year as Secretary of State, Tillerson clashed with Trump over multiple issues, including how to handle North Korea and whether or not Russia should be blamed for the nerve agent attack on a former Russian spy in the UK. It has also been widely reported that Tillerson called Trump a "moron" in a Pentagon meeting, and Tillerson has never explicitly denied the claim.