6 Horrible Things the Sharing Economy Is Being Accused Of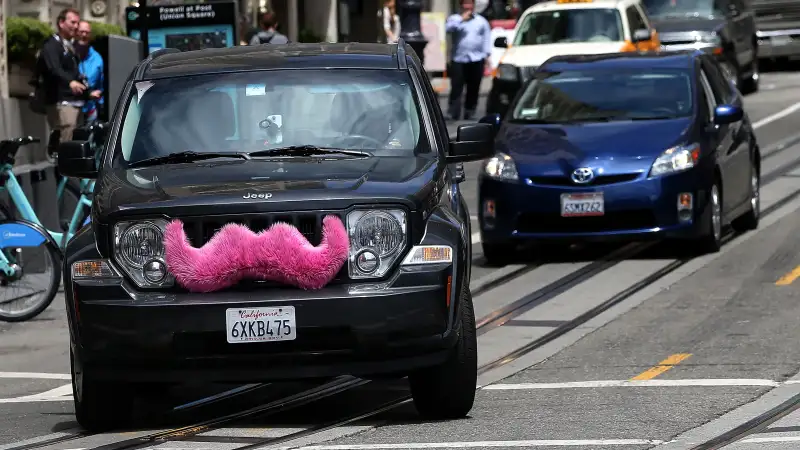 Justin Sullivan—Getty Images
While sharing economy businesses such as Airbnb, Lyft, Uber, and TaskRabbit were created with the idea of connecting people and empowering individuals as entrepreneurs, they were also designed to disrupt existing business models. That process can be ugly, as it occasionally wreaks havoc not only on big industries like hotels and taxis, but also on how people make a living and where they can afford to live.
There's an argument to be made that the sharing economy is not really about sharing at all. Rather, it's a semi-regulated, tech-enabled, blatantly capitalistic peer-to-peer business model. Sure, it helps people earn a few bucks or get services cheaper than usual, but we must admit that the model can be brutally cut-throat in the way seemingly everything and everyone is monetized. Given such, it's not all that surprising that sharing economy businesses are being blamed for some pretty nasty stuff lately. For example:
Sabotaging Each Other
The Wall Street Journal described the battle of ride-sharing competitors Uber and Lyft as "Tech's Fiercest Rivalry" due to tactics such as giving cash bonuses (up to $1,000) to recruit drivers away from each other. In a particularly ugly turn, Lyft accused Uber of booking—then cancelling—more than 5,500 rides since last October, just to mess with Lyft drivers and the company in general. (Uber denied Lyft's claims.)
Price Gouging
This summer, Uber agreed to limit surge pricing during natural disasters and emergencies, but that doesn't mean its hated price hikes during peak demand have gone entirely away. Fans who attended a recent music festival in San Francisco were subjected to surge pricing that was five times the normal rate, meaning a short Uber ride through town cost hundreds of dollars, Valleywag reported.
Inviting Squatters and Scammers into Your Home
Following in the footsteps of an Airbnb host being disturbed by renters holding an orgy in his apartment, there's the story of an Airbnb host being outraged by squatters who refused to leave (or pay) for their rental.
Wrecking the Housing Market
Critics say that Airbnb rentals turn homes and apartments into quasi-hotels, and landlords in desirable, touristy destinations such as San Francisco and Marfa, Texas are being accused of evicting long-term tenants so that units can be used as more lucrative short-term rentals. The sharing economy pioneer has also been linked to soaring rent and housing prices in general, and also the idea that the comfortable atmosphere in apartment buildings and entire neighborhoods is being destroyed by the presence of too many loud, unruly tourists.
Illegal Currency Trading
A group of taxi companies in India has accused Uber of violating local laws for credit card transactions. It is against the law for Indian citizens to conduct business in India using a foreign currency, and that's what the group is saying is happening every time someone there uses Uber.
Ruining Wages, and Not Only for Taxi Drivers
Cab drivers are the ones who have been most up in arms about the way rideshare upstarts like Uber, Lyft, and Sidecar have been disrupting their livelihoods by wooing away customers. But the brutally competitive nature of these businesses and the sharing economy in general has been causing trouble for other workers as well—like Uber and Lyft drivers themselves.
Professional UberX drivers supposedly earn $90,000 per year in New York City, but that figure doesn't factor in many business expenses, including parking, gas, insurance, or the maintenance of one's vehicle. And as rideshare companies engaged in price wars recently, some drivers have seen their wages cut significantly.
The dark side of the sharing economy is that it commoditizes all sorts of skills, services, and workers overall, and puts downward pressure on how valuable they are. The recent changes at TaskRabbit, the peer-to-peer site where people can book (and offer to handle) outsourced chores, has resulted in something of a race to the bottom in terms of money people can earn, mostly because it has become more difficult to beat out the competition for gigs.
[UPDATE: TaskRabbit reached out to clarify that it recently adopted a minimum rate of $11.20 per hour for the tasks coordinated on its site. The company points out that the rate is much higher than any state's minimum wage.]
In a vehemently pro-sharing economy column published this summer by the New York Times' Tom Friedman—it was was more or less an extended interview with Airbnb CEO Brian Chesky—Chesky envisioned a future in which people multitasked at several jobs rather than serving as employees of a single company. "You may have many jobs and many different kinds of income, and you will accumulate different reputations, based on peer reviews, across multiple platforms of people," Chesky said. "You may start by delivering food, but as an aspiring chef you may start cooking your own food and delivering that and eventually you do home-cooked meals and offer a dining experience in your own home."
This vision sorta makes it sound like one day we'll all be TaskRabbits, hopping from gig to gig and competing against other taskers at every step. This is cause for concern. To quote a notable recent headline: "If TaskRabbit Is the Future of Employment, the Employed Are F***ed." A New York Times story published this past weekend that followed the day-to-day existence of some sharing economy "microentrepreneurs" shows that this vision of the future has already arrived for many workers--and the reality is one of grim uncertainty and tough competition.
As for drivers operating taxis or rideshare cars, well, they have more to worry about than diminishing wages. Not long ago, Uber CEO Travis Kalanick made it clear that down the road, he expects that Uber will not employ any drivers at all. Instead, rides will be provided by self-driving cars. And presumably, all the people who would otherwise be drivers will have to jump into the scrum and compete with the rest of the rabbits for whatever work is available.