Why Striking Workers Are Pushing to Get Pensions Back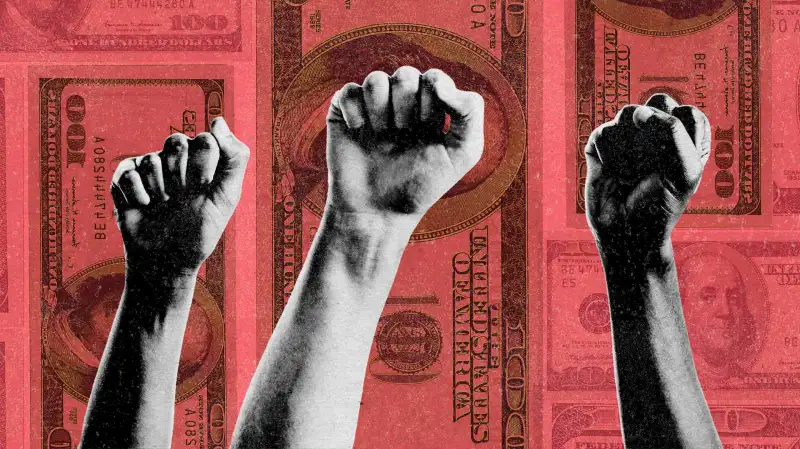 Don't touch that dial: Hot labor summer seems to be stretching into the fall.
With the Writers Guild of America strike finished and SAG-AFTRA in negotiations, focus has turned to the United Automobile Workers union, which began striking in mid-September. Like their counterparts in entertainment, the members of the UAW are pushing for better pay — but they've also included a unique request on their list of demands.
The UAW wants Ford, Stellantis and General Motors to bring back pensions, which they stopped offering to new hires amid the 2008 financial crisis. Employees now get the option of a 401(k), but the UAW says on its website that "all workers deserve the retirement security UAW members had for generations."
Here's what you need to know about pension plans.
Defined contribution vs. defined benefit
Diane Pearson, a certified financial planner based in Pittsburgh, Pennsylvania, says retirement plans come in two flavors: defined contribution and defined benefit.
Defined contribution plans are those in which an employee and/or their employer contribute to a retirement account. The factor that's "defined" — aka decided in advance — is the contribution, or the amount of money that you're putting in ahead of retirement. Like with a 401(k), for instance, the IRS has specific rules about how much you can stash away each year. (Currently, it's $22,500; $30,000 for people 50 and up.)
Defined benefit plans are the opposite. Those are programs where the amount of money you'll be getting out upon retirement is what's defined.
Pension plans fall into the defined benefit category because of the way they're structured. With most pensions, you work for a certain number of years while your employer stashes away funds in a pool for the future. Then, when you retire, the company pays you a predetermined amount on a regular basis (often monthly) until you die.
"This is really something driven by the employer," says Edward Gottfried, senior director of product management at Betterment at Work. "The employer is taking responsibility for setting it up and maintaining it, and the employee is able to benefit from it on the other side of retirement."
Who offers pensions?
In the U.S., public pensions were initially reserved for people who were wounded or spouses of those who died while serving in the military. After the Civil War, the restrictions loosened, and private pensions took off around the same time, especially in railroad construction.
(By contrast, the 401(k) wasn't invented until the late '70s.)
Throughout history, pensions have been a way for employers to attract workers, especially when the labor market is tight. A pension plan is a sweet deal for employees because they get a regular payment once they retire — no worrying about market risk or losing track of old 401(k)s. And because that check is usually bigger the longer a person stays at a job, pension plans help improve retention.
Alas, Cassandra Rupp, a financial advisor with Vanguard, says pensions have fallen off in recent years.
Private-sector companies have wisened up to the fact that it's really expensive to provide for all their employees throughout retirement. These days, pension plans are more common in public service — think federal employees, government workers, teachers, law enforcement, etc. In industries with high unionization rates, workers often make it a priority to bargain for pensions to be included in their contracts.
Pension pros and cons
Pension plans have a few downsides, too.
Interestingly enough, the biggest "con" is the same as the biggest "pro": It takes saving for retirement out of your control. It forces you to take a leap of faith that your employer will still be around and in good shape by the time you retire in a few decades.
Pearson points out that there are safeguards in place in case of bankruptcy: Employers' retirement plan assets are supposed to be kept separate, held in trust or insured, meaning they're protected from creditors. Failing companies can also sell their pension plans to an insurance company. In these scenarios, payments don't disappear entirely, but they can decrease.
Another drawback is that you generally need to spend a significant chunk of time at the employer in order to unlock a nice pension payment — hopping from job to job every few years, like millennials tend to do, isn't going to cut it.
Should you rely on your pension?
It's risky to put all your eggs in a pension basket when it comes to retirement planning. If you do get a pension plan, you should probably look into setting up an IRA and personal investment account(s) alongside it so you do have money that you control. Plus, these accounts will be significantly easier to access for stuff before retirement — like buying a house — than a pension.
"I wouldn't 100% rely on any future payout," Rupp says. "It's always good to plan outside of any income streams you think you'll get."
It never hurts to have a Plan B.
More from Money:
Am I Too Young to Get an Annuity?
New Job, New Office, New 401(k). But What Should I Do With My Old One?
Should I Have a Health Spending Account if I'm Young, Single and (Mostly) Healthy?