Subway Is Killing the $5 Footlong — Again. Here's Why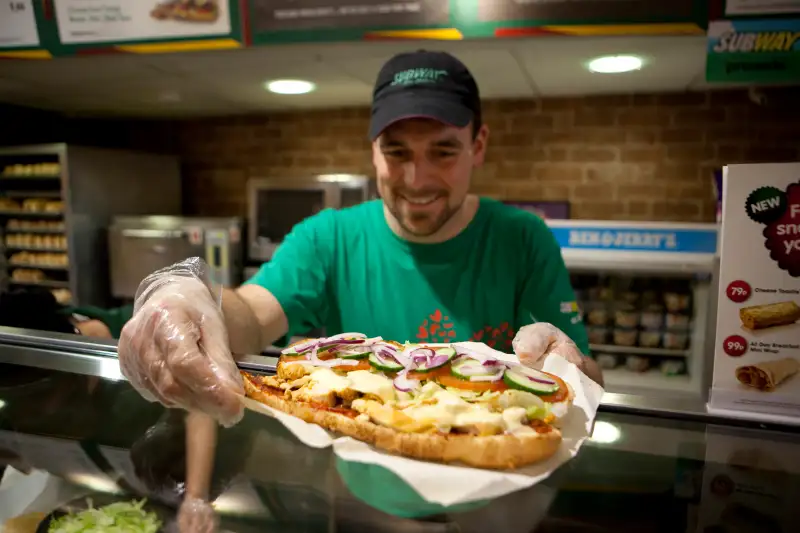 Newscast—UIG via Getty Images
Subway keeps killing its best sandwich deal.
The Subway $5 footlong — a 12-inch sandwich for $5, promoted with an ad jingle you can't get out of your head — was hugely popular with customers for a decade before the fast food giant raised the price by $1 in 2016.
Subway brought back the $5 footlong in early 2018, but now there's a good chance it'll be disappearing yet again from your local Subway shop.
Subway CEO Trevor Haynes told USA Today that starting this month, each Subway franchise can decide whether or not it wants to have any $5 footlong deals.
And there's good reason to believe that many franchises will quickly eliminate their $5 footlong offers: After all, Subway killed the deal the first time after years of franchises complaining that the price point was too low for them to make a profit.
Fast food restaurants have a love-hate relationship with low-price deals like the $5 footlong and the McDonald's dollar menu. They love these promotions because they drive customer traffic into locations, yet they hate how little they generate in profits.
The $5 footlong became a huge hit for Subway restaurants around 2008-2009, during the heart of the financial collapse and the great recession, when consumers were extra eager for good values. Within a few years, however, many franchisees were grumbling that the $5 deal was hurting their business. What's more, after years of rapid expansion, Subway's growth as gone into reverse. Subway experienced a net loss of 350 U.S. locations in 2016, and it closed hundreds of restaurants in 2017 and 2018 as well.
Soon, it'll be up to each Subway restaurant to decide if it wants to offer a $5 footlong. Some locations will have the deal — perhaps for a limited number of sandwich selections, and only on select days of the week. Other Subways will decide to launch different kinds of specials, like the $3.99 six-inch sub deal that's currently available at Subway locations in San Francisco.