Why Vacancies Are Up for Summer Rentals in Some Classic Beach Destinations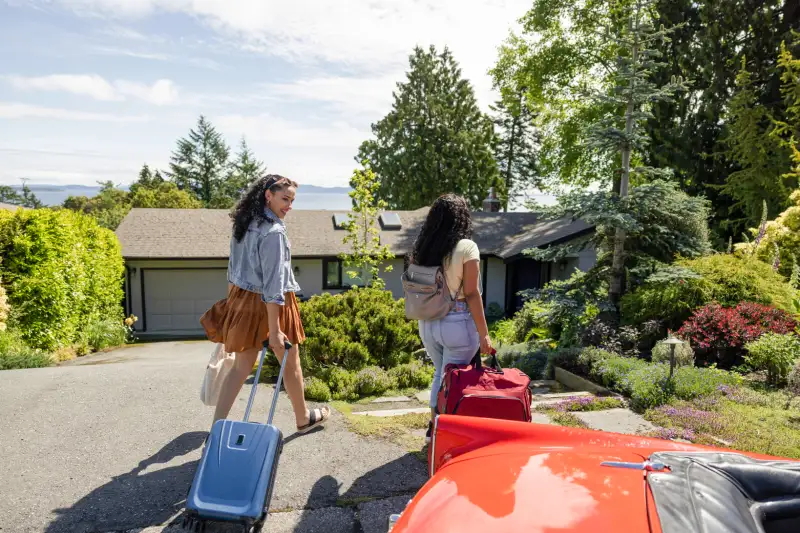 Any seasoned traveler knows it can be tough (and expensive) to find last-minute accommodations in classic summer travel spots like Cape Cod or the Hamptons. By some accounts, however, this year there's a glut of peak season summer rentals still available in reliably in-demand destinations.
The vacation rental platform Vacasa reported in a May letter to shareholders that business is on a downswing after two years of record bookings and profits.
"We continue to see evolving booking patterns as the industry comes off of two record years, and we are experiencing some renewed bookings softening, especially on the close in part of the booking curve," Vacasa says in the letter.
Even before the pandemic, vacancies were rare in well-loved summer sanctuaries. But now local brokers and real estate experts in certain markets say that they're unexpectedly still trying to rent out weeks during peak season.
Such a phenomenon might have you thinking that now's a good time to find vacation rentals on the cheap, but there's a lot more going on below the surface.
In many ways, the challenges for the short-term vacation rental industry represent fallout from the chaotic housing market. The onslaught of buyers who flocked to purchase vacation homes during the pandemic has led to a flurry of new rentals on the market now. Travelers appear to be expanding where they want to take their summer vacations beyond traditional nearby destinations too — because these places have grown more expensive, and because people are more comfortable flying, among other reasons. It all adds up to a changing landscape in which some renters are hesitant to spend big money vacationing at the same old summer spots.
Vacancies for summer rentals
Vacasa CEO Rob Greyber said during the company's most recent earnings call that a decline in 2023 rental bookings is occurring across the travel industry. While Vacasa declined to share its data with Money, according to the call transcript, property owners aren't seeing the stampede of vacationers that stormed beach towns and other destinations the last two years.
"As we look at the data points from third-party firms that cover our industry, it's very clear that others are also experiencing declines in bookings and that we are in a very different demand environment than we were a year ago," Greyber said.
While there isn't much available in the way of universal industry data to confirm these trends on a broader scale, local realtors and realty groups in the Jersey Shore, the Hamptons and Cape Cod tell Money that their bookings are indeed lower this year.
Paul Niedzwiecki, CEO of the Cape Cod Chamber of Commerce, says property owners on the Cape did exceedingly well the last two years, as demand and the going rates for rentals spiked in tandem. Now, though, short-term rental sales are down between 10% and 20% for the peak season, which starts in early July and rounds out at the end of August.
It's largely the same story at the Jersey Shore and in the Hamptons, two other other coveted East Coast vacation spots where the initiated will tell you to reserve a rental at least six months in advance (and even earlier during the post-COVID travel boom). Tom Friedman, a sales agent for Rosehip Partners Real Estate's East Hampton area, says he estimates his bookings could be down even more than 20%.
Last-minute deals on vacation rentals?
You might assume that lower occupancy rates would make this the right time to find unbeatable deals on a shore house. Unfortunately, such is not necessarily the case.
It's more like the market is correcting after two years of unprecedented demand, which local real estate experts say have elevated costs to astronomical heights.
Cape Cod Association of Realtors CEO Ryan Castle says that while vacancies are 20% higher for the nonprofit's realtors, so are the prices they're trying to charge renters. What's more, there's an increase of new inventory on the market following the COVID homebuying frenzy.
"It very much follows the current real estate market generally," he tells Money.
Places like Cape Cod are predominately second-homeowner communities, Niedzwiecki adds. More homeowners are marketing their vacation homes as short-term rentals when they're not using them, raising the available supply.
Overall, the increase in vacancies hasn't led to owners drastically lowering their prices. While some owners still trying to secure bookings may be willing to negotiate, demand for vacation rentals remains pretty high — still higher than in the years leading up to the pandemic in some locations. The latest U.S. market review from analytics company AirDNA, which pulls listing data from vacation rental giants Airbnb and Vrbo, found that demand for short-term vacation rentals is actually booming even beyond 2022.
According to the report, demand increased 12.6% in April from the same time last year while booking growth surged 16.4%, making this summer "the biggest yet for the (short-term rental) market."
Shawn Clayton, owner of Clayton & Clayton Realtors, says the Jersey Shore homeowners who rent their properties out through his agency typically demand top dollar, but they've been able to ask for more than usual in recent years as travelers flooded shore towns across the region.
"The last two years were unbelievable, homeowners really benefited from COVID," Clayton says.
Clayton's agency does still have some vacancies for its lower-end rentals, which go for a minimum of about $2,000 a week. But the majority of the agency's vacancies are on the pricier side, running $15,000-plus for a week.
Other factors contributing to rental vacancies
The pandemic has also affected travel patterns in ways that are working against drive-in vacation destinations. Part of the equation is a shift in interest: As pandemic restrictions and rules regarding international travel fade away all over the world, more people are booking trips abroad instead of opting for domestic locations.
An April report from AAA found that this year, international travel is up an astounding 200% compared to 20222. International hotel bookings have jumped 300%, and the increase in airfare demand has driven ticket prices for international trips up more than 30%
"For the first time in three years, people can travel freely," Friedman says. "Many people who bought houses also want to travel, so they're looking to rent out their homes."
Additionally, this shift has affected how long vacationers want to book in places like Friedman's East Hampton territory. While his firm doesn't offer rentals less than two weeks, higher prices and greater options are driving people to places that do offer shorter stays, including big platforms Airbnb and Vrbo.
"These companies take more money from homeowners, and some of our input has been taken over by them," Friedman says.
More from Money:
People Aren't Buying Vacation Homes — and That's a Bad Sign for the Housing Market
The 25 Best Places to Travel in the U.S.