Taco Bell Is Getting a Makeover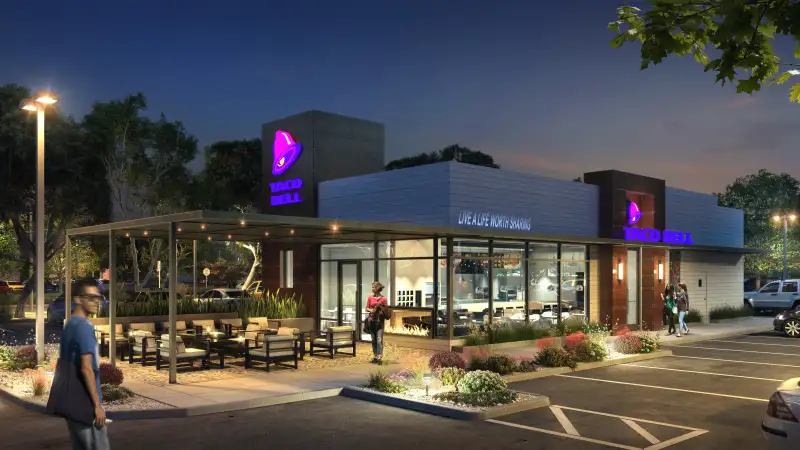 As part of a broader expansion and re-branding effort to revitalize the company's image for a modern hungry public, Taco Bell is unveiling four new restaurant design concepts the company hopes will redefine the fast food experience today and for coming generations.
The four new location designs include:
Heritage — A "modern reinterpretation of Taco Bell's original Mission Revival style."

Modern Explorer — A "rustic modern style" inspired "by the farms that make our food."

California Sol — "Inspired by Taco Bell's California roots" this design "blurs the lines between indoor and outdoor" and "embraces a laid-back beachy feel."

Urban Edge — An "eclectic mix of international and street style done the Taco Bell way."
"While all four restaurant designs each have a different contextual personality, they all share a commonality in expressing Taco Bell's brand like never before," Marisa Thalberg, Chief Marketing Officer at Taco Bell, said in a statement. "From the open kitchen that showcases our freshly prepared foods to the community tables designed for friends to hang out, each of these formats fosters a modern, unique experience."
By 2022, the company plans to open 2,000 new restaurant locations and continue remodeling older locations that currently have the now-classic Mexican mission with a bell and outdoor patio look. Through restaurant remodels in Orange county, California, Taco Bell plans to open and test out the new restaurant designs.
"It's no longer one size fits all," said Deborah Brand, VP of Development and Design at Taco Bell. "Consumers are looking for a localized, customized and personalized experiences that reflect the diversity of their communities – the flexibility in bringing these four designs to life gives us just that."
Taco Bell is also expanding with new "Cantina" locations in urban settings that could serve alcoholic beverages. Though Orange County, California, is planned for the initial roll out of new designs other test markets are under consideration as well for further expansion, including Atlanta, New York, Boston, Berkeley, Austin and Fayetteville.
In 2015, Taco Bell announced it was dropping artificial coloring and flavoring, high fructose corn syrup and other ingredients deemed unhealthy or environmentally unsustainable. Last year the company also opened 275 new locations and remodeled about 600 more, a performance the company hopes to repeat in 2016.