6 Career Lessons We Can Learn From Tony-Nominated Musicals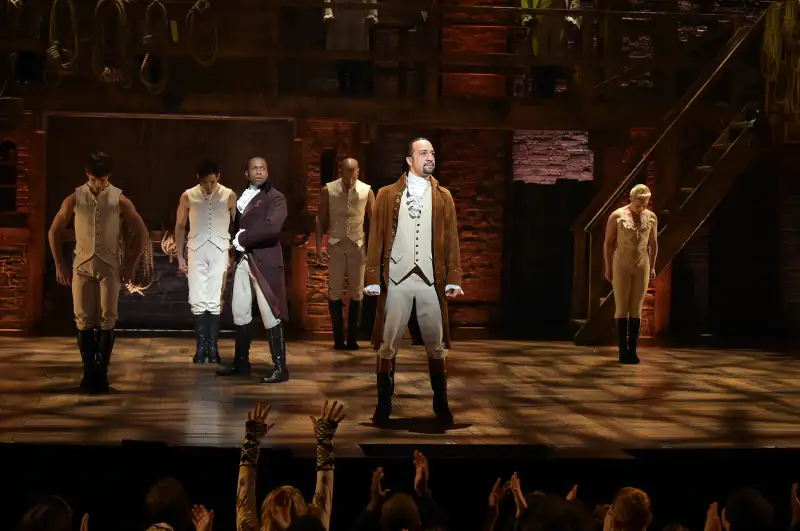 On Sunday, millions will tune in to the Tony Awards to see if Lin-Manuel Miranda's "Hamilton" will make history for the most awards ever received by one production at the Broadway honors. The hit musical, documenting the rivalry between founding fathers Alexander Hamilton and Aaron Burr, has become an instant sell-out (tickets to Miranda's last performance on July 9 are going for as much as $10,000) and garnered a record 16 Tony nominations.
The plot of "Hamilton" also touches on a host of monetary and career issues that hold just as true today as they did in the Revolutionary War era. But it's not the only Broadway play from which we can glean personal finance and career tips. From "Waitress" to "School of Rock," here are some career lessons we can learn from this year's Tony-nominated plays.
1. Figure out how your talents can make money.
Tony-nominated musical "Waitress" tells the story of Jenna, a server living in the South with a prodigious talent for making pies. The play details her struggles to break free of her abusive husband, emotionally and financially. Eventually she does so by emerging victorious in a pie-making contest and taking ownership of the restaurant where she used to wait tables. Her pie shop is successful enough that she's able to leave her husband and support herself and her young daughter on her own. While Jenna had baking skills all along, she struggled financially until she realized the best way to showcase—and monetize—her talents. It's advice we can all use: Figure out where your greatest skills lie, and use them to improve your performance at work, or even angle for a raise or a step up in your career.
2. You have to be in it to win it.
In "Hamilton," several of the cast members deliver a powerful song, "The Room Where It Happens." The character of Hamilton says, "When you got skin in the game, you stay in the game / But you don't get a win unless you play in the game." He's often able to advance himself by simply being present and asking for what he wants, whether it's a federal system of government or a debt law. Similarly, in the work force, you're more likely to receive that promotion if you develop a reputation for always being present and alert.
3. Learn to adapt to setbacks.
The premise of Tony-nominated musical "School of Rock" begins when struggling rock star Dewey is kicked out of his band at the beginning of the show. In a financial tight spot, he finds a job (admittedly, through less-than-reputable means) and founds the titular band with the students, who—lo and behold!—happen to be musical prodigies. While his professional situation is not ideal, Dewey manages to launch a successful career at the school. Likewise, in your career, it's important to figure out how to land on your feet after encountering obstacles.
4. Have confidence in your abilities.
At the start of the show, many of the children in "School of Rock" lack the confidence to play in the band, despite being extremely talented youngsters. Tomika, for instance, is shy and doesn't speak to anyone at school, but ultimately finds her voice as a singer. Lawrence doesn't believe he's cool enough to play in a band, but ends the play as a skilled keyboardist. It's only after they start to believe in themselves that the band takes shape. While you might not boast a hidden talent like the musical prodigies in "School of Rock", it's nonetheless key to approach every task with the belief that you can achieve your goal if you set your mind to it.
5. Don't let others define you.
The creative team behind the original 1921 musical at the heart of Tony-nominated "Shuffle Along" wasn't like the typical Broadway crew—everyone involved with the show, from the writers of the music and lyrics to the producers, director, and cast, was African-American. As a consequence, they had to fight for everything they got, even a second-rate theater 20 blocks north of the heart of Broadway. But they hewed to their vision, and the world came to them; the original show ran for more than 500 performances and was so popular that it regularly caused traffic jams on 63rd Street. The moral of that story? Don't let anyone tell you that you can't do the job because of the way you look or your age or the school you went to. Let the work speak for itself.
6. Go after what you want.
The character of Alexander Hamilton sings, "I'm just like my country; I'm young, scrappy and hungry." When Hamilton takes advantage of opportunities like becoming George Washington's aide at a young age, he's able to edge out his rival Aaron Burr, who doesn't display the same ambition. Similarly, if you take advantage of opportunities that cross your path (such as learning new skills relevant to your job), you're setting yourself up to succeed in the long run.