What the Next Round of Airline Mergers Could Mean for Travelers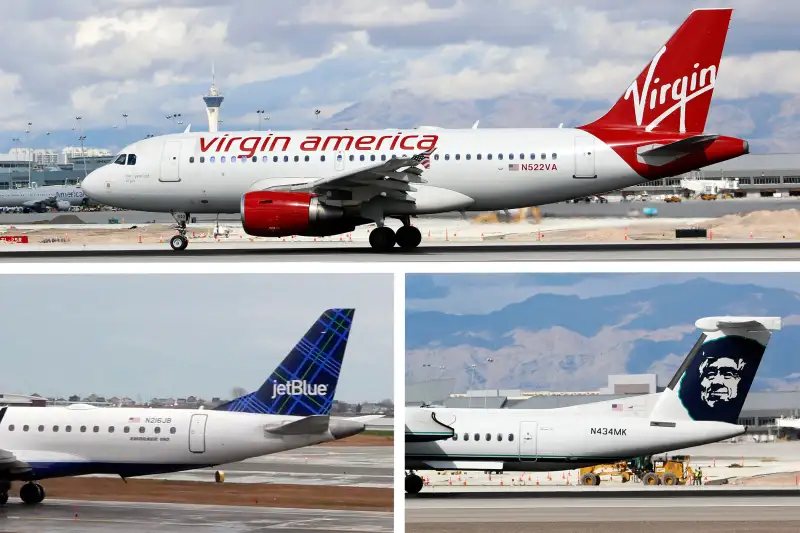 The airline industry in America has been described as an "uncompetitive oligarchy," with power resting in the hands of a select few players. Consumer groups have decried the fact that four airlines control 80% of flights within the U.S. and have called upon Congress to investigate—and push for—more competition in the marketplace.
And yet it looks like a new round of mergers and acquisitions in the airline business will result in less competition in the near future. Virgin America, the San Francisco-based airline that has struggled financially for years but has a stellar reputation among travelers, reached out seeking potential buyers recently, and sure enough, suitors have arrived looking to take over.
As Bloomberg, the Wall Street Journal, and others have reported, JetBlue and Alaska Air have both made bids this week to acquire Virgin America.
Meanwhile, the idea of a merger between ultra-low-fare competitors Spirit and Frontier Airlines has been floated for months, gaining more attention in early 2016, when Spirit hired a new CEO, Robert Fornaro, who has experience with airline mergers. Fornaro was the CEO of AirTran when Southwest Airlines acquired it and worked with Southwest as a consultant during the integration of the two operations.
Read next: What Marriott's Purchase of Starwood Would Mean for Your Hotel Reward Points
Travelers have reason to be wary of such mergers. Many of today's hated airline practices, including adding loads of fees, eliminating hubs and routes, shrinking seat space, and packing planes fuller than ever, can be traced back to the previous round of mergers that saw carriers such as Continental, US Airways, and AirTran disappear.
In the past, airline executives argued that mergers were absolutely necessary for their survival. The industry had been plagued by bankruptcies, and combining with competitors was presented as the only way to make the business profitable. It was almost an act of desperation, travelers were told.
Today, however, airlines are riding high on record profits thanks to low fuel costs, high revenues from fees, and—yes—less competition. So what's spurring the possibility of a new round of mergers?
"There are concerns among investors that if fuel prices stop falling and unit revenues keep falling, then profits could come under pressure," Seth Kaplan, a managing partner of the industry publication Airline Weekly, explained to Bloomberg soon after Spirit Airlines installed its new CEO. Spirit, mind you, "remains one of the most profitable airlines in the world, but its shares are under pressure," Kaplan said.
Read next: Explore the Best in Travel 2016
As for Virgin America, it appears to be seeking a merger because all of the previous mergers resulted in airlines that are so big and powerful that it is exceedingly difficult for a small carrier like Virgin America to compete. The thinking is that the cost savings and efficiencies created by a combined VA-JetBlue or VA-Alaska would boost the resulting airline's capability of competing with the true giants: United, American, Delta, and Southwest.
Would any of this be good for airline passengers? By definition, mergers shrink the number of competitors. As mentioned, past airline mergers helped enable the surviving players to remove once-standard amenities and institute a wide range of loathed fees.
And yet there's an argument to be made that one or more mergers among today's small players could instantly add another big competitor to the mix. And if the resulting airline is truly able to compete with the carriers dominating the scene today and increases pressure in the marketplace for more routes and lower fares, then a merger could wind up helping airline travelers.
Read next: Why JetBlue Can Break Your Heart, but Comcast Never Will
That is a very big "if," however, and based on the legacy of airline behavior in the past, flyers shouldn't view any merger as the solution to their gripes about air travel today.