Why Warren Buffett Is Campaigning for Hillary Clinton—And How Much He's Spending To Do It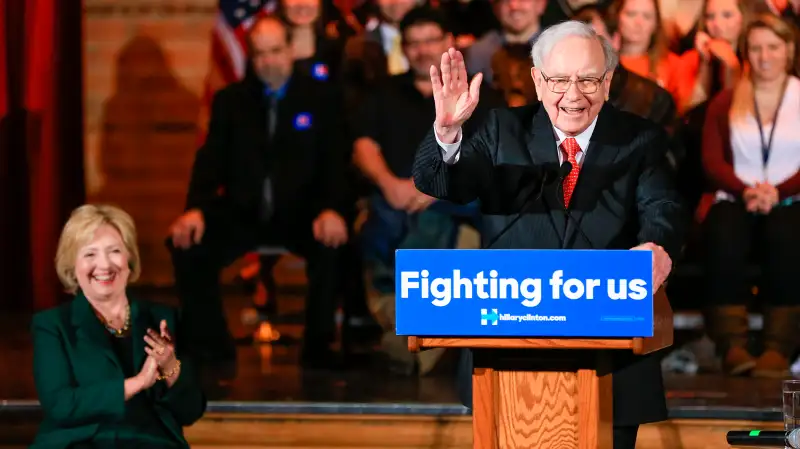 Hillary Clinton may be having a tough time reaching average American voters, but she's having no trouble courting billionaires.
On Monday afternoon, Berkshire Hathaway CEO Warren Buffett delivered a speech at a Hillary Clinton campaign event in his hometown, a few months after endorsing the Democratic nominee for president.
In December, Buffett formally endorsed Clinton, and has been campaigning for her on and off since. At a campaign event in 2015, Buffett opened for Clinton with the description of this economic reality: "The income of the top 400 is seven times what it was twenty years ago. I hope all of you are making seven times what it was twenty years ago, but you would really be the exceptions ... They got a one-third tax cut at the same time their income went up seven-to-one in aggregate."
Income inequality and taxes are two themes Buffett speaks about frequently (so much so that President Barack Obama named the idea of increasing taxes on the wealthiest Americans "The Buffett Rule").
And this isn't the first race in which Buffett has backed Clinton. In fact, the investing legend has donated to her bids for public office as early as 2000, when she ran for a U.S. Senate seat from New York. According to the Federal Election Commission, Buffett donated roughly $6,000 directly to Clinton's campaigns via individual contributions in the last 15 years.
The sum may seem small given Buffett's wealth and propensity for charitable giving. But he's long been an ardent supporter of keeping big money out of politics, especially since the 2010 Citizens United Supreme Court decision. This ruling held that corporations and unions can spend unlimited amounts on political activities, provided their efforts are independent of a party or candidate. Individuals may only donate $2,700 per election cycle to a given candidate's campaign, a limit Buffett has largely abided by.
But even that is not without exception. In October 2014, Buffett gave $25,000, the most he's donated to benefit any single candidate, to a Super PAC dedicated to helping Clinton, called Ready for Hillary. To be sure, Buffett has given sums totaling $30,000 or more to the Democratic National Committee, according to FEC records.
Of course, Buffett has also aided Clinton's campaign by holding fundraising events for the Democratic nominee. Politico reported in January that Buffett held a fundraiser for Clinton that charged $33,400 per person.
For the fourth-richest man in the world to speak out about disproportionate income tax rates and inequality may seem ironic, but he wouldn't be the first billionaire to endorse Clinton. Over the weekend, Dallas Mavericks owner and investor Mark Cuban endorsed Clinton, following in the footsteps of former New York City mayor Michael Bloomberg, who spoke at last week's Democratic National Convention in favor of the nominee.
Remember the "Billionaires for Bush" parody website, when George W. ran? He certainly had a bona fide bunch of well-heeled donors. And Clinton does, too.