The Simple Free Hack to Watch NCAA March Madness Without a Cable Bill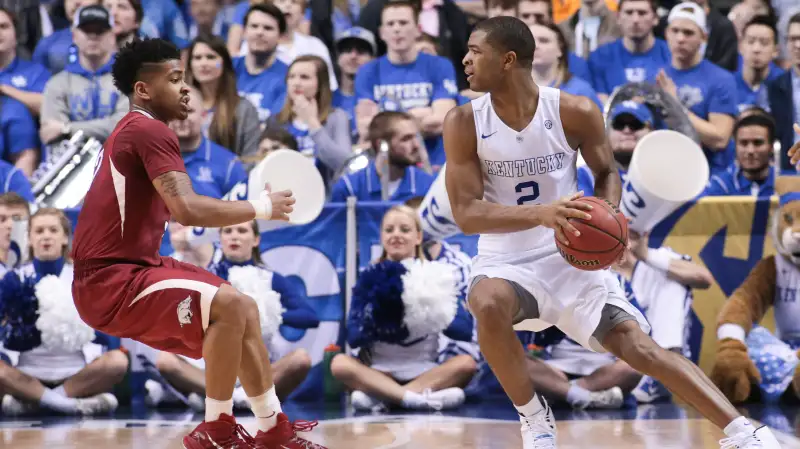 Cut to the chase: The "trick" is to simply sign up for a free trial of Sling TV, the new streaming service from Dish TV that gives subscribers access to live online broadcasts of more than a dozen pay TV channels, including AMC, ESPN, CNN, TNT, and TBS. The latter two will be televising roughly half of the games in the NCAA men's basketball tournament. CBS—free with a digital antenna—will broadcast most of the remaining games, including the championship on Monday, April 6, while a few games will be shown on the pay TV network truTV.
Normally, a Sling TV subscription costs $20 per month. But the service is available for free during a seven-day trial period. So the idea is to simply sign up just before the tournament tips off, and then stream to your heart's content during the first weekend of March Madness—again, at no charge, without any traditional cable bill or contract. Alternately, you might want to time your seven-day trial to span over Saturday, April 4, when the two Final Four matchups will be broadcast on TBS.
Sure, this hack only gets you one week's worth of NCAA March Madness for free. But you could use the trial period as just that—a trial—and keep the service if it's to your liking. After all, the $20 monthly rate is far cheaper than the average cable bill, estimated at well over $100. Streaming services also aren't overloaded with the usual fees and hassles associated with standard cable and satellite TV providers.
According to Sling TV's official terms of use, there is no fee for cancelling the service. In fact, the Sling TV sales pitch goes overboard playing up how simple and fee-free the service is:
Still, it's worth noting a few potential hiccups. [CORRECTION: An earlier version of this story indicated that Sling TV customers can only cancel the service via phone, not online. A Sling TV representative contacted us to clarify that it is, in fact, possible to cancel online. All members have to do is sign in and click on "My Account." There you're given the option to change or completely cancel your account.] One is that, maddeningly, you can't cancel Sling TV online. Instead, you must call the customer service number (888-909-4087), where you can expect an agent to stridently attempt to talk you out of cancelling. Speaking of which, if you don't want to be charged for the service after your seven-day free trial, you must proactively call up and cancel; if not, you're automatically signed up and billed for the first month.
Also, a Sling TV subscription only works on one device at a time. So you can't simultaneously watch one game on a laptop and another on a tablet or smart TV using the same account. Then again, you could be multi-tasking by streaming one game on Sling TV and using old-fashioned TV to view the game broadcast on CBS. For that matter, the NCAA March Madness Live app will allow anyone—including those with no pay TV package—to live stream the games being broadcast on CBS for free. The rules are different for the games being shown on pay TV channels, however, as the NCAA explains:
Enjoy the Madness!