Guess Who Is to Blame for Fewer Fans Watching Sports on TV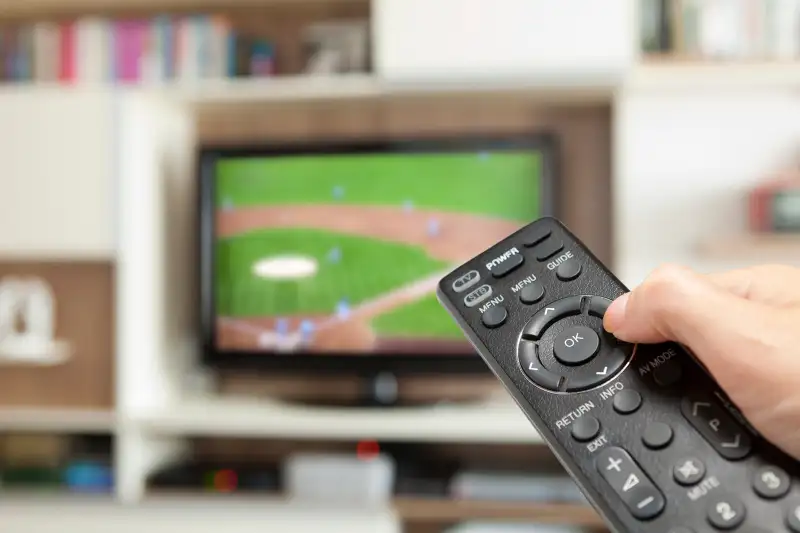 A year ago, 28.3 million viewers watched the men's basketball tournament championship game on TV, according to the NCAA. It was an increase of 33% over the previous year, and the highest total in viewership in nearly two decades.
The upcoming 2016 championship game, on Monday, April 4, doesn't have a prayer of topping last year's ratings, and it's not because Duke is already out of the tournament.
This year, for the first time in decades, neither the pair of Final Four games on Saturday night, nor the championship game on Monday, will be televised on a free broadcast network. Instead, according to a lucrative TV deal signed by the NCAA, Turner pay TV channels TBS, TNT, and truTV have exclusive rights to air the games—meaning a pay TV package is required to tune in.
While most fans are aware of the broadcasting schedule and have cable or satellite TV service with access to these channels, there are plenty of casual viewers who will be frustrated in searches for the games on TV. For them, March Madness will take on a different meaning.
Major sporting events always hope to win over the largest audience possible, and yet in the quest for dollars the sports industry has been making it more difficult—and more costly—for fans to watch on TV. Critics have blamed boxing's decline in popularity at least partially to its early adoption of pay-per-view TV, which shrank the fan base dramatically. The most recent NFL Pro Bowl game, broadcast on ESPN, had the lowest TV ratings ever, representing a small fraction of the viewership when the games were shown on one of the major networks. Interest in baseball has decreased, particularly among kids, during a time period when pay TV channels took over more rights to local teams' games, and when it's become impossible for some fans to watch because cable providers and sports channels can't agree to terms for broadcasting the games.
Read next: How to Watch the NCAA March Madness Basketball Tournament Live for Free
Baseball fans in at least two major metropolitan areas still have reason to be upset because, just as another season is about to get underway, their pay TV provider might not have a deal in place with the channel broadcasting the local team. A high-profile squabble between Comcast and the YES Network means that Comcast subscribers may not be able to watch the Yankees on TV in 2016, while Los Angeles Dodgers fans may similarly be shut out due to failed negotiations among multiple TV providers in southern California.
If the goal of any sports team, and any sport in general, is to attract the most fans possible and make them feel good about supporting their favorite teams and players, then a situation like that in Los Angeles is an "unmitigated disaster," as a Yahoo Sports columnist put it. "This is the consequence of greed, myopia and stubbornness, and no amount of pandering can placate the fans suffering because of it."
It's easy to understand why sports agree to deals with pay TV channels: They pull in billions in revenues. The problem is that such agreements are doing serious damage to fan relationships. And perhaps even worse, they hurt the sport down the road, leaving countless would-be fans in the dust because it's impossible for them to get hooked on a game they can't watch on TV.
We may soon reach a breaking point, as the cord-cutting trend means fewer subscribers—and a lower likelihood that the insane deals signed in the past will pay off for cable TV networks. The increase in streaming TV online could throw the old agreements further into upheaval as well.
Read next: 12 Things Americans Are Suddenly Buying More Than Ever
For now, though, the scenario is one in which TV networks are paying extraordinary sums for exclusive broadcasting rights of sports, at the same time viewership is shrinking directly because of these broadcasting agreements.
In 2014, the first year that TBS and its sister channels broadcast the Final Four, the result was a multi-year low in ratings compared to when people could watch on CBS.
Last Thursday, the Oregon-Duke game on TBS was the highest-rated show on cable, with roughly four million viewers. That's impressive, but the viewership on TBS was less than half the total that watched on Saturday, when NCAA tournament games were shown on CBS.

In all likelihood, the ratings for the games coming this weekend on pay TV channels will break records for cable and yet be poor in comparison to games aired on one of the free major networks. And the NCAA has no one to blame but itself for fewer fans watching all of the action.