White Castle Says Reservations Will Go Fast for 25th Anniversary Valentine's Day Dinner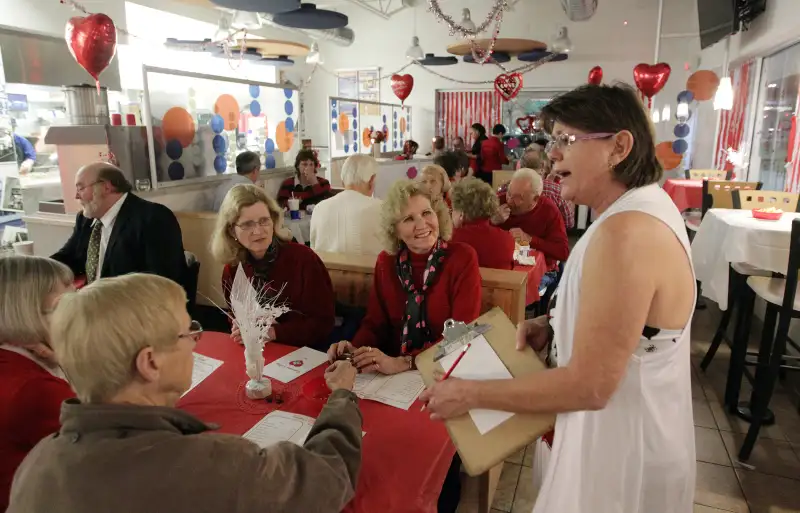 Bill Greenblatt—UPI/Newscom
Traditionally, the gift for a 25th anniversary is silver. But how about some sliders instead?
At the upcoming 25th anniversary of table-service Valentine's Day dinners at White Castle, the restaurant's iconic sliders will of course be featured—as will "Shrimp Nibblers, Strawberry and Cream Waffles and other noteworthy menu items," according to a company press release. Guests will have a choice of four different shared Valentine's Day meals, with choices like Sriracha or classic sliders, as well as strawberry and cream waffles with heart-shaped sprinkles, for $9.95 each.
White Castle has been offering special table-service dinners on Valentine's Day for several years. We were surprised to learn that 2016 was already the 25th anniversary of such a celebration—but yes, in fact, we verified that there is some record of the first such dinner taking place in 1991.
The Valentine's dinners at White Castle are special because customers order at tables (rather than at the counter), eat on tables with tablecloths (rather than onion- and ketchup-stained formica), and need to make reservations (rather than randomly dropping in after the bars closed).
Read next: 5 Valentine's Day Gifts If You Want Her to Break Up With You
Since this year marks a big anniversary, White Castle is expecting Valentine's Day gatherings to be extra popular. "Every year, reservations fill up quickly at many locations," Jamie Richardson, vice president of White Castle, said in a press release. "We encourage Cravers everywhere to contact us as soon as possible to ensure they get a table. Many people don't realize how popular Valentine's Day at White Castle is until they experience it for themselves. And love doesn't stop with Valentine's Day – we have couples who will actually marry in White Castles later this year."