10 Essential Items to Make Your Home Office More Productive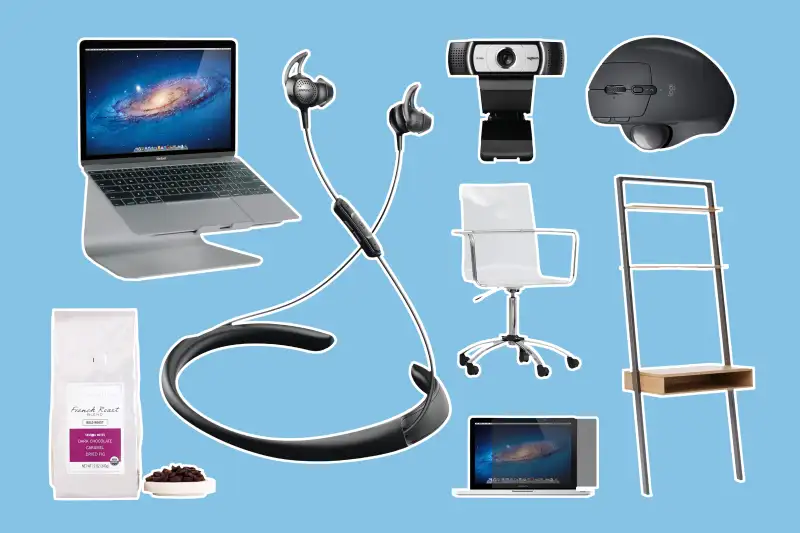 Courtesy of various brands
A growing number of Americans work from home on at least a part-time basis. And the trend shows no sign of abating: Billionaire Richard Branson recently endorsed the practice for working parents, and even seasonal customer service gigs are frequently turning into work-from-home jobs, thanks to Amazon and other e-commerce operations.
The key to success when it comes to work from home jobs is finding ways to make yourself productive even though you're surrounded by distractions like chores, kids, and pets. Experts in working from home say that having the right equipment, electronics, and other gear can help improve your productivity greatly when you're working remotely. Here 10 work-from-home productivity tools that come highly recommended.
When it comes to work-from-home jobs, one of the biggest hazards is feeling disconnected from colleagues in the office. Even if you only work at home a couple of days a week, you don't want to spend the first morning back in the office every time catching up on minutiae. Sara Sutton Fell, founder and CEO of FlexJobs.com, says the best technology for working remotely is a quality webcam. This high-def model from Logitech is less than $100 and has hundreds of five-star reviews from Amazon users.
A large number of work-from-home jobs require intense focus and concentration. Need help in that department? "Create a distraction-free zone," Tricia Sciortino, COO of virtual staffing firm Belay, tells Money. This clever ladder desk from West Elm has an accessible price point and a compact footprint, along with a neutral design that will mesh with a wide variety of decorating styles.
You're also going to need a good desk chair when you work from home. Proper ergonomics are key for productivity, and hauling a kitchen chair over to your workstation isn't going to cut it. This acrylic swivel chair from PBteen might be aimed at a younger demographic, but its sleek, unobtrusive looks offer a grown-up solution for a part-time home office.
Working from home means mobility, and Sutton Fell points out you can work anywhere if you have an external battery pack. "This can come in handy if you're working on the go and you either don't want to bring your laptop's charging cord with you, or you're not sure you'll have access to a power outlet when you need one," she says. This 18,200Mah model puts out enough juice to power most devices.
Courtesy of Griffin Technology
Employee recognition and engagement firm O.C. Tanner finds that roughly three-quarters of people who work from home most of the time have a good work-life balance — compared to fewer than two-thirds who spend most of their time at an office. Even work-from-home jobs still can get stressful on occasion, though. Create a calming atmosphere for yourself with scent-diffusing bamboo reeds: This fragrance offers a sweetly uplifting blend of blackberry, sweet orange, and Egyptian jasmine.
Typing on a laptop keyboard in the office isn't so bad, but trying to transition from a regular mouse to a tiny trackpad when working from home can slow you down. This universal wireless mouse is one of the most important tools for remote workers. It comes with all the ergonomic bells and whistles, cutting down on muscle strain. Another perk: Since it's wireless, if you fall in love with it, you can throw it in your bag and take it to the office.
While we're talking ergonomics, add this to your home office essentials list. "For anyone who uses a laptop only, a laptop stand is essential for healthy ergonomic functionality in a home office," Sciortino says, adding that Rain Design's patented stand is her favorite. "It has saved me from any neck and back discomfort while working at my desk," she says.
"One of the biggest perks of working remotely is that you get to spend time working in different environments, and on nice days, that can mean outdoors," Sutton Fell says. A laptop screen protector lets you make the most of your time in the sunshine and protects your privacy at the same time.
One of the smaller — but very tangible — upsides of working from home is not having to pay $3 for a cup of coffee, or settle for the jet fuel Brian from accounting brews in the break room. Upgrade your caffeine game with this rich French roast from gourmet grocers Dean & Deluca, which promises notes of dark chocolate and dried fig.
Courtesy of Dean & Deluca
"If you're going to be talking with people over your computer on a regular basis, a good headset is a must," Sutton Fell says. "Headsets improve your voice quality… [and] eliminate the echo that is so common when talking with people over a computer." This wireless pair from Bose has a built-in mic and shuts out background noise.
We've included affiliate links into this article. Click here to learn what those are.