Wow Air Just Shut Down, Stranding Passengers. Here Are Your Rights if Your Airline Goes Bust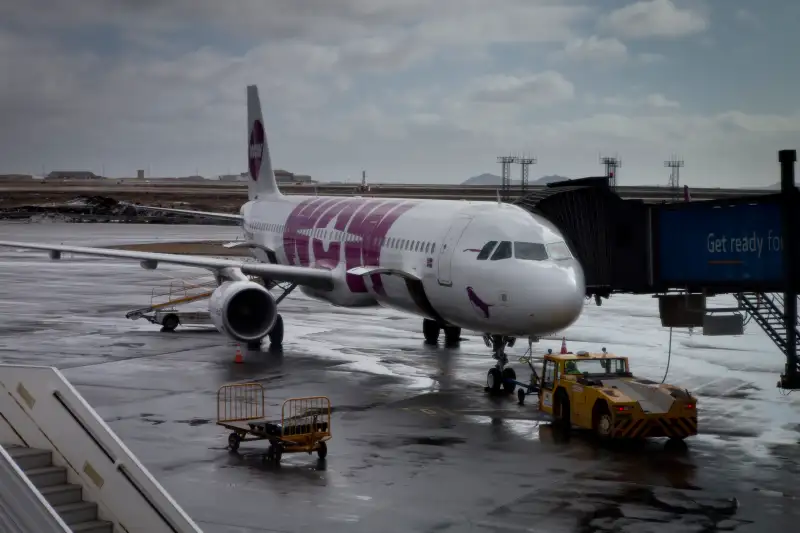 ullstein bild—ullstein bild via Getty Images
Wow Air, the discount airline that helped upend the transatlantic flight market with airfare under $100 to Europe, just ceased operation and cancelled all flights.
In a travel alert, Wow Air said that customers with unused tickets can seek refunds if they purchased with a credit card, and that stranded passengers should try to book seats with other airlines, which "may offer flights at a reduced rate, so-called rescue fares, in light of the circumstances."
Wow Air, which is based in Iceland and became popular with budget travelers for offering insanely cheap flights to Europe ($55 one way!), grew rapidly since its founding in 2011 but has struggled with debt for months. Between July 2017 and July 2018, Wow Air reported losses of about $43 million. Last fall, talks broke down for Icelandair to acquire Wow Air. The upstart carrier then laid off over 100 workers at the end of 2018, and managed to survive less than three months into 2019.
Unfortunately, it's become fairly common to see airlines go out of business lately. Primera Air, a Scandinavian airline that added flights between the U.S. and London last summer, went bust last fall. Several other budget European airlines, including Germania, flybmi, and Cobalt Air, have also ceased operations recently.
Before cancelling all of its flights, Wow Air flew from a half-dozen North American airports, including Detroit, Newark, and Baltimore-Washington (BWI), to Reykjavik, Iceland, and onward to major cities throughout Europe such as London, Paris, Barcelona, Dublin, and Milan.
Chaos and confusion ruled at airports when passengers found themselves stranded by Wow Air flight cancellations. One person described "pandemonium at the gate" late last night at Newark airport as Wow Air gave passengers a $12 voucher and said only that their flight had been cancelled.
Apparently, Wow Air passengers awaiting flights were not informed the airline was going out of business entirely. As CNN reported, would-be passengers only found out that Wow Air was ceasing operations by searching reports on Reddit and Twitter.
Customers asking for assistance and information from the airline on Twitter have been receiving auto-replies from the Wow Air feed say that "we apologize for the inconvenience" and instructing them to send direct messages to the airline.
But Wow Air is not likely to help the passengers it has left stranded all over North America and Europe. Here's what you need to know if you are booked on a Wow Air flight, or if you are ever in a similar situation and your airline goes out of business and leaves you stranded.
How to Book a New Trip if Your Flight Is Cancelled
At least one airline has begun offering "so-called rescue fares" referenced in Wow Air's travel alert. Icelandair says that it has "set up discounted Economy fares for stranded passengers en route to, from, or through Iceland" for anyone with a return ticket on Wow Air scheduled to travel between March 28 and April 11. Icelandair flight prices for Wow Air customers range from $60 to $160, before taxes and fees are added, pending availability.
To book one of these Icelandair discount flights — which, to repeat, are available only for travelers with Wow Air tickets — it is recommended that you call Icelandair at 800-223-5500 in North America or +354 50 50 200 if you are in Iceland or anywhere in Europe.
Other international airlines may also offer discount flights for stranded Wow Air passengers. Contact carriers directly to see if they have any "rescue fares" available. If they do not, airfare could be very expensive, especially if you are trying to book flights at the last minute.
How to Get a Refund for a Cancelled Flight
According to Wow Air's contract with passengers, which is more or less standard, it stipulates, "In case of a flight cancellation, flight change, flight delay or denied boarding, we will give you additional assistance, such as compensation, refreshments, etc., if required to do so by law. We will have no further liability to you."
Luckily, laws require that passengers should be given refunds on the unused portion of tickets that are cancelled. According to European Union passenger rights agreements, travelers flying to, from, or within Europe have the right to be reimbursed for a flight that is cancelled. In the U.S., the Department of Transportation says that passengers are "entitled to a refund if the airline cancelled a flight, regardless of the reason, and the passenger chooses not to be rebooked on a new flight on that airline."
Under normal circumstances, an airline would refund money on a qualifying cancelled flight soon after the passenger requested the refund. But the prospect of getting Wow Air to refund your money is more complicated — the airline cancelled flights because it is broke, after all.
Wow Air customers left with seemingly worthless tickets may eventually receive refunds and other compensation from the bankruptcy administrators handling the airline's liquidation and obligations. But any refunds issued may take months if not years to process, and customers may not get full reimbursement of their expenses.
For quicker relief, Wow Air suggests that any customer who paid with a credit card to contact their card issuer and ask for assistance. Many credit cards offer trip cancellation and interruption coverage for free, reimbursing you up to $5,000 in select situations, such as "if you or your immediate family member is injured or ill, a family member dies, or the airline you're flying becomes financially insolvent," according to CreditCards.com.
Travel Expenses When a Flight Is Cancelled
Many travelers stranded by Wow Air cancellations are facing expenses far beyond the price of a flight home. They are likely to be paying out of pocket for meals at restaurants, last-minute hotel reservations, and even toothpaste and a change of clothes. In some cases, stranded Wow Air customers may also be on the hook for thousands of dollars worth of nonrefundable hotel rooms or vacation rentals that they are not using because their flight has been cancelled.
In these unfortunate situations, it's worth contacting your credit card company; as mentioned above, it may offer some reimbursement of your surprise travel expenses.
Coverage from your credit card may be limited, however. If you are looking at hefty costs due to nonrefundable lodging or other travel expenses, let's hope you purchased travel insurance. The typical travel insurance policy will cover all related travel expenses if an airline goes bankrupt or out of business and your flight has been cancelled.