These Are the 10 Best Colleges for Transfer Students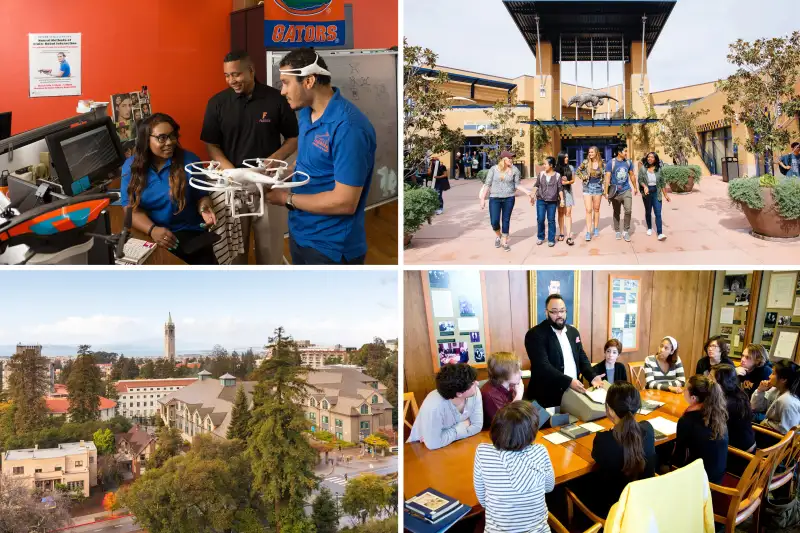 (Clockwise from top left) Bernard Brzezinski—University of Florida; Elena Zhukova—University of California–Irvine; Courtesy of Emory University; David Madison—Getty Images
For millions of students, the path to a degree isn't a straight shot through a single college. In fact, more than a third of undergrads transfer schools at least once.
Despite its prevalence, however, transferring can prove tricky—particularly to take the credits you've already earned with you.
A 2014 report from the National Center for Education Statistics found that students who transferred lost an average of 13 credits, equal to nearly an entire semester's worth of tuition. And a recent U.S. Government Accountability Office study showed that students who transferred between public schools lost an estimated 37% of their credits. Transfers between private colleges or a public and a private, which are less common, resulted in even more lost credits.
The hurdles associated with transferring credits can affect how long it takes and how much it costs to earn a degree. So Money used newly available federal data on completion rates for transfer students to highlight colleges where transfer students are succeeding in large numbers.
We started with our 2018 Best Colleges ranking, a list of 727 colleges that provide an ideal combination of educational quality, affordability, and alumni success. For this list, we then eliminated any college that ranked in the bottom half and any where transfer students in the fall of 2017 comprised less than 15% of enrollment—the median among Money's ranked colleges. Data released last year show that transfer students as a group earn degrees at a higher rate than their first-time peers, so we also removed any colleges where transfer students completed at a lower rate than their peers. Finally, we ranked the colleges based on a combination of the 4-year and 6-year graduation rate for transfer students, as well as the share of transfer students on campus.
You'll notice California colleges dominate our list below. That's not surprising: the state's two four-year college systems have a clearly defined pathway for community college students, supported by a statewide set of general education courses that will transfer between institutions. Other states, like Florida, top California for transfer-friendliness by also requiring statewide course numbering and guaranteeing admission to a public four-year college for students who start at community colleges.
If you think you may transfer, try to plan early to ensure the courses you take will count, and keep your grades up. More than eight in 10 college admissions officers said overall GPA at a prior college was of "considerable importance" for acceptance of transfer students, compared to just 10% who rated standardized test scores as important, according to an annual survey from the National Association for College Admissions Counseling.
Acceptance rates for transfer students are sometimes higher than that for first-time applicants. But all of the colleges below are still highly competitive. Five of the top 10 are rated as "very" difficult to get into as a transfer student, according to Peterson's Undergraduate Database, meaning more than 50% of all students were in the top 10% of their high school class.
See the top 10 colleges for transfer students below, and check out more rankings here.
1. University of California-Los Angeles
Kyle Alexander—Courtesy of University of California–Los Angeles
UCLA only accepts transfer students for the fall term, and the university requires they have junior-level status, meaning they'll have completed 60 credits by the end of the spring semester before transferring. For the fall of 2017, the university received some 21,000 applications from transfer students. One quarter were accepted, with an average GPA of 3.5. Learn more.
---
2. University of California-Berkeley
David Madison—Getty Images
Berkeley requires junior-level standing and a minimum GPA of 3.0, though some colleges, such as engineering, require better grades. For students from outside the state's community college system, UC-Berkeley publishes a list of colleges with which they have articulation agreements, meaning credits for certain courses should seamlessly transfer. Learn more.
---
3. Emory University
Courtesy of Emory University
For the Fall of 2017, Emory reported it accepted a quarter of the students who applied to transfer. Applicants must complete at least one year (28 credits) of college coursework before enrolling at Emory. Two colleges—the Oxford College and Goizueta Business School—do not accept transfer students. Learn more.
---
4. California State University-Channel Islands
Courtesy of California State University–Channel Islands
Cal State-Channel Islands accepts transfer students who've completed at least 60 credits at another college. Unlike most of the other colleges in the top 10, transfer students can enroll at Channel Islands starting in the fall or spring semester. More than 50% of students who enrolled in the fall of 2017 were transferring into Channel Islands—the largest share of any of the colleges in our top 10. Learn more.
---
5. California State University-Long Beach
Courtesy of California State University–Long Beach
Like its fellow Cal State campus on this list, CSU-Long Beach accepts transfer students for both the fall and spring semester. Priority is given to those with junior-level standing, and specific criteria for eligibility, such as lower-level coursework, general education courses, and minimum GPA, vary by major. Learn more.
---
6. University of California-San Diego
In 2018, UC-San Diego admitted nearly one half of the students who applied to transfer. Nine out of 10 of those transfer students come from a California community college, and most exceeded the minimum academic requirements to transfer. The average GPA of incoming transfer students was 3.59. Learn more.
---
7. University of California-Santa Barbara
UC-Santa Barbara has a dedicated space on campus for transfer students to get support. The Transfer Center Space in the university's library offers two academic advisors, peer mentors, and programming to help students transition successfully to the university. Learn more.
---
8. University of California-Irvine
Elena Zhukova—University of California–Irvine
UCI's Transfer Acceptance Guarantee program guarantees admission to eligible California community college students. The program is already closed for fall 2019; to qualify for admission in the fall of 2020, you need a minimum 3.4 GPA, coursework for the prerequisites in your major, and to be on track to earn at least 60 credits earned by the spring 2020 term. Learn more.
---
9. San Diego State University
Transfer applicants to SDSU are admitted into specific major programs, depending on how much space is available. That means transfer students have to select a desired major when they apply and confirm they meet the eligibility for that specific path. Learn more.
---
10. University of Florida
Bernard Brzezinski—University of Florida
The University of Florida also admits transfer students based on the space available in individual major programs. The university recommends contacting individual colleges to make sure you've taken the required prerequisites for the academic program you're interested in. Only students who will complete at least 60 credits by the time they enroll are eligible for UF's on-campus programs. Others can apply to the college's online options. Learn more.
Note: Application deadlines are for fall terms, unless otherwise noted. For fall 2019, California State University campuses extended their deadlines until 12/15 due to the California wildfires.