Is a Ban on Gas-Powered Cars Coming? How States and Federal Agencies Are Pushing EV Adoption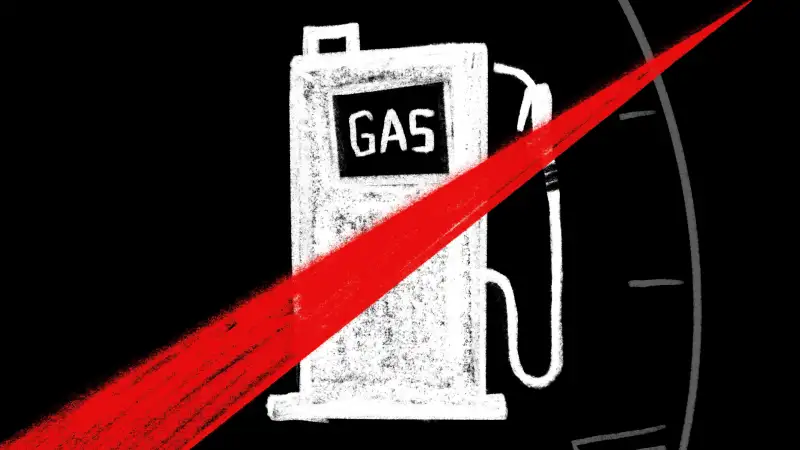 Electric vehicles only represent about 7% of new vehicle sales in the U.S., but government agencies are pushing EVs to become the standard — and severe restrictions of gas-powered car sales are being proposed to get there.
The most notable proposal at the federal level comes from the Environment Protection Agency. It would essentially require that 67% of new car sales be electric vehicles by the 2032 model year. That would mean EV sales would need to grow tenfold in about 8 years.
The EPA's proposal presents a significantly more ambitious timeline than what President Joe Biden laid out in an August 2021 executive order. Biden's order called for 50% of new vehicle sales to be electric vehicles or plug-in hybrids by 2030, while the EPA proposal implies 60% of sales would need to be EVs by 2030 — not including hybrids.
The EPA proposal isn't exactly a "ban" on gas-powered cars. While at least nine states now have plans to ban sales of new gas-powered cars after 2035, neither Biden nor any federal agencies have proposed a date for an outright ban. Other states including Maine are also considering regulation that would restrict sales of new gas-powered cars. (To clarify, these are all bans or restrictions on sales of new cars only and wouldn't apply to the used vehicle market.)
Instead of outright bans, the EPA has proposed new emissions limits and said automakers could meet them if two-thirds of their vehicle sales are fully electric by 2032.
Nigel Zeid, an independent EV educator in Boulder, Colorado, says the government understandably wants to avoid the narrative that it's going to taking away your right to to buy a gas car.
"I think 'a ban' is quite a harsh word for it and that just irritates a lot of people who are not necessarily on the EV bandwagon. So that's why there's so much animosity sometimes to EVs because people think we're just going to come and take all the gasoline cars away. Eventually, we will. You know, they'll just fade away, but it's going to take a long time to do that," he says.
Automakers debate 2032 EV sales target
The public comment period for the EPA's proposal, which closed last month, drew responses from dozens of automakers, industry groups and environmental organizations.
The reactions ran the gamut from legacy automakers calling the timeline way too aggressive to EV pioneer Tesla boldly claiming that 100% of new vehicle sales could be EVs by the 2030 model year.
The Alliance for Automotive Innovation, which represents major automakers including General Motors, Toyota and Volkswagen, wants to pump the brakes, arguing that the EV targets are "neither reasonable nor achievable" in the EPA's timeframe.
The alliance notes that the transition to EVs will require major progress in the mining of battery materials outside of the U.S., which vehicle manufacturers say is beyond their control. They are also skeptical that the country's vehicle charging infrastructure will be good enough in 2032 to support that many EVs.
"EPA's proposed rules effectively assume that everything will go perfectly in the transformation to electric vehicles (EVs) between now and 2032," the alliance said in a comment last month, adding that a target of 40% to 50% of vehicles being electric or plug-in hybrids by 2030 is more realistic, though still ambitious.
Ford appears to be one of the only automakers that broadly agrees with the EPA's 2032 target of 67% of new vehicle sales being EVs. In its comment, the company said it's "all-in on electrification" and notes it's investing $50 billion into EVs through 2026. Ford says the EPA's emissions standards, which would get phased in starting with the 2027 model year, "may be the most consequential in our nation's history, as they will coincide with and facilitate the transition from internal combustion engine (ICE) vehicles to zero emission vehicles."
Ford stops short of fully endorsing the EPA's emissions standards, however, objecting to some pre-2032 thresholds and calling the rules too strict for trucks. (It's worth noting that Ford's F-Series line of pickup trucks is routinely the best-selling car in America.)
Tesla, on the other hand, says "more stringent" emissions standards are needed to accelerate the transition to EVs and slow climate change. The company argues that the EPA is underestimating the pace of innovation with EVs and the speed at which battery production will become more affordable. (In just the past year, the average price for a new EV is down nearly 20%, however, it's still above $53,000, according to Cox Automotive.)
Tesla projects that EVs will rapidly become more affordable and says they could soon be produced at levels to supply the entire market. With strict emissions standards, the company maintains that 100% of new vehicles could be EVs before the end of the decade, though there may be some wishful thinking here from the current electric car market leader.
Switch from gas to electric cars is going slow
Separate from the EPA proposal, there's another battle brewing over a recently announced fuel economy proposal from the National Highway and Traffic Safety Administration (NHTSA), which would require automakers' new vehicles to get an average of at least 58 miles per gallon by 2032. Like the EPA proposal, this isn't a ban on gas-powered cars, but it would likely require a massive increase in the share of hybrid and electric vehicles on the road. Automakers would be fined if they fell short.
"Better vehicle fuel efficiency means more money in Americans' pockets and stronger energy security for the entire nation," U.S. Transportation Secretary Pete Buttigieg said in a July 28 press release.
Debapriya Chakraborty, an EV researcher at UC Davis's Institute of Transportation Studies, says government emissions standards will play an important role in the transition to EVs because they can force automakers to send more EVs to the market. But incentives will be necessary too, she says, at least as long as EVs cost more than their gas-powered counterparts.
"If we really want the market to grow, we will need the lower-income and even the middle-income households to enter the EV market. And as we have to wait for the prices to come down over the next decade, to reach the targets, we also need incentives to match whatever price gap exists," Chakraborty says.
So far, a large swath of the public is not buying in. Electric vehicles are piling up on dealers' lots despite major tax credits incentivizing Americans to buy them. If the trend continues, the federal government may need to push forward with proposals like those from the EPA and the NHTSA aimed at spurring along the transition to EVs in order to meet climate goals.
Zeid says federal tax credits aren't getting the job done in part because lots of EVs no longer qualify for these breaks due to battery requirements.
He also blames the inventory buildup on automakers for focusing too much on the luxury market, making too many vehicles that cost $50,000 and up. He thinks Americans are not so much resistant to EVs as a concept as they are to the current prices, and he says the transition to electric vehicles will require less government intervention if these cars become more affordable to buy and operate.
"We're building the wrong cars," he says. "The reality is most people need the Chevy Bolt, that type of car — the Nissan Leaf, the sub-$40,000 car, the sub-$35,000 car. Most of us are just commuters."
More from Money:
Car Dealers Have Way Too Many EVs (and That's Good for Buyers)
These 9 Electric Cars Got Cheaper This Year — and More EV Price Cuts Are Likely
Rates are subject to change. All information provided here is accurate as of the publish date.