7 Best Construction Project Management Software of 2023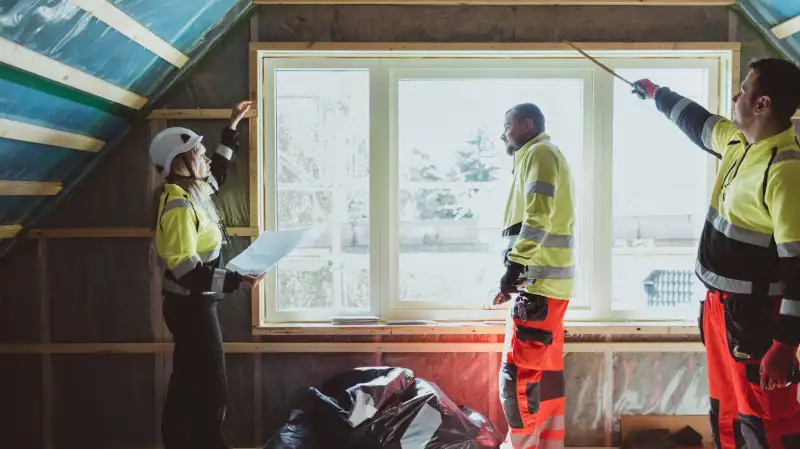 Today's construction companies rely on digital solutions more than ever to manage projects across their entire project lifecycle. From bidding on opportunities to creating estimates, developing project plans, tracking labor and material usage and even marketing for new businesses, the opportunity to automate and digitize work is significant.
We picked the best construction project management software by focusing on several critical factors, including price, user feedback and features. Read on to learn more about the best construction project management software.
Our Top Picks for the Best Construction Project Management Software
Best Construction Project Management Software Reviews
Pros
Industry focused
Competitive pricing tiers
Mobile capability
Great customer reviews
Cons
Document storage is lacking
Can be expensive to scale
Users say the app can be unreliable in the field
Why we chose it: Fieldwire, a Group Company of Hilti, gives users the tools to build project plans, view and share drawings, create schedules, manage punch lists, conduct inspections and more, making it the best industry solution software.
FieldWire offers solutions for several management types, including owners, general and specialty contractors, architects and designers. We like the focus on solutions specific to the construction industry, with helpful features like an RFI management tool, an as-built drawings viewing and editing feature, and a BIM viewer with an in-app management tool. FieldWire has an open API, allowing companies to integrate the software they're using today for a seamless experience.
Pricing is competitive; we like that the basic, no-cost plan offers up to five users, whereas other companies touting a 'free' plan might only offer one free license. The Premier plan, the top plan offered by FieldWire, comes in at an affordable $99 a month and includes the end-to-end feature set.
A majority of online reviews say FieldWire is intuitive, user-friendly and simple to implement. They like that the app is easy to use in the field and appreciate key features like the ability to upload photos and videos from the job site. Being able to repeat schedules and build from a project management template is another feature users highlight. While some users say that the app can occasionally freeze in the field, most say the FieldWire app is a critical part of their day-to-day construction business.
Pros
Unlimited cloud-based storage
In-app photo markup and camera
No device limits
Sophisticated people management and scheduling
Cons
Lacking some features found in other software
No end-to-end dashboard
Knowledge Base can use more content
Why we chose it: Contractor Foreman is our pick as the best project management software for unlimited storage — key for companies hoping to store all relevant data and documents — including photos, files, reports, forms, checklists, proposals and drawings — all in one place.
Contractor Foreman is a cloud-based software offering unlimited cloud-based storage for a wide range of documents, including PDFs, Excel files, photos, Word documents and more. Documents can be edited within the platform, with helpful features like in-application photo markup, bulk image download, drawing and PDF editing. The in-app camera is a handy feature to easily bring photos into the tool. However, the software lacks a few features and modules we've seen elsewhere, like bidding and estimation tools and a dedicated quality check module.
Pricing is comparable to others in the industry, with tiers starting at $49 a month and an option to save money by paying an annual fee. We like the unique 100-day money-back guarantee, which is more competitive than others offering a 30-day software warranty.
In online reviews, most users like the unlimited document storage and the ability to save and view legacy documents, photos and drawings. While most say it's easy to use, some consumers have noted that Contractor Foreman's Knowledge Base needs more content to help users on their way.
Pros
Affordable price points
Drag-and-drop scheduling
Built-in CRM and marketing tool
Specific features useful for home builders and remodelers
Cons
No integration with other client relationship management tools
Lacking some features
No general contractor management type
Why we chose it: The construction company on a budget will appreciate BuilderTrend, our pick for the best prices for construction project management software.
Pricing is based on three tiers:
The Essential plan ($99 a month and $299 after two months) offers basic project planning software, including scheduling, lead management, a customer portal, document and photo storage, invoicing and email marketing.
The Advanced plan ($399 a month and $699 after two months) builds on the Essential features and includes functionality to support surveys, change orders, receipts, estimates, bid management and budgeting.
The Complete plan ($899 a month and $1,299 after two months) includes all of the features in the Advanced and Essential plans, as well as functionality for Requests for Information (RFIs), warranties, and selections, as well as additional integrations with QuickBooks/Xero, The Home Depot Pro Xtra and Gusto HR/Payroll.
BuilderTrend also offers a 30-day no-penalty trial period — helpful for small businesses just starting their construction planning software journeys. Users say they like the affordability, scalability and in-app marketing. However, they feel the software could improve issues related to the core tenets of project management, with the need for more sophisticated document sharing and editing, and project tracking. There's also a lack of essential features for general contractors, a large population that regularly uses construction management software.
While its features and functionality might be less sophisticated than other software providers, BuilderTrend provides the critical components of good construction project management software at the right price point.
Pros
Everything view for at-your-fingertips information
Extensive template library
Strong customization
Competitive price points for small teams
Cons
Not construction focused
No in-app drawing or photo editing
Can feel overwhelming
Why we chose it: Part project management software, part goal setting program, and part chat platform for project participants — Clickup has a little of everything construction project managers need in a software solution, making it our pick for Best Features.
The platform is full of handy tools and applications for every project management and planning step. A few of our favorite highlights include:
Whiteboards: A real-time planning tool to replace the in-office planning experience. Multiple users can add notes, draw workflows and collaborate on timelines in a virtual environment.
Dashboards: View your progress, goals and key metrics all in one place. Key metrics like project status, time tracked and top identified priorities are all displayed together, giving you the information you need to understand your project progress, all in one place.
ClickApps: Build a custom project management workflow for your company with a series of click-and-drag project planning checklist components, including tasks in multiple lists, threaded replies, tagging, time tracking, sprint assignments and automation.
Clickup offers a free basic program for individual use, which could be helpful to the individual contractor hoping to manage their work. From there, pricing increases based on the number of users and features available. Enterprise pricing is also available for larger contracting organizations.
Users reviewing the software say it is well built for what it does but can be overwhelming for someone simply hoping to estimate and track their time and to-do lists. Compared to other software on our list, ClickUp does not provide some of the construction-focused tools a user might require.
Pros
Easy-to-use project management tools
User-friendly dashboard and collaboration
Rich integrations library
Hundreds of workflows
Cons
General software not customized for construction
Expensive price point for multiple users
Less emphasis on pure document management
Why we chose it: Monday.com is a project management platform popular with teams of all sizes due to its ease of use and comprehensive project and task management tools. Monday.com is a good software choice for pure project management functionality because of these tools.
Key features helpful to the construction industry include:
A useful project performance dashboard that tracks progress, payments, spending, timelines and more
Embedded marketing tools including customer relationship management (CRM) and lead generation tracking
Fully customizable workflows that could easily be built for the construction industry
An extensive integration library with pre-built integrations to key programs like Outlook, Dropbox, Slack, Gmail and Zapier.
Pricing is not as affordable as other software options on this list. While there is a free option for individual use, the price escalates quickly for multiple users. However, project management through Monday.com might be a good choice if a company's focus is to grow.
We found online reviews from users across multiple industries that rave about the user-friendly experience, intuitive interfaces and attractive design. Some have noted that the task tracking features need work but that, overall, the project management tools on Monday.com can't be beaten.
Pros
Multiple project tracking styles, including Gantt, Kanban and calendar
Sophisticated process and workflow automation
Visual workload tracker
Reasonable and variable price points based on team size
Cons
General software not customized for construction
Better for complex projects
Most integrations available for higher-tier plans
Why we chose it: While it's not a dedicated project planning software for the construction management industry, Asana helps companies tackle large-scale projects with sophisticated project-management technologies and techniques, including an automated workflow builder, to keep your teams on track.
We picked Asana as the best choice for bigger-picture planning because of the wide variety of views it offers users, including timelines in Gantt chart form, a shared calendar and Kanban boards, allowing you to plan several months ahead and track multiple busy schedules. The highly visual presentation of information in various forms is an excellent way for teams to get on the same page and plan multiple work streams for the coming months and even years.
Asana also provides a few handy holistic features to look at project planning and success at a macro level. The Goals feature gives teams a shared, transparent space for long-term planing, and the reporting tool gives project managers the feedback they need to track progress rates and forecast future workload and output. When giving product feedback, users say they love the ability to build a multi-year project and track its progress in real-time.
Pricing is less affordable than others on the list; like many, a free version is available, but the scalability can come with a hefty price tag. Some users reviewing the software have remarked that the functionality and the price tag might not always match up.
Pros
Project and marketing management in one app
Powerful advertising opportunities
Strong technology that works well on mobile
Cons
Not a fit for commercial construction
Higher price point
Some report poor customer service
Why we chose it: Houzz Pro is a segment of Houzz, the platform design and sourcing software that offers project management and marketing support for architects, homeowners, residential contractors and interior designers. Features include a point-and-click estimation generator and a client-side dashboard allowing your customers to see real-time progress.
What sets Houzz apart is its sophisticated lead generation and management functionality. Beyond the CRM and lead generation tools seen in other platforms, Houzz Plus offers targeted local advertising via their app. Companies can pay to be featured as a premium listing in their 'Find Pros' section, which connects individuals and companies with contractors. Houzz Pro's website services might also be helpful for a construction company struggling to build an online presence and convert its digital customer inquiries into leads.
While Houzz Pro does offer a basic toolset at no cost, its Starter, Essential and Ultimate price points might be too high for a smaller company. However, the cost of combining project management and marketing should be considered.
Other companies we considered
Pros
Free community document management
Web-based interface
Automatic install and updates
Unlimited file types
Supports multiple languages
Cons
No cloud hosting
Limited free professional support
Few features beyond basic document management and workflow
No project management tools
Limited mobile capability
OpenDocMan is a simple, bare-bones document management solution that could work well for a small construction company looking just for document review and file organization. The idea of a free service is attractive, but the features are limited and the lack of a mobile app limits this program's functionality.
Pros
Designed specifically for the construction industry
Kanban-style client and contractor portal
Gantt interface to organize client tasks
Free edition available
Cons
Focused just on estimating and project management
Web-based, which can lead to slow response times
Fees for faster customer support
A newer software solution on the market, Methvin shows promise but offers bare-bones functionality with a limited feature set. Users have noted that some basic features they would expect (copying plans, refining drawings, etc.) are missing.
Pros
App-based for on-the-job work
Automatic sync after offline work
Quality tracking
Functionality for safety management program development
Cons
Must purchase Autodesk Build to access the PlanGrid app
Expensive
No customer portal
Limited file upload types
PlanGrid, now part of the Autodesk Construction Cloud, is an app-based solution focused on streamlining workflows in the field. It has iterative features, positive customer reviews and a focus on mobile-first technology. However, the price point is high, and some users might not want to purchase Autodesk Build to access the PlanGrid app.
Pros
Full-suite solution built for the construction industry
International presence and support
User profiles for owners, contractors and subcontractors
Unlimited users, data and support included
Positive customer reviews for service and increased business efficiency
Cons
Complex pricing model
Expensive monthly fees
Varying success of each module
Limited integrations
Procore checks many boxes for construction project management software as a full-suite solution with an industry focus. However, integrations are limited, the price point is high and users might not find every module useful.
Best Construction Project Management Software
What is construction project management software?
Construction project management software is an app- or web-based digital tool to help construction companies manage some or all aspects of their work, including but not limited to:
Document and drawing workflows, editing, storage and tagging
Materials and labor management
Project and build timelines
Bids, tenders, RFIs and sales enablement
Safety and quality checks, materials and labor management
Many construction-focused project management applications and software are available across the internet, each one with its own strengths and weaknesses. Some platforms promise an all-in-one solution touching every aspect of work for construction companies of all sizes, specialties and revenue streams. Others are hyper-focused on one specific aspect of the project management discipline, such as document workflow, bids and tenders, pre-construction estimation and more.
At its most basic level, construction project management software should be a tool that business owners, project managers and frontline construction managers use daily. It is also a valuable and critical part of companies' business processes.
How does project management software work?
Project management software can work in a number of ways, depending on the type of software selected, the use case, the features deployed, the number of users in the system, active integrations and other factors. When thinking about how project management software works and optimizing your project management software for your company, think about how it may be used to help your business. For example:
You may be searching for functionality to keep complex projects on track, within scope and on budget.
You may struggle to schedule crews with the right skill sets and certifications on a time-strapped project.
You might need software to help with customer relationship management and outbound marketing needs.
Your document management might still be on pen and paper, and you may need to digitize your work and create a more efficient workflow.
Your crews might need plans, drawings, and updates available on their phones or tablets in the field.
Creating a checklist of the features and functionality your organization requires will help you narrow down the options available. From there, you'll better understand how your chosen software works and how it can benefit you and your business.
How to pick construction management software
Selecting the best construction project management software for your organization is a complex decision that involves carefully evaluating several factors. Beyond the basic criteria — like available features, cost and support — companies shopping for construction management software might want to think about usability, document management, integrations, lead generation and construction accounting management tools.
Usability
The best software shouldn't require endless onboarding, extensive training and frequent customer service tickets with questions and clarifications. Construction professionals are busy and need an iterative and easy tool available on both browsers and mobile apps. The construction management software you choose should be user-friendly and straightforward to understand for users at all levels of technological experience.
Document management
Construction, like many industries, is full of documents to create, edit, distribute and manage. A crucial part of guiding a project is document management — from estimates to contracts to drawings, photos, permits, and invoices. The best software for construction project management should include workflows, storage and document management for your project work.
Integrations
Users do not want to have to employ multiple programs, enter duplicate data entries into more than one platform, or complete other redundant tasks between systems. Integration between your construction management software and other software performing tangential tasks is critical. For the construction industry, some essential software integrations could include:
Payroll
Billing
Corporate budgeting
Permitting
Asset management and purchasing
Labor management
Site safety management
Training and certifications
Human resources, including recruiting, hiring, and staffing
CAD and digital blueprint management
When selecting your software, you should understand what integrations exist today and the processes and costs for deploying these integrations. Do any of these integrations involve software you use now or hope to use in the future?
Lead generation
Many project management software packages offer built-in lead generation modules to support your marketing efforts. Having this data in sync with your project management plans can help in several ways.
First, you'll be able to plan and forecast future projects against the marketing campaigns you plan to launch and measure the success of those campaigns versus booked customer projects. Syncing your marketing and lead generation campaigns with your project management software also ensures your customer information is all in one place, avoiding the need for duplicate data entry and redundant administrative work.
Financial management tools
A critical component of project management involves financial considerations, including payments, costs and budgeting. A good software platform will help you analyze, plan and track your spending and payments to stay on budget.
Construction Project Management Software FAQ
Why is construction project management important?
Proper construction management software should:
Increase operational efficiencies for your company
Help you gain more transparency into your strengths and weaknesses as a business and improve your output
Assist in budgeting and cost control for time, materials, labor and training
Serve as a guide for your corporate roadmap. How long do projects take, and how can they be completed faster? How can your project management continue to grow with your company?
How much is the tax on construction project management?
Construction project management is taxable in some states, although no federal taxes are in place today. Project management taxes vary depending on how companies manage their fee structures. Some will charge a flat percentage of the total cost, and others will assign variable costs to different aspects of the project, including materials and labor.
How We Chose the Best Project Management Software
We looked at key features, usability, customer reviews, pricing and management types to select the best project management software.
Cost
When considering software cost, it's essential to understand a few important facets of what you're paying for and your return on investment. From costs for add-on features, free trial periods and integration fees, cost was a critical part of these rankings.
User Reviews
As part of our methodology to pick the best construction software, we read customer reviews on the software sales sites and independent review message boards. The themes we found — particularly around feature availability and development, customer service and support, and in-the-field application — tell the story of the software's success.
Key features
When searching for the best construction project management software, we looked at not only the key features available in each software suite but the usability and efficacy of these features in real-life applications.
Management types
Who is going to be working with the software every day? Who is managing the software and acting as the administrator? Consider what management types are available, if you can customize them and how they will scale with the growth of your organization as you select your software.
Ease of Use
When identifying the best construction management software options, the platform's ease of use is vital to consider. The best software should be mobile-responsive, support simple workflows and deliver a clean and simple user experience.
Summary of Money's Best Construction Project Management Software of 2023