The 10 Best U.S. Airports for a Stress-Free Trip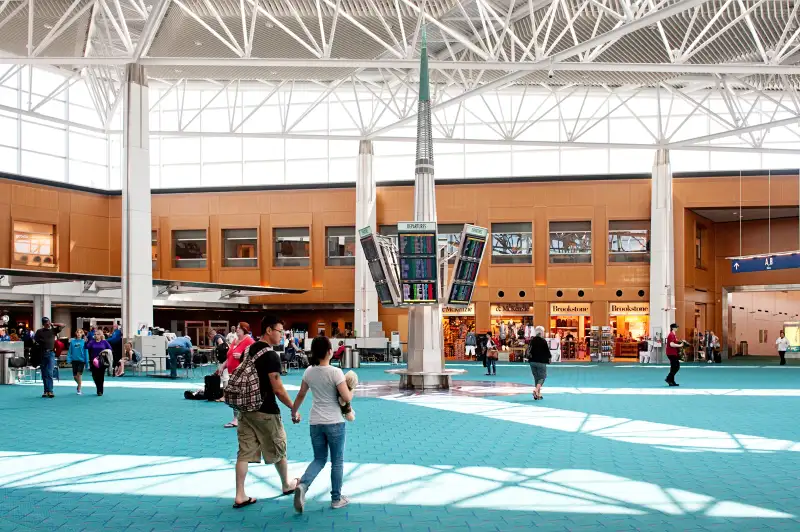 To help you smooth out the stress of air travel, Money analyzed 31 of the nation's largest airports to pick the ones that offer the best, most drama-free destinations and layovers. Key factors included customer experience data from J.D. Power, on-time arrival rates, and ease of baggage pickup and security lines—as well as traveler amenities like shops and restaurants. (Read all of Money's Best in Travel 2017.)
Here are this year's winners:
---
Platinum: Portland International Airport (PDX)
For the second year running, Portland International earned J.D. Power's highest satisfaction score among major airports. "Portland is a slam dunk," says J.D. Power's Garlick, noting its top amenities, like free Wi-Fi, low flight delays, and high marks for baggage handling and security. What really sets this Oregon airport apart, though, is the range of food, shopping, and entertainment options. PDX has more than 30 restaurants, including farm-to- market café Capers et Le Bar, local favorite Blue Star Donuts, and several popular food truck vendors. At the House Spirits Tasting Room, anxious fliers can calm their nerves with a dram of Westward Oregon Straight Malt Whiskey.
Gold: Salt Lake City International Airport (SLC)
Salt Lake City garnered top marks for its impressive air traffic record, with the fewest flight delays and cancellations among large U.S. airports. It's no slouch in the customer satisfaction department either, ranking in the top 25% in J.D. Power's annual survey. SLC is currently undergoing extensive redevelopment, including the addition of a new terminal and a second concourse expected to open by 2020. Such improvements typically up an airport's scores even further, says Michael Taylor, director of the airport practice at J.D. Power. "Once these projects are finished, travelers should notice a tremendous positive difference in their airport experience, and satisfaction should increase dramatically."
Silver: Tampa International Airport (TPA)
Florida's Tampa airport ranked highest for the ease of its security process in J.D. Power's 2016 survey. That's a particular achievement, considering that J.D. Power reported an 8% increase in the wait time travelers spent in security lines over the past year. Tampa owes its speed to a decentralized design with multiple security checkpoints. That gives travelers more time to explore the 45 shops and 34 restaurants, a dozen of which opened in the second half of 2016 alone. Southwest, a top Money airline, is Tampa's largest carrier, serving about 35% of the airport's passengers.
---
The Runners Up, in Order
Detroit Metropolitan Wayne County Airport (DTW): This midwest airport is known for is underground Light Tunnel, which is lit by colored LEDs and runs for 700 feet to connect the two terminals.
San Diego International Airport (SAN): San Diego rolled out enhanced Wi-Fi service in its terminals earlier this year, delivering speeds that are up to 30 times faster than the previous option.
Minneapolis–Saint Paul International Airport (MSP): Following a massive, multi-year renovation, the airport will have 50 new shops and restaurants by the end of this year.
Washington Dulles International Airport (IAD): When it came to on-time departures, Dulles showed the most improvement over the past year, increasing the share of flights taking off on time by almost 8%.
Phoenix Sky Harbor International Airport (PHX): Expect big crowds at Phoenix's airport in March, typically its busiest month. The reason is largely a sporty mix of spring training baseball, NASCAR racing, and March Madness, along with some spring break visitors.
Seattle-Tacoma International (SEA): Sea-Tac has seen a massive increase in passengers in recent years, jumping to become the ninth-busiest airport in the U.S. in 2016 (up from 13th in 2015). About 46 million passengers passed through the airport last year.
Las Vegas McCarran International Airport (LAS): Flight delays? You can pass the time by trying your luck at one of the 1,300 slot machines positioned throughout McCarran airport.
We've included affiliate links into this article. Click here to learn what those are.