Everything Breitbart Readers Will Have to Give Up If They #DumpKelloggs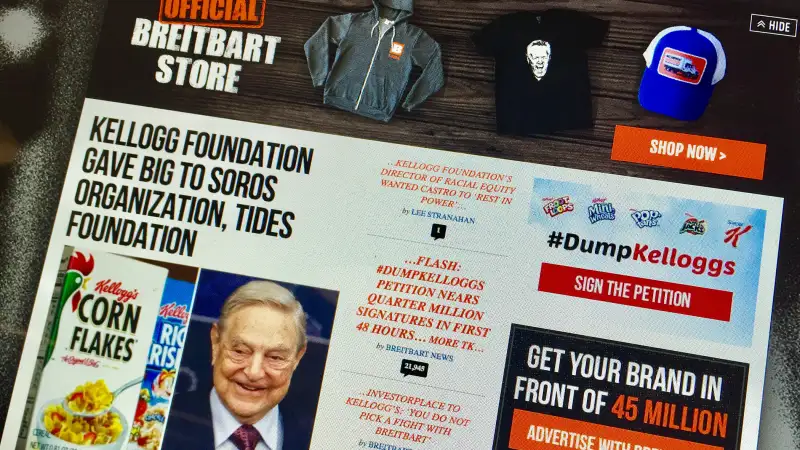 Not even Cheez-Its and Pringles will escape 2016 unscathed, it seems.
Breitbart News, the ultra-conservative website formerly run by Donald Trump's senior adviser, is now urging its readers to boycott Kellogg's products after the food conglomerate severed ties with the website.
Kellogg's pulled all of its advertising from Breitbart earlier this week because the site's message "didn't align with the values of the company." Breitbart grew in influence recently and became known as an online community where white nationalists were welcome. Trump's campaign manager, Steve Bannon, called the site a platform for the "alt-right" during his time as an executive at the site.
Breibart responded to Kellogg's decision by leading a social media campaign to #DumpKelloggs. The site has even created a petition that asks readers to "Join the movement against conservative bigotry."
Kellogg's is not the first company to pull its advertising dollars from Breitbart. Allstate, Nest, EarthLink, Warby Parker, SoFi and Vanguard all pulled their ads from the website before Kellogg's did.
So if you're serious about boycotting—for what it's worth, boycotts rarely work—here's a list of everything that Kellogg's owns. Be prepared to give up more than just cereal.
Apple Jacks
Austin
Carr's
Cheez-It
Chips Deluxe Cookies
Coco Pops
Corn Flakes
Corn Pops
Crunchy Nut
Eggo
Famous Amos
Fiber Plus
Froot Loops
Frosted Flakes
Frosted Mini-Wheats
Gardenburger
Kashi
Keebler
Krave
Morningstar Farms
Mother's Cookies
Murray Sugar Free Cookies
Nutri-Grain
Pop-Tarts
Pringles
Raisin Bran
Rice Krispies
Special K
Town House
By the way, a backlash is already brewing against the proposed boycott. Some Twitter users are tweeting their support using the hasthag #DumpKelloggsInABowl.