Home Sellers Are Cutting Prices as Buyer Competition Drops 'Remarkably Fast'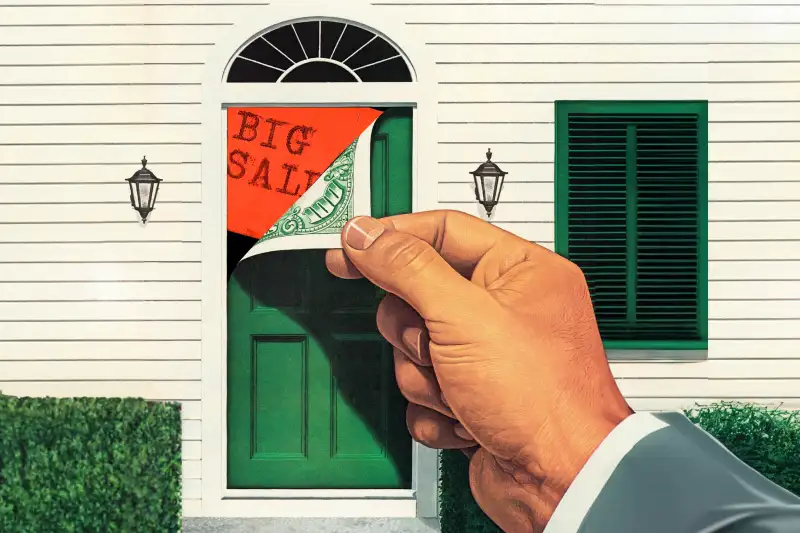 Olive Burd / Money; Getty Images
The best time to buy a house this year could be upon us, and sellers are dropping their list prices.
With the average 30-year fixed mortgage rate hitting a two-decade high as of Sept. 27, data suggests buyers are balking and sellers have little choice but to cut asking prices. Competition is cooling off "remarkably fast," even for this slower time of year, according to a fall outlook report from listing site Zillow.
A report from brokerage Redfin found that about 6.5% of homes for sale in the U.S. saw a price drop in September, compared to 5.8% in August. Even so, housing costs in general remain very high.
Home price cuts on the rise
According to Redfin's latest housing market update, roughly 1 in 15 U.S. homes on the market decreased in price in the four weeks ending Sept. 24. It's a rate that Redfin says is high compared to the same period in previous years.
Zillow's report shows that the weekly share of listings with a price cut jumped to 9.2% for the week ending Sept. 16, the highest percentage since November 2022.
However, homebuyers aren't exactly finding great deals. The median home-sale price is up 3% year-over-year at $372,500 as of Sept. 17, and the daily average 30-year fixed mortgage rate is 7.65% as of Sept. 27, Redfin says.
What's more, the week of Sept. 21, the median monthly mortgage payment reached an all-time high of $2,666, according to Redfin. That's 8.5% higher than the same time last year.
Both Zillow and Redfin found that inventory grew in September, and supply is at its highest levels since February.
"Between the relative strength of new listings last month, and weaker purchasing flows at the same time, the total count of active inventory continued to climb," Zillow Senior Economist Jeff Tucker wrote.
Why homebuyers should negotiate for concessions
Sellers may be slashing their listing prices for a few reasons, according to Zillow: It could be due to buyers retreating, overly ambitious asking prices or both. Sellers may also be worried that they missed the peak summer homebuying season and feel compelled to cut prices now, before demand drops lower.
Regardless, both buyers and sellers face unfavorable conditions overall. According to Zillow, sellers may now be at a greater disadvantage compared to the summer, when a lack of listings increased competition among buyers.
For buyers, market conditions are undoubtedly improving: Zillow's Tucker says listings are at their highest since December, which could give buyers a better chance of finding a home.
"That favorable supply setup is coinciding with a negative shock to demand, which means less competition for those home shoppers who remain in the hunt," he says.
But with home prices and mortgage rates as high as they are, many buyers will likely still be sidelined. For those determined to make a purchase this season, Redfin encourages buyers to negotiate with sellers: Not only do buyers have more options right now, but a previous report form Redfin shows a rising number buyers backing out of home sales at the last-minute.
For these reasons, sellers may be more willing to lower their asking price or offer concessions like covering the cost of repairs.
"Buyers are using things like inspection negotiations" and high home insurance premiums to back out of deals, Jacksonville Redfin Premier agent Heather Kruayai said in the brokerage's housing market update. "They're holding a lot of the cards; today's sellers need to concede on some details to close the deal."
More from Money.com:
Can We Fix the Affordable Housing Crisis With Empty Office Buildings?
How Airbnb 'Bans' Could Affect Your Local Housing Market