This Instant Pot Sold the Most on Prime Day — and It's Still 50% Off at Walmart, Target and Amazon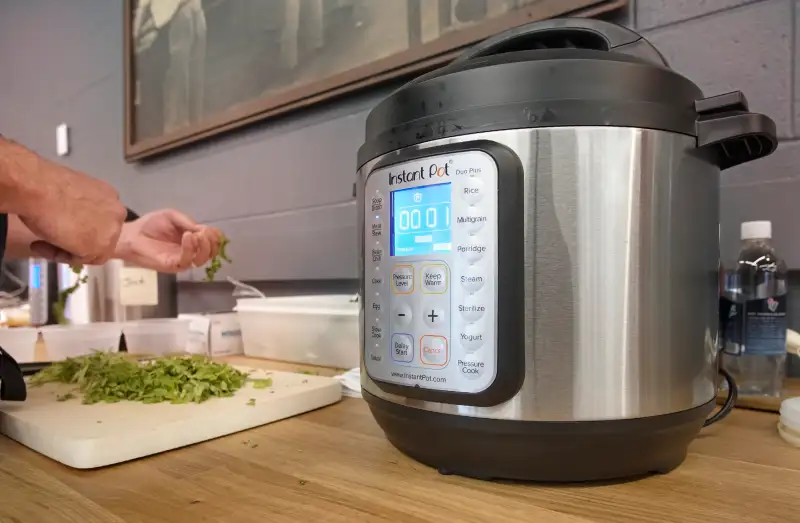 Portland Press Herald—Press Herald via Getty Images
Most of the deals from Prime Day 2019 are long gone. But two days after Prime Day supposedly ended, one of the best-selling Amazon Prime Day deals is still available for the lowest price we've ever seen: The Instant Pot DUO60 6 Quart remains on sale for $49.99 — or 50% the usual price.
This super cheap Instant Pot deal is available at Amazon and Walmart, which has extended its "Big Save" summer sale at least through Thursday. (As we see it, Amazon may actually be keeping this Instant Pot deal around at the Prime Day price because it is simply matching the offer from Walmart.)
We also spotted the Instant Pot DUO60 6 Quart model on sale for $49.95 at Target as of Thursday morning. And if you are a Target RedCard holder, you'll save an extra 5% on Target purchases, so this could be the cheapest option of all for snagging an Instant Pot deal today.
How good is this Instant Pot price? For the sake of comparison, this same Instant Pot was $58.99 on Prime Day 2018, and at the time it was the best Instant Pot deal we'd ever seen.
So if you missed out on Prime Day and still want to scoop up an Instant Pot for 50% off, now's your chance — and you have your pick of retailers to choose from. You don't need to be an Amazon Prime member either; the deal is available to all Amazon shoppers (and obviously, you don't need a Prime subscription to shop at Walmart or Target). Free shipping is available with all purchases too.
Instant Pots have always been huge sellers on Amazon Prime Day, Black Friday, and Cyber Monday. In addition to deeply discounted Fire TVs and Amazon devices like the Fire TV Stick and Echo Show 5 smart speaker, Amazon singled out the $49.99 Instant Pot DUO60 as one of the sale's best-selling deals in the U.S.
Amazon also said that Prime Day 2019 best-sellers in the U.S. included LifeStraw Personal Water Filters and 23andMe DNA Health + Ancestry kits.
But unlike the Instant Pot DUO60, these other Prime Day best sellers are no longer available at their Prime Day deal prices. Instead, they're being offered at or near their regular prices.
However, you still can find some other Instant Pot deals on sale for their Prime Day 2019 prices. For example, the Instant Pot Ultra 6 Quart model is currently offered for $87.99, or 41% off the "list price" of $149.95. That's the same deal price Amazon introduced for Prime Day.
Why is Amazon still offering Prime Day prices for some items and not others? In all likelihood, it's because Walmart still has super cheap deals available on these items and Amazon is simply matching the competition.
Sure enough, Walmart's sale still features the Instant Pot Ultra 6 Quart model for $87.99, the same price we found at Amazon.
For that matter, many of the deals we previously highlighted from Walmart's massive sale launched to compete with Amazon Prime Day are still in effect today. Here are a few of the deals you can still get at Walmart (and maybe at Amazon too, assuming it's matching prices):
We've included affiliate links into this article. Click here to learn what those are.