Why Layoffs Can Actually Lift a Company's Stock Price
Money is not a client of any investment adviser featured on this page. The information provided on this page is for educational purposes only and is not intended as investment advice. Money does not offer advisory services.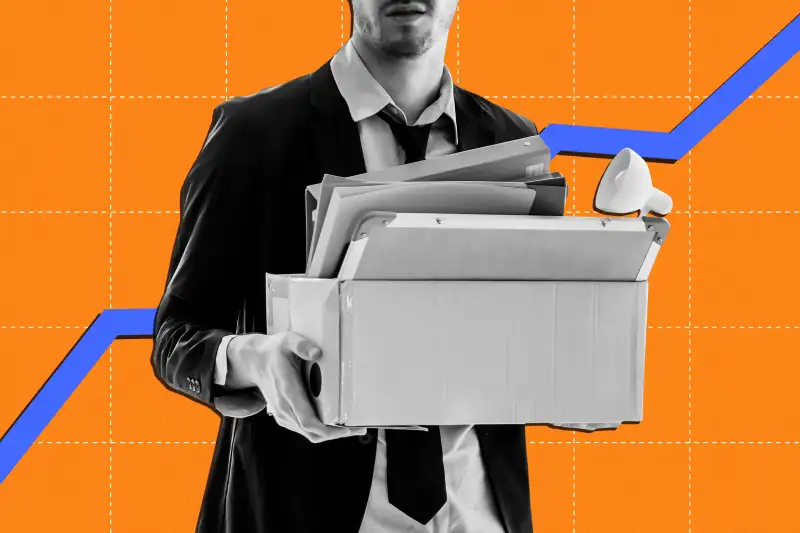 As tech stocks plummeted in 2022, tech companies began laying off employees in huge numbers. Those layoffs numbered nearly 160,000 last year, according to Layoffs.fyi, which tracks layoffs in the tech industry. Another 88,000 tech layoffs have already been announced in 2023.
In the wake of those job cuts, which executives said were necessary to cope with a worsening economic climate ushered in by rising interest rates, tech stocks have come roaring back.
Shares of Google parent Alphabet, which laid off 12,000 people last month, are up 15% this year, while shares of Microsoft (10,000 employees laid off) are up 6%. Amazon stock is up 19% so far in 2023, and shares of Facebook parent Meta are up nearly 50%. Late last month, data analyzed by Bloomberg showed that on average, large U.S. tech companies saw their stocks rise 5.6% in the month following their announcement of job cuts.
Were the layoffs responsible for that turnaround? Does reducing headcount always give stocks a boost? Here's what you need to know about how layoffs can impact a company's stock price.
Why companies conduct layoffs
At their core, layoffs are about cutting costs. All businesses have costs, whether for the buildings they operate in, the raw materials they use to make their products or the costs of paying their employees. When those costs are lower, a company can keep more of its revenue and increase its profits.
In a challenging economic climate like we're facing now, a layoff announcement can signal to investors that executives are willing to make difficult decisions to reduce costs and help the company remain profitable.
While that may sound positive at first glance, there's usually more to the story.
"Whether [layoffs] always translate into an immediate, positive change in the price of your stock is dependent upon other factors," Gerry Goldberg, CEO and Co-Founder at GYL Financial Synergies, tells Money. Those factors include the guidance the company reports to shareholders and investors' existing expectations, Goldberg says.
If there's a disconnect between how investors expect a company to perform and how it's actually performing, cutting jobs to improve profitability might not move to the needle when it comes to stock prices.
An especially large layoff can also give investors a hint that a company is struggling, which could damage their confidence in the value of its stock.
Layoffs can hurt a company — and its stock price
In addition to the obvious implications for affected employees and their families, layoffs can hurt a company's performance over the long term. And if investors don't believe in the viability of a company, that'll usually translate to lower prices for its stock.
Goldberg says there are serious consequences associated with ill-considered or excessive layoffs. They can damage the company's culture and morale, and might impact a company's ability to attract and retain good employees. If a company is already understaffed, cost-cutting layoffs can lead to burnout and other staffing issues.
"You might come out of the quarter…beating on your expense reduction," he says. "But it could be one of those things where you cut off your nose to spite your face."
In the past, studies have found that layoffs tend to depress stock prices, and some academics have argued that they're ineffective even in the short term.
"Layoffs often do not increase stock prices, in part because layoffs can signal that a company is having difficulty," Jeffrey Pfeffer, a professor at the Stanford Graduate School of Business, recently told Stanford News. "Layoffs do not increase productivity. Layoffs do not solve what is often the underlying problem, which is often an ineffective strategy, a loss of market share, or too little revenue."
How to invest amid tech layoffs
It's worth keeping in mind that there are lots of factors that influence stock prices — think interest rates, data about the labor force, geopolitical events, broad changes in consumer behavior and more. Layoffs don't happen in a vacuum, and companies that reduce their headcount are often dealing with other issues too.
For long-term investors, news events like layoff announcements shouldn't prompt major portfolio changes — especially since their impact can be unpredictable.
In general, experts recommend that you formulate a plan and stick with it, even during a downturn.
More from Money:
5 Tips for Investors After the Stock Market's Worst Year Since 2008
How to Know When the Bear Market Is Over — and Why You Shouldn't Wait to Invest
It's Not Just Twitter. These Big Tech Companies Also Announced Layoffs