The Best Compression Packing Cubes for Your Money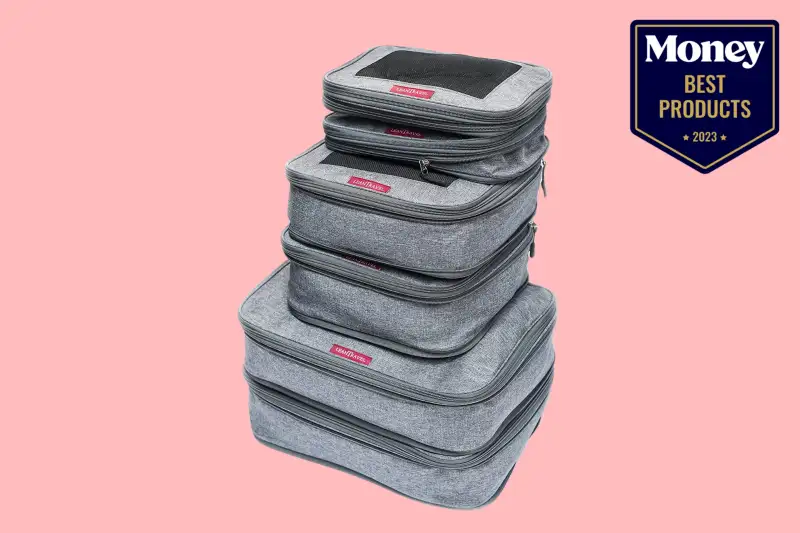 Whether you're a frequent traveler or just planning your first vacation, packing cubes are a must-have. Not only do they make organizing your clothes and accessories easier and quicker, but they also help you get the most storage space out of your suitcase. Compression packing cubes are a reliable way to fit more into your luggage, as they use a vacuum seal to compress items and create more room.
In this article, we'll review the leading compression packing cubes in 2023 to help you pack more efficiently for your next trip. We'll cover all the features to look for in compression packing cubes and share our top picks from some of the leading brands in the industry. With our guide, you'll be able to find the ideal packing cubes to help you get the most out of your travel experience. So, get ready to take your packing game to the next level with these travel accessories.
Best overall: BAGAIL Compression Packing Cubes
Most durable: TRIPPED Compression Packing Cubes
Best value: BAGSMART Compression Packing Cube Set
Most stylish: Cambond Compression Packing Cubes
Best for business travel: LeanTravel Compression Packing Cubes
Reviewing the Finest Compression Packing Cubes of 2023
List Price: $24.99
Check on Amazon | Check on BAGAIL
The BAGAIL Compression Packing Cubes are the best overall travel accessory to maximize space within your luggage. Featuring a durable and versatile design, this set of cubes can fit into almost any suitcase to conveniently store clothes and other items. Made with 100% premium nylon fabric that's soft, smooth and water-repellent, these compression bags protect your clothes from wrinkles, stains, spills and leaks. The interior is crafted with breathable mesh that promotes air circulation, reducing the chance of unpleasant odors to keep your clothes smelling fresh and clean.
Available in sets of four, five or six, these packing cubes come in multiple sizes to suit different purposes. You can easily separate your clothes such as jackets, sweaters, underwear and socks into different cubes for easy access to what you need. The double-way zipper with an extended cord makes it fast and easy to open and close the cubes, keeping your belongings securely packed. This pick also features a unique extra zipper outside of the cube allowing for effective compression and vacuum sealing, so you can save valuable space in your bag. If you're looking for a specific color, this product comes in 22 different colors, including mesh-only options. Between their premium design and user-friendly features, these compression packing cubes are our top pick.
Pros
Sturdy, durable nylon material for long-term use
Zippers and drawstring cords make compression easier
Four different sizes fit various items
Cons
Color options may not suit every style
Delicate fabrics make compression challenging
List Price: $18.95
Designed to withstand the wear and tear of frequent travel, the TRIPPED Compression Packing Cubes are a durable choice for packing multiple items in less space. Crafted from sturdy ripstop polyurethane fabric and weighing only 4.2 ounces, these cubes are lightweight and water-resistant, ensuring your clothes remain safe and dry. This option comes in sets of two, three and six cubes. For the base one, the large cube can easily stow away a week's worth of shirts or several sweaters, while the small one is perfect for five medium-sized tees. Each zipper is reinforced with double stitching and stops for reliable protection, making it a considerable upgrade from nylon alternatives.
These cubes are also useful for compressing infrequently used clothing, like jackets and raincoats, and holding dirty laundry until you get home from traveling. After packing your items, simply zip up the two-zipper system and squeeze the air out to save valuable space in your luggage. This product also comes with a satisfaction guarantee, so you can contact the manufacturer for a replacement or refund if needed. All in all, these compression packing cubes are an excellent choice if you're looking for an ultra-lightweight, long-lasting packing solution.
Pros
Lightweight with reliable, quality construction
Easy organization for a variety of items
The compression feature is easy to use
Cons
May not be suitable for bulky items
May not be suitable for longer trips
List Price: $39.99
Check on Amazon | Check on BAGSMART
The BAGSMART Compression Packing Cube Set offers incredible quality and value thanks to the number of items in this set and its user-friendly features. Weighing 9.2 ounces in total, this pick comes equipped with five different-sized, lightweight cubes, making them versatile and spacious enough to accommodate all sorts of items. The largest cube is perfect for a jacket, sweater or pants, while the medium-sized ones are ideal for storing shirts and blouses. The two smaller cubes are perfect for underwear, delicate garments and other small items that must be stored separately. With extra zippers to easily compress your clothing, these cubes help save space in your luggage while keeping your belongings organized.
The packing cube set also comes with a convenient drawstring laundry bag so you can separate your soiled or damp clothes from the clean ones. Each bag also has an ID tag for easy labeling and organization of your items. Plus, they feature a portable handle which makes them easier to pack and unpack. With a versatile range of sizes and convenient features, these packing cubes offer great value for travelers who want to stay as organized as possible, leaving more time and energy to enjoy traveling.
Pros
ID tags for more efficient organization
Long-lasting, durable materials
Durable zippers won't rip with overstuffing
Cons
May not work for bulkier items
May not be durable in extreme weather
List Price: $24.99
The Cambond Compression Packing Cubes provide an excellent solution for style-savvy over-packers seeking a lightweight, quality option to complement any luggage. Crafted from durable and water-resistant nylon, these cubes are incredibly lightweight and boast an impressive selection of over 30 color choices. This set comes in quantities of three, four, five and six cubes, each of which varies in size to meet different packing needs. For the set of four, which weighs 10 ounces, the two smaller cubes are perfectly sized for undergarments and T-shirts, the medium-sized cube easily holds pants and the large cube is ideal for bulkier items like coats and sweaters. This range of sizes also offers flexibility to have separate compartments for clean and dirty clothes or to pack more than one family member's items in a single bag.
These cubes flaunt a clever compression design that squeezes out excess air, freeing up to 50% extra storage space. Their durable double stitching enables them to withstand heavy loads while protecting the packed contents. Plus, each cube also features a reinforced handle for added portability and durability. This compression packing cube set is perfect for fashion-conscious travelers seeking style, quality and versatility from their travel accessories.
Pros
Lightweight, durable construction
Available in over 30 different colors
Reinforced stitching and seams for long-lasting use
Cons
Largest cube may not fit in carry-ons
Numerous color choices may be overwhelming
List Price: $56.99
Designed with business travelers in mind, the LeanTravel Compression Packing Cubes offer a practical organizational solution to keep clothes in ready-to-wear condition. The high-quality polyester and sturdy mesh construction provide exceptional strength and durability, while the breathable design minimizes odors. These features ensure your clothes arrive clean and unwrinkled — even after traveling long distances. For optimal compression, the innovative double zipper shrinks the packing cube from 4 inches to just one. This increases storage space significantly, surpassing that of other comparable products available on the market.
This six-piece kit includes two large cubes for coats or pants, two medium-sized cubes ideal for shirts and two small cubes suitable for your undergarments and other travel essentials. Optimized side structures ensure shape retention while the mesh window makes it easy to see what's in each cube, simplifying packing and unpacking. Expertly designed to keep your attire wrinkle-free and fresh, this collection of compression packing cubes ensures you'll arrive at every business function looking polished and professional.
Pros
Optimal compression with quality fabrics and zippers
Numerous items fit comfortably within each cube
Efficiently streamlines packing and unpacking
Cons
Set costs more than other options
Cube sizes may not fit all suitcases
Buying Guide: Compression Packing Cubes
While traveling, whether for business or pleasure, it's essential to pack efficiently. Saving space can maximize how much you can pack, making all the difference in ensuring you have everything you need for a smooth, stress-free trip. Compression packing cubes help you achieve just that, compressing your essentials so they take up the least possible space in your suitcase.
These cubes come in many different sizes, colors and designs, so we've created this buying guide to break down these factors and more to help you choose the right packing cubes for your upcoming trips. Read on to find the ideal product to make packing and traveling more enjoyable and less stressful.
Durability
To increase the longevity of your packing cubes, always opt for those made of durable materials, such as nylon or canvas, which can withstand frequent travel. It's also best to look for cubes with reinforced seams and double stitching, as this ensures they'll be more resilient to wear and tear. You may want to consider options with abrasion-resistant fabrics that can provide even better durability in the long run.
Quality
When selecting a compression packing cube, the quality of materials used can significantly impact your packing experience. Seek cubes made with breathable fabrics, such as nylon or polyester, and durable zippers that will not break or get jammed while opening and closing. It is also important to verify whether the fabric has a waterproof coating or enough water resistance to protect your belongings against spills.
Size
When selecting the ideal compression packing cubes, size is a significant consideration. Take into account the size of the items you need to store, and ensure that the cube is spacious enough to hold them all. It may also be worthwhile to opt for cubes with adjustable compartments to customize the internal storage space based on the length of your trip.
Weight
When selecting compression packing cubes, weight plays a crucial role. Opting for bulky and heavy ones can significantly weigh down your luggage or backpack, which is never ideal when traveling. Instead, choose lightweight ones that don't add heft or bulk.
Capacity
When selecting a packing cube, capacity is an essential factor to keep in mind. To ensure it meets your needs, consider the number of items you need to store and confirm the cube has sufficient capacity. If you require extra space, opt for a cube with multiple pockets or slots to accommodate small items.
Fabric
Choosing the right fabric can make all the difference in a compression packing cube's performance and durability. Look for cubes made from durable materials like nylon, polyester or canvas. And if you're particularly concerned about wear and tear or traveling in bad weather, ensure the fabric has tear-resistant stitching and waterproof features. That way, you can be sure your cube will withstand the stress and strain of regular use or long trips.
Ventilation and breathability
Proper air circulation is key to preventing moisture accumulation and excessive heat in your compression packing cubes. Materials like mesh or nylon provide breathability, allowing for free air movement. This ensures that your clothes and other items stay cool and dry, so they're ready to wear and use upon arrival at your destination. Open mesh panels can also allow for better visibility of your belongings, making it easier to find what you need.
Collapsibility or foldability
To maximize your space and achieve better organization, consider utilizing collapsible or foldable packing cubes that can be easily stored when not in use. These cubes not only take up less room but also allow for the accommodation of multiple cubes in a single bag.
Organizational features
When looking for a set of compression packing cubes, consider options with extra pockets or slots to keep small items, like toiletries, socks and accessories, organized while traveling. This added feature can keep these belongings neatly organized and save you time and energy when you're looking for them, making travel more enjoyable overall.
People Also Ask
How beneficial is the compression feature for packing cubes?
The compression feature in packing cubes is extremely beneficial as it allows you to fit more items into less space, keeping them compact and organized. This makes packing cubes ideal for travelers who want to maximize their suitcase space or who need to store items for long periods.
How does the compression system work?
Compression packing cubes use an adjustable drawstring closure system or a vacuum seal to compress clothes and other items into the cube, allowing you to fit more items into the same space.
What sizes do compression packing cubes come in?
Compression cubes typically come in two sizes: a small size, measuring 14 x 10 x 2 inches, that's ideal for packing T-shirts, underwear and socks and a larger size, measuring 18 x 12 x 3 inches, that's suitable for bulkier items such as sweaters and jackets. By organizing different clothes into each cube, travelers can easily access what they need without having to unpack everything.
What is the weight capacity of compression packing cubes?
Compression packing cubes are usually capable of holding up to 20 pounds when compressed and up to 30 pounds when uncompressed, making them highly versatile. This compression feature can save up to 60% of suitcase space, allowing you to pack more items into a smaller bag.
Are compression packing cubes easy to store?
Yes, compression packing cubes are generally easy to store. Many models are designed so you can fold them in half when not in use. Some also feature handles on the top and sides for easier portability.
Why Trust Us
Our commitment to the consumer begins with product selection and ends with the last word we write in each article. Each compression packing cube set is carefully vetted quantitatively through star ratings and the number of reviews qualitatively through careful examination of reviews and the features each one has to offer. Leveraging our team of bargain hunters, we're always sure to keep your budget in mind while finding the best compression cubes on the market. Our team of experts is dedicated to accurately depicting the pros and cons of each compression packing cube set, translating product specifications into information you can understand. We aim to offer unbeatable value on your travel accessories, so you can get the most comfortable and enjoyable travel experience for your buck.