The Best Fireproof Safes for Your Money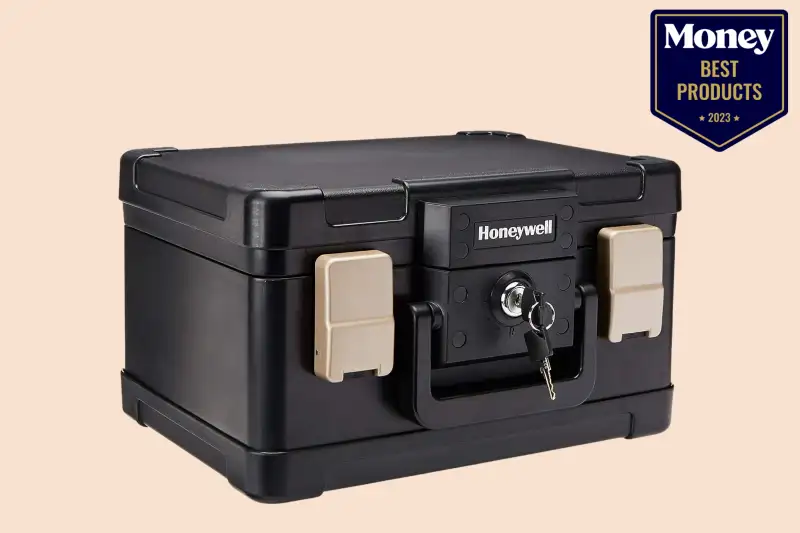 A fire can cause devastating, irreparable damage to your home and belongings. For this reason, it's a good idea to safely store valuable items and documents to ensure they stay intact during a fire. The easiest and most reliable way to do this is to invest in a high-quality fireproof lockbox. These useful products are durably constructed from thick, non-conductive, and incombustible materials to withstand exposure to extreme heat and keep their contents safe in case of a fire.
In this buying guide, we'll take a closer look at the finest fireproof safes of 2023, delving into each product's pros, cons, and features. We'll also share our expert buying tips to help you make the right purchase for your items and needs. Read on to learn more about how a fire-resistant lockbox can protect your possessions from a fire.
Best Overall: ROLOWAY Fireproof Lockbox with Keypad
Most Secure: WASJOYE Fireproof Safe for Small Valuables
Best Design: JUGREAT Fire-Resistant Security Box
Most User-Friendly: Honeywell Fire Safe
Highest Temperature Resistance: SentrySafe SFW205GQC Fireproof Lockbox
Comparing the Top Fireproof Safes of 2023
List Price: $44.68
The ROLOWAY Fireproof Lockbox with Keypad earned its spot at the top of our list thanks to its convenient size and durable construction. Measuring 9 by 6.6 inches, this safe is large enough to house most small valuables yet compact enough to move around and relocate with ease. It's made from reinforced alloy steel and features hidden, pry-resistant hinges for theft prevention. This pick is highly resistant to scratches, stains, and impact to keep your prized possessions safe and sound.
You can set your own passcode for fast, easy access to the lockbox's contents. The keypad will become automatically disabled after three wrong passcode entries to prevent unauthorized access. Not only is this safe fireproof, but it's also water-resistant to shield your possessions from water damage. Plus, the storage space has a carpeted bottom to ensure your valuables don't get scratched or scuffed while inside, even if they shift during transport.
Pros
Comes with batteries
Protects contents from fire and moisture
Includes a fireproof money bag
Cons
Setting a passcode may be tricky
Isn't suitable for large items
List Price: $81.99
The WASJOYE Fireproof Safe for Small Valuables features three solid bolts for maximum security. It has thick walls, a numeric passcode panel, and a keyhole to keep unauthorized persons out. If the wrong passcode is entered three times, the system will automatically disable to prevent passcode guessing. This pick also comes with a removable shelf, making it easy to organize your belongings.
This lockbox measures approximately 10 by 14 inches and is ideal for holding small and medium-sized items. If these dimensions aren't ideal for your needs, this product is available in four other sizes. It's powered by four AA batteries and includes all the necessary installation hardware. The product is resistant to scratches and corrosion, and the exterior finish offers excellent protection against moisture.
Pros
Three bolts for extra security
Two options for unlocking
Removable shelf for customizing storage
Cons
No batteries included
Time-consuming installation
List Price: $37.99
The JUGREAT Fire-Resistant Security Box offers a range of useful features and a premium design. It can be unlocked in two ways, allowing you to choose the method that's most convenient for you. When the safe is open, an interior light turns on automatically, illuminating the storage space so you can conveniently view your possessions, even in low light and dark conditions. Its compact size makes it easy to tuck the safe out of sight for inconspicuous placement and theft prevention.
This product also comes with a fireproof money bag that can also be used to house small documents, including social security cards and passports. The dual-bolt construction and pry-resistant door and hinges keep would-be thieves from gaining entry. The box is powered by four AA batteries, which are included for your convenience; a low-battery indicator light lets you know when it's time to replace the product's batteries.
Pros
Available in two colors
Carpeted floor mat for protecting items
Batteries included with purchase
Cons
Not suitable for large items
Only one size is available
List Price: $45.99
The Honeywell Fire Safe is an ideal choice for anyone looking for a reliable, easy-to-use product. It offers a simple, straightforward design. There are no passcodes to program or batteries to install. This option features a good, old-fashioned lock-and-key mechanism to prevent theft and unauthorized access. It comes with two keys so you'll have a spare in case of loss or misplacement.
This fireproof lockbox weighs about 20 pounds, and the integrated handle makes it easy to carry and transport, which is ideal in the event of an emergency. It can withstand exposure to water for 24 hours, even when completely submerged, and the exterior side latches offer an additional layer of protection. With a high fireproof rating, this product can also withstand heat up to 1,550 degrees Fahrenheit for a maximum of half an hour.
Pros
Available in four sizes
Fireproof protection for 30 minutes
Five-year warranty coverage
Cons
Only one way to unlock
No interior carpeting
List Price: $489.99
The SentrySafe SFW205GQC Fireproof Lockbox offers impressive protection against fire and water damage. It can resist temperatures up to 1,700 degrees Fahrenheit for an hour and remain watertight for 24 hours. This pick features a digital backlit keypad, which allows you to see the numbers in dark or low-light conditions. It also features a secondary lock for an additional layer of protection.
The six bolts and alloy steel construction offer excellent security to prevent unauthorized access. You can set your own passcode, and the product comes with bolting hardware, allowing you to anchor it to the floor for theft prevention. It's also shock-resistant and designed to withstand a 15-foot drop without opening.
Pros
Three size options
Interior light and organizers
Pry-resistant hinges and shock-resistant construction
Cons
More expensive than our other picks
Heavy and difficult to move
Buying Guide: Fireproof Safes
As you're shopping for a fire-resistant safe, there are several crucial features to keep in mind. This buyer's guide will walk you through these considerations to help you find the best product for your storage needs.
Fire protection rating
Heat-resistant lockboxes are designed to protect valuable documents, jewelry, or other items by withstanding intense temperatures and flames in the event of a fire. Different fireproof safes offer different levels and lengths of protection, ranging from 15 minutes to several hours and at different temperatures. A product's specific fireproof rating will be listed on its packaging and in its description. Be sure to check your safe's fire-resistance rating to ensure it meets your needs.
Locking mechanism
Before making a purchase, consider which type of locking mechanism will work best for you. A fire-resistant lockbox should be secure and have a lock that effectively prevents access from unauthorized persons. The most common locking mechanisms used in constructing flame-resistant safes are combination locks, key locks, and biometric locks, all of which provide varying degrees of security and user-friendliness.
Construction quality
To effectively do its job, a fireproof safe must be constructed from top-quality materials. It should have a multi-layered design and be made with incombustible, non-conductive materials that have a high tolerance for extreme heat. Also, opt for a model that's corrosion-resistant, scratch-proof, and impact-resistant to ensure it maintains its structure and heat-resistant properties. Many models are designed to be waterproof or water-resistant as well.
Size and weight capacity
Consider the size and weight of the items you plan to keep in the lockbox. Use this information to help you choose a product that comfortably accommodates your possessions. Make sure your items fit completely inside the safe, allowing the door to close and seal properly, and ensure the contents don't exceed the lockbox's maximum weight limit.
Warranty
Choose a safe that's backed by a manufacturer's warranty. Review the product's policy and terms to ensure you understand what's covered in case any issues arise down the line. Research what malfunctions might be exempt from coverage and if any repairs or maintenance tasks require paying additional fees. It's also important to determine how long the coverage will last. Most brands offer between one and 10 years of warranty protection.
Budget
Fireproof lockboxes can vary greatly in price, so it's a good idea to determine how much you're willing or able to spend on one before shopping. Set your search filters to show you options that fall within your budget, and choose a fire-safe lockbox with high fireproof and waterproof ratings to ensure it doesn't sacrifice quality or durability for affordability.
Customer reviews
Reading online reviews from customers who have purchased particular models or brands can provide valuable insight into product performance and durability. Checking the product rating can also be useful for measuring quality and customer satisfaction; look for fireproof safes with four-star ratings or higher.
Ease of use
Determine whether your chosen product requires installation. If so, make sure it comes with all the necessary tools and hardware, as well as detailed instructions to guide you along the way. The user manual should also cover how to use any additional features that may be included, such as radio frequency identification (RFID) locks.
Serviceability
It's essential to have easy access to service technicians who are familiar with the product in case it requires maintenance or repairs in the future. Many brands provide access to such services when you purchase a safe from them.
People Also Ask
How much do fireproof lockboxes typically cost?
A fireproof safe's price is determined by several factors including type, size, quality, and materials. Generally, these products cost between $40 and $2,000 depending on size, features, and construction materials.
Will a regular safe offer the same level of protection as a fireproof safe?
No, regular safes don't offer the same level of protection as fireproof safes. While they can be useful in preventing theft, they're not designed to withstand exposure to fire and extreme heat. As a result, items stored in a regular safe are likely to be destroyed in the event of a fire.
Do fireproof lockboxes come in different sizes?
Yes, these products come in a wide range of sizes to accommodate different types and amounts of items. The smallest models can fit inside a desk drawer while the largest models measure around 10 cubic feet.
Do fire-resistant lockboxes also protect contents from water damage?
Many fire-resistant lockboxes are also waterproof and can protect your items from both fire and water damage. Some models feature double walls and waterproof doors for extra protection against moisture damage. However, not all fireproof safes have waterproof properties, so it's a good idea to check the product description for information about moisture resistance before purchasing.
What's the maximum temperature a fireproof safe can withstand?
The maximum temperature a fireproof safe can withstand varies depending on the model and its materials. Generally, most products are designed to withstand temperatures between 1,200 and 1,700 degrees Fahrenheit.
Is a fireproof safe guaranteed to protect my belongings from fire damage?
While a fireproof safe can provide an extra layer of protection for your documents and personal effects in case of a fire, nothing is completely fireproof in every situation. Depending on its construction materials, the fire's temperature, and the length of exposure, items stored inside a fireproof safe may still sustain damage or be destroyed. However, it's still important to keep your valuables in a fireproof safe to ensure their best chance of remaining intact during a fire.
Why Trust Us
Our commitment to customers begins with a carefully curated product selection process, ensuring we provide high-quality and reliable options. We meticulously vet each fireproof safe, analyzing quantitative aspects, such as star ratings and review count, and qualitative factors, including review content and product features. Our dedicated team of bargain hunters consistently prioritizes your budget by meticulously scouring the market and identifying the best fireproof safes available without ever compromising on quality or performance. Our panel focuses on presenting the pros and cons of each fireproof safe and converting technical specs into understandable insights. We aim to ensure the effective safeguarding of your valuable possessions with top-rated fire-resistant security equipment.