The Best Golf Club Sets for Beginners for Your Money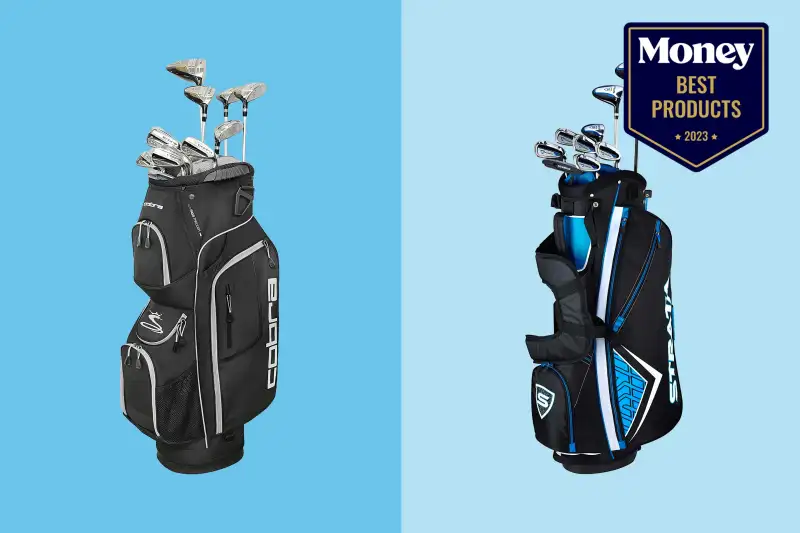 If you're looking for an outdoor sport where precision meets grace, consider the enchanting game of golf. While just getting started can feel overwhelming, one crucial decision can shape your experience — investing in the ideal golf club set for beginners. This set of equipment is the first step to unlocking your true potential on the fairways. Crafted with care, these clubs offer forgiveness, control and the ideal combination of power and accuracy to hit your shots precisely. With each swing, you'll find your confidence building, frustration fading and passion for the game igniting.
Yet, with so many options available on the market, picking the right one for your needs can be daunting. To make it easier, we've curated a list of the highest-rated golf club sets for beginners in 2023. These products can help you experience the thrills of the course while laying the foundation for a lifelong love of this majestic sport.
Best overall: Callaway Strata Men's Complete Golf Club Set
Most versatile: WILSON Men's Profile SGI Golf Club Set
Most stylish: Precise M5 Men's Complete Golf Clubs Set
Best carrying bag: Cobra Golf Men's XL Speed Complete Golf Set
Most affordable: Ram Golf SGS Men's Golf Clubs Starter Set
Comparing the Leading Golf Club Sets for Beginners of 2023
List Price: $399.99
Check on Amazon | Check on Walmart
The Callaway Strata Men's Complete Golf Club Set is the top choice for those seeking high-performance golfing gear to get started. Designed to provide maximum performance right out of the box, this 12-piece set includes everything you need from a driver to a putter to two headcovers to protect and store your most important clubs. The lightweight 460cc forged driver has a large sweet spot for optimal distance off the tee and a titanium head for maximum forgiveness. The oversized 3 wood features an aerodynamic head shape ideal for long, high-flying shots.
Additionally, the stainless steel irons (6-9 irons and PW) offer an excellent combination of forgiveness and control for precise shots. The 5 hybrid is a great alternative to these clubs when you need to take more difficult shots. Finally, the mallet putter enables accuracy to keep your score low on the green. All of these clubs come in a lightweight stand bag that has five pockets, a cooler pocket for drinks, a rain hood and a backpack strap system for convenient portability. With its wide array of equipment and accessories, this beginner's set of golf clubs is the best overall option on our list, enabling golfers to hit every kind of shot with confidence.
Pros
High-quality irons with good ball flight
Lightweight bag with plenty of storage
Headcovers provide extra protection
Cons
Driver may dent easily
Clubs may be short for tall users
List Price: $384.99 - $399.99
Check on Amazon | Check on Walmart
The WILSON Men's Profile SGI Golf Club Set is a versatile choice for any golfer learning the ropes. This 14-piece set is constructed with the most common swing characteristics in mind to generate maximum distance, making it an all-in-one option that has everything needed to hit the links. This option includes a driver, fairway wood, hybrid, four irons, pitching wedge, sand wedge putter, carrying bag and three headcovers. Catered to new golfers, the 460cc driver is specially engineered with super game improvement technology ideal for creating high trajectories and nuanced control. The deep and weighted irons are made with stainless steel, creating a lower center of gravity and improved accuracy and distance.
The unique, easy-launch sand wedge supports simple greenside control, making it easier to hit the ball right where you want it to go. Additionally, this beginner's golf club set comes with a lightweight, stylish red bag with gray and black accents that includes adjustable airflow shoulder straps, multiple pockets, a rugged handle top and a self-activating stand. Whether you're hitting the links for the first time or already have some experience on the green, this option offers everything you need to hone your golf skills.
Pros
Provides good forgiveness and accuracy for beginners
Includes a lightweight bag with airy shoulder straps
Comes with a one-year limited manufacturer's warranty
Cons
Some find the driver short
Clubs may get scratched easily
List Price: $248.53 - $489.99
Check on Amazon | Check on Walmart
The Precise M5 Men's Complete Golf Clubs Set is an attractive choice for beginner golfers who need a complete set of quality clubs and prefer an option that looks as great as it functions. With a bag boasting a sleek black and white design with red accents, this 13-piece set features a range of clubs, making it the perfect choice for golfers of all skill levels. Recommended for users between 6 feet and 6-feet-6-inches tall, this option provides flexibility and versatility on the course so you can hit your shots long and far from the tee and precisely on the green.
The 460cc driver is ideal for long drives, while the hybrid will help you achieve accurate and controlled shots. The stainless steel irons provide an outstanding combination of distance and feel. And the putter features advanced alignment lines to help you hit your target every time you're out on the course. The deluxe stand bag has multiple pockets that provide plenty of storage space, and the three matching headcovers will help protect your clubs during transportation. Between its durable accessories and stylish design, this golf club set for beginners is an excellent choice for those who are looking for an all-inclusive confection when it comes to getting started on the course.
Pros
Clubs fit well with a set of wedges
Perfect for tall golfers
Sturdy bag with a reliable kickstand
Cons
Club heads may break off over time
Zippers could get stuck
List Price: $1,387.70
Check on Amazon | Check on Walmart
Featuring a premium golf bag to keep your clubs and accessories safely organized, the Cobra Golf Men's XL Speed Complete Golf Set is an excellent option for any beginner golfer. Packed with user-friendly features and plenty of storage, the 14-way top cart bag includes seven zippered compartments, one velour-lined valuables pocket and a beverage cooler that can hold up to 14 12-ounce cans. This 13-piece set also includes a titanium driver, 3 and 5 woods, 4 and 5 hybrids, 6-9 irons, a premium putter, a pitching wedge and a sand wedge.
The driver's oversized club head shape, low back and heel weighting provide superior distance and forgiveness. This makes it easier for golfers to get the ball off the tee and confidently start their rounds. The fairway woods have a shallow profile to give you higher, towering shots from any fairway lie. The irons have a traditional cavity back construction for improved forgiveness and stability on miss-hits, ideal for all golfers looking to increase their accuracy on the green. The included putter is designed with a machined face pattern that offers exceptional feel and control on long and short putts. Overall, this beginner's golf club set is an excellent quality product that will help you enhance your golf game every time you hit the links.
Pros
High-quality lightweight shafts
Easy-to-carry cart bag with a large capacity
Ideal for hitting longer and straighter
Cons
Driver could be more durable
Shipping may take awhile
List Price: $219.99
Check on Amazon | Check on Walmart
Shopping for a beginner's golf club set on the budget? Look no further than the Ram Golf SGS Men's Golf Clubs Starter Set, which is an outstanding and affordable choice for those looking to invest in reliable golf equipment. This seven-piece set comes complete with a putter, 3 wood and four irons, so it's great for those wanting to improve their long game. The clubs are expertly crafted with premium components like alloy steel for long-lasting use.
The 3 wood has a large sweet spot, which lets you tee off or go for long approach shots like a pro. It also comes with a headcover to keep it safe when traveling. The four irons have a deep cavity back design for greater forgiveness on off-center hits and steel shafts for increased durability and precision. The set also comes with a deluxe stand bag that's ideal for keeping everything organized in one place. It has plenty of pockets, dual shoulder straps and a rain hood for added protection from the elements. Plus, the auto-pop legs make it easier to use while on the course. This budget-friendly option is great for individuals who are just beginning their golf journey as it comes complete with all the necessary equipment you need to play without breaking the bank.
Pros
Clubs are suitable for tall users
Nice bag with standing legs and pockets
Headcover keeps 3 wood safe when traveling
Cons
Users feel a slight zing when using them
Club heads could be stronger
Finding the Ideal Golf Club Set for Beginners: A Buyer's Guide
Golf, a game of skill and finesse, offers an escape from the daily grind and a chance to forge lifelong friendships while enjoying the great outdoors. But for those stepping onto the course for the first time, the journey begins with the right tools. Investing in a golf club set for beginners is the key to unlocking your potential and mastering this elegant sport.
Yet, navigating the market can be overwhelming. Don't worry, though — our comprehensive buying guide will steer you through the maze, ensuring you find the perfect beginner's set of golf clubs tailored to your needs. Prepare to tee off with confidence and watch your game soar to new heights.
Quality of clubs
When choosing a golf club set for beginners, it's important to verify that the clubs have been made with quality materials and construction. Look for golf clubs that have been rated highly by other players or those that come from reputable brands or manufacturers. This will help ensure you get a set of clubs that will last for years and help you improve your game.
Flexibility
Look for clubs with adjustable shafts, lofts and weights so you can easily adjust them to fit your swing and playing style. This will allow you to customize your setup as you hone your skills, ensuring you get the ideal performance possible when playing golf.
Durability
Make sure the heads, shafts and grips in your chosen set are all sturdy enough to withstand many uses over time, whether you're practicing at the driving range or playing on the course. Good quality materials and construction will also help ensure your golf club set is long-lasting and dependable.
Number of clubs
Pay close attention to the number of clubs included in the set and what types of clubs are included. Generally, most sets include a driver, fairway woods, irons, wedges and putters in varying sizes and quantities.
Ease of use
Make sure to get a set that has been designed for ease of use, with features like ergonomic grips and lightweight heads. This will help make it easier for beginners to develop their skills without feeling too weighed down by the clubs in their hands. The carrying bag should also provide plenty of storage and be convenient to transport on the cart and course.
Weight
Choose lighter-weight golf club sets so you can swing the club more naturally and freely without feeling like they are too heavy. This will not only help improve your overall game but also help prevent fatigue or strain during play.
Comfort
Look for a set with comfortable grips so your hands won't become tired or strained while playing golf. This is especially important for novice players who are just starting out learning how to swing and play with the proper technique.
Distance control
Look for clubs that have specific features that will help with distance control when playing golf, such as grooves or shaft designs. These can be helpful for beginners who are just learning their swings and how different clubs perform on different shots.
Size
As with most other sports equipment, making sure your beginner's golf club set is the right size for your height and preferences is essential. If possible, it's recommended to get a custom fit as this can ensure that you have the perfect amount of flex in the shafts and grips to maximize your performance.
People Also Ask
How do different types of golf club sets affect my swing?
Different types of golf club sets affect your swing by providing different flex options that impact ball flight, distance, trajectory, accuracy and launch angle. The design of each clubface also influences your ability to control spin and accuracy.
Can I customize a golf club set to fit my personal playing style?
Yes, you can often customize your golf club set to fit your personal playing style. For instance, some sets come with interchangeable heads to provide more variations in loft angles or shaft length options that can be swapped out for improved performance or customization purposes.
How often will I need to replace the clubs in my beginner's golf club set?
The frequency at which you need to replace clubs depends on how often you play and how well-maintained they are. If you play regularly, then your clubs may need replacing within a couple of years, whereas if you only golf occasionally, then they could last much longer than that.
Do I have to buy a complete beginner's golf club set, or can I mix and match individual clubs?
If you're familiar with what types of clubs may suit your playstyle or have specific preferences for brand or material, you can mix and match individual clubs when buying a golf club set. But if you're just starting your golfing journey and aren't sure how to curate the optimal set of clubs, a beginner's golf club set usually comes with quality essentials that can help you get on the course quickly and with everything you need.
How much should I expect to pay for a quality beginner's golf club set?
For a quality golf club set for beginners, you can expect to pay anywhere from $200 to $500, depending on what brand and components you choose to purchase.
Why Trust Us
Our commitment to the consumer begins with product selection and ends with the last word we write in each article. Each golf club set for beginners is carefully vetted quantitatively through star ratings and the number of reviews qualitatively through careful examination of reviews and the features each one has to offer. Leveraging our team of bargain hunters, we're also always sure to keep your budget in mind while we find the best golf club sets for beginners on the market. Our team of experts is dedicated to accurately depicting the pros and cons of each golf club set for beginners, translating technical product specifications into information you can understand. We aim to offer unbeatable value on golf equipment purchases by providing high-quality products, ensuring a remarkable experience to improve your performance on the course.