The Best Golf Rangefinders for Your Money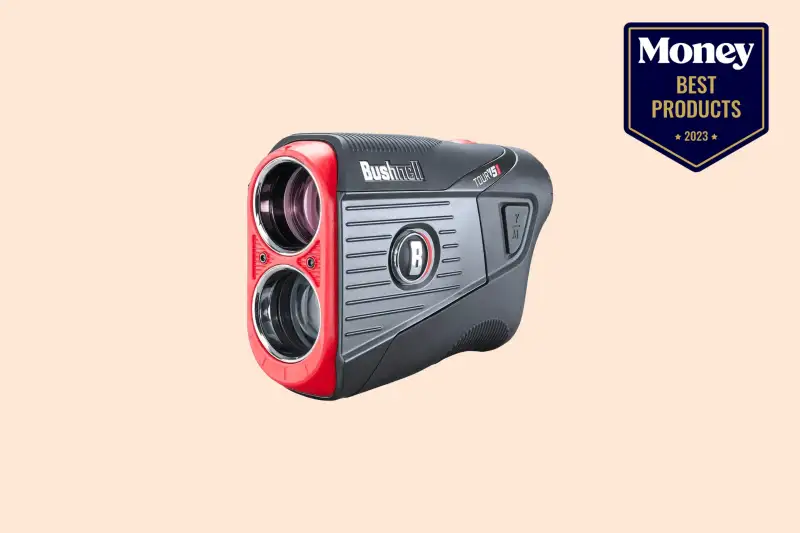 Golfers know how difficult it can be to judge the distance between them and the flag. With a golf rangefinder, you can accurately measure the distance between you and the flag as well as other objects on the course, giving you the perfect yardage for any shot. But with so many choices on the market, how do you know which rangefinder is right for you?
In this article, we'll cover our picks for the leading golf rangefinders of 2023. We've hand-picked the top models available on the market, considering factors such as accuracy, range, battery life and ease of use, so you can be sure you're buying a quality product that will help you enhance your golf game.
Best overall: Eagle Eye Golf Rangefinder
Runner up: Bushnell Golf Tour V5 Rangefinder
Fastest response time: Blue Tees Golf Series 3 Max Rangefinder
Best accuracy: Callaway 300 Pro Slope Laser Golf Rangefinder
Best value: Blue Tees Golf Series 2 Pro Laser Rangefinder
Most versatile: Gogogo Sport Vpro Laser Rangefinder
Reviewing the Top Golf Rangefinders of 2023 in Detail
List Price: $159.99
Check on Amazon | Check on Walmart
Elevate your golf game with the Eagle Eye Golf Rangefinder. As your trusted companion on the fairways and greens, this precision instrument is meticulously designed. It provides accurate distance measurements as you play. This rangefinder can give you an advantage by helping you make the perfect shot every time. Whether you're a seasoned golfer or someone who is just starting their golfing journey, this rangefinder is your ticket to confident decision-making.
The heart of this rangefinder lies in its exceptional accuracy. Thanks to its ability to precisely measure distances to various targets, you can also understand how far away you are from hazards and flagsticks. With this tool, you'll have the confidence to choose the right club and take the perfect swing on the golf course. Get ready to say goodbye to guesswork and hello to precision instead. Compact, lightweight, and easy to use, this product is our top choice.
Pros
Accurate distance measurements

Compact and portable option

Offers slope functionality
Cons
Relatively expensive compared to other equipment
List Price: $399.99
Check on Amazon | Check on Walmart
Used by over 99% of PGA Tour pros, the Bushnell Golf Tour V5 Rangefinder earned this spot on the list for its performance range, accuracy and portability. This laser rangefinder outshines competitors with compensated distances for precise measurements in any situation. The slope feature offers real-time, compensated distances on sloped courses, while the compensated distances technology can be disabled for legal tournament play. The Pinseeker with Visual JOLT makes it incredibly easy to tell when you have hit the pin, with vibrating pulses and a flashing red ring for confirmation.
The bright, responsive display of this golf rangefinder remains easily readable even in direct sunlight, offering magnified definition and vivid colors through its clarity redefined feature. This pick also comes with the BITE magnetic cart mount, allowing you to attach the device to any golf cart easily.
Pros
Visual JOLT feature for confirmation of target
Advanced slope technology adjusts distances on inclines
Magnetic cart mount for easy attachment
Vibrant, magnified display is easy to view
Cons
Battery life is shorter than other models
Battery reset sometimes required for accurate reading
List Price: $269.98
Check on Amazon | Check on Walmart
The Blue Tees Golf Series 3 Max Rangefinder is an excellent choice for high-precision performance and rapid response. Its adaptive slope switch technology allows you to quickly measure distances regardless of inclines and declines with pinpoint accuracy while remaining within tournament guidelines. Equipped with an auto-ambient display and flag lock technology, this option provides short vibrations upon the target lock, improving overall performance. Auto-ambient technology adjusts the display text based on lighting conditions, enabling easy viewing of targets up to 900 yards away with +/- 1-yard accuracy.
The device has a built-in magnetic strip for convenient storage and speedy access, allowing you to attach it to metal surfaces or golf carts. Its water-resistant and robust exterior casing ensures suitability for all weather conditions. This product includes a microfiber cloth for quick cleaning and three extra batteries. It also comes with a two-year manufacturer's warranty and a 60-day money-back guarantee in case you're unsatisfied or experience any issues. With its high-quality features, this rangefinder offers golfers precision, speed and convenience, making it an ideal and reliable choice for enhancing gameplay and elevating your enjoyment on the course.
Pros
Clear optics with great magnification
Red display highly visible in any lighting
Lightweight and compact for easy portability
Strong magnet holds tight to golf cart
Cons
Accessories not included
Case is functional but lacks style
List Price: $299.99
Check on Amazon | Check on Walmart
Expertly engineered to make distance measuring on the course easier than ever before, the Callaway 300 Pro Slope Laser Golf Rangefinder delivers superior accuracy. Its advanced auto-ambient technology automatically adjusts the ultra-clear display text to red or black to contrast lighting conditions, allowing you to quickly pinpoint a target between 5 and 1,000 yards away with an accuracy of +/- 1 yard. The pin acquisition technology allows you to lock onto a pin up to 300 yards away, eliminating any risk of measuring the wrong item. This feature emits short vibrating pulses to confirm that you have locked onto the target, not what's behind it.
This device has an ultra-clear display with 6x magnification and a slope mode. This feature accounts for inclines and declines and their angles, responding with the true distance between the ball and the target. Plus, it can be conveniently toggled off to maintain tournament legality. Equipped with cutting-edge features and exceptional accuracy, this model raises the bar for precise distance scopes in golf.
Pros
Clear visual field and easy focus adjustment
Solid vibration feedback when locked on target
Excellent range distance up to 1,000 yards
Rain- and fog-resistant design for durability
Cons
Pulses may be annoying to some users
Case lacks space for extra battery
List Price: $229.99
Check on Amazon | Check on Walmart
The Blue Tees Golf Series 2 Pro Laser Rangefinder offers outstanding value for those seeking top-tier functionality and accuracy at a more affordable price. With quality comparable to pricier alternatives, this model excels in measuring long-distance targets with precision. Its HD display and 6x magnification ensure accurate distance measurements. Its continuous arc technology adjusts for terrain inclines and declines, giving golfers the true distance to their target. With a range of up to 800 yards and +/- 1-yard accuracy, this golf rangefinder features flag lock technology that vibrates when a target is locked, boosting confidence on the course.
This pick's rugged exterior ensures versatility and exceptional durability in all weather conditions. It also comes with a two-year warranty so you can rest easy knowing your investment is backed. The package includes a hard shell carrying case and a microfiber cleaning cloth. Ideal for both professionals and beginners, this rangefinder is an excellent choice for measuring distances on the course quickly and accurately without breaking the bank.
Pros
Accurate measuring comparable to more expensive models
Rugged, weatherproof outer casing for lasting durability
Long 800-yard range with flag technology lock
Durable case, soft cloth and warranty included
Cons
Magnet not provided for attachment
No storage for a second battery
List Price: $129.99
Check on Amazon | Check on Walmart
With its lightweight and durable construction, the Gogogo Sport Vpro Laser Rangefinder is a versatile model that can be used by both golfers and hunters. It offers a measurement range of 5 to 650 yards, with +/- 1-meter accuracy and 6x magnification. Its fully multi-coated optics lenses reduce reflected light and enhance light transmission, yielding brighter, crisper images. This rangefinder also has numerous helpful features like angle range compensation, pin-seeking, flagpole-locking vibration and speed measuring.
The device can lock onto flags at distances of 150 yards for flagpoles and 250 yards when unfolding the flag. This rangefinder also meets tournament regulations, featuring a switch to turn off the slope function when necessary. The diopter is adjustable for precise focus on display. Boasting cutting-edge features for a low price, this rangefinder is perfect for golfers, hunters, bowhunters and professionals seeking reliability and precision.
Pros
Ideal for various uses
Flag lock for precise flag range measurement
Slope can be switched off for tournaments
Trigger features vibration feedback for target confirmation
Cons
Batteries are not rechargeable
Lacks built-in tripod mount for stability
Buying Guide: Golf Rangefinders
Golf rangefinders are an excellent investment, as they can help you make the most precise shot possible on each hole. If you're an avid golfer, you know how important it is to measure that shot distance accurately. So, to help you find the right gold rangefinder for your budget that can make your game more rewarding and enjoyable, we created this buying guide. Read on to discover the key factors to consider to get the best value for your rangefinder investment.
Measurement accuracy
Measurement accuracy is one of the most important factors when searching for a golf rangefinder. Different models provide varying levels of accuracy, typically ranging from 1-2 yards. It's also essential to check if the unit recalibrates itself after being bumped or dropped.
Range
Golf rangefinders for distance measurement are available in laser technology and GPS technology. Depending on the model, laser rangefinders can measure distances up to 1,000 yards or more, making them popular choices for golfers. On the other hand, GPS rangefinders have a shorter maximum range of up to 400 yards but are still widely used in the sport.
Magnification
Magnification ratings range between 4x and 10x, with some more powerful models reaching up to 20x magnification. A higher magnification level can help you get more precise readings and better viewing of your target area. Most golf rangefinders come with 4x magnification power or higher and some even have built-in zoom capabilities.
Display
Golf rangefinders come with LCD or OLED displays, allowing you to view your readings and other features easily and clearly. With LCDs, the image is bright but may appear washed out in direct sunlight. On the other hand, OLED displays offer improved contrast but may not be as bright. Also, when checking display specifications, look for a display that provides accurate information for yardage, distance-to-target and battery life.
Battery
Knowing how long your battery will last is important when selecting a golf rangefinder, as you don't want to get stuck without power on the course. Look for models that use rechargeable lithium-ion batteries, as they tend to have longer lifespans than disposable batteries.
Durability
Ensure your rangefinder is constructed from durable materials and features a waterproof design to withstand the elements during play. Most rangefinders are built with waterproof housing and hardened optical glass lenses to ensure longevity and quality performance in all weather conditions.
Multi-targeting capabilities
Many modern golf rangefinders offer multi-targeting capabilities, allowing you to measure distances from multiple targets simultaneously. This feature is beneficial if you frequently play courses with multiple hazards or bunkers far apart, as it will help you accurately measure distances between them quickly and easily.
Slope measurement
Another useful feature available on some golf rangefinders is slope measurement capability. This measures elevation changes and helps users accurately determine distances across hills, slopes, dips and valleys on the course. Without this valuable information, golfers may experience inconsistencies in their ball flight results due to unforeseen topographical variations.
Pinseeker technology
Pinseeker technology helps distinguish foreground objects from background objects like trees or buildings when looking through the lens of your rangefinder. It prevents users from accidentally aiming at distracting targets like trees instead of the flagpole, instead allowing them to hone in on their desired target more precisely. This technology gives you an improved line of sight for more precise readings and greater accuracy when measuring target distances.
Weight and size
Another essential factor to consider when selecting a golf rangefinder is its weight and size. Look for lightweight and small models so they won't be too heavy during play yet still provide all the necessary features for optimal performance on the course.
Cost
Golf rangefinder models are available at different price points to suit various budgets and preferences, so do some research before making a purchase. Look for the best option to fit your budget while still meeting your needs and expectations as a golfer.
Warranty
Before purchasing any new electronic device, always check the type of warranty included to ensure peace of mind. This way, if problems during usage or repairs are needed for manufacturing defects later on, you'll be able to deal with them promptly.
People Also Ask
Can using a golf rangefinder improve my game?
A high-quality golf rangefinder can improve your game as it helps you make confident choices on club selection and swing changes. It offers accurate distances to targets or flags, enabling you to make informed decisions and increase your shot success rate. This leads to lower scores over time.
What are the benefits of using a rangefinder when playing golf?
A rangefinder helps you play golf better by giving accurate distances to the green, hazards and obstacles. It works well even in challenging situations like sloping grounds or bunkers. With the correct distance information, you can choose the right club and make better shots.
What kind of maintenance and care does a golf rangefinder require?
Golf rangefinders require little maintenance, but proper storage in a dry location away from sunlight and extreme temperatures enhances device performance. A protective storage case can shield it from dust and dirt, ensuring the rangefinder remains in optimal condition.
Is there any difference between laser and optical rangefinders for golf?
Yes, laser rangefinders usually measure long distances more accurately, while optical ones are better for shorter ones. Laser models are also pricier because they use advanced technology compared to the simpler tech in optical rangefinders.
Is there a difference in price between laser and GPS rangefinders?
Laser rangefinders provide better accuracy and range than GPS but are usually more expensive. GPS models are often affordable and may have extra features like hazard detection, making them valuable for golfers of any skill level.
Are rangefinders allowed on all golf courses?
Yes, most golf courses allow the use of electronic measuring devices such as rangefinders, but it's always best to check with your local course in advance since some courses have policies against them.
How do I use a golf rangefinder correctly?
Ensure you're proficient with your rangefinder for precise measurements by practicing its usage on the golf course. Hold it up at eye level to spot small targets or flags. Ensure nothing blocks your view, like trees, before pressing the button on the device. If applicable, try switching options like the slope feature on and off to see how they work.
Is it legal to use a golf rangefinder in professional tournaments?
Players can use electronic rangefinders in most professional tournaments, but it's best to check with the organizers beforehand, as rules may differ.
Why Trust Us
Our commitment to the consumer begins with product selection and ends with the last word we write in each article. Each golf rangefinder is carefully vetted quantitatively through star ratings and the number of reviews qualitatively through careful examination of reviews and the features each one has to offer. Leveraging our team of bargain hunters, we're also always sure to keep your budget in mind while we find the best golf rangefinders on the market. Our team of experts is dedicated to accurately depicting the pros and cons of each golf rangefinder, translating technical product specifications into information you can understand. We aim to offer unbeatable value on golf equipment purchases by providing high-quality products, ensuring a remarkable experience to improve your performance on the course.
More From Money:
The Best Golf Club Sets for Beginners for Your Money