The Best Laptop, Headphones and Other Remote Learning Gadgets for Your Student's At-Home Workstation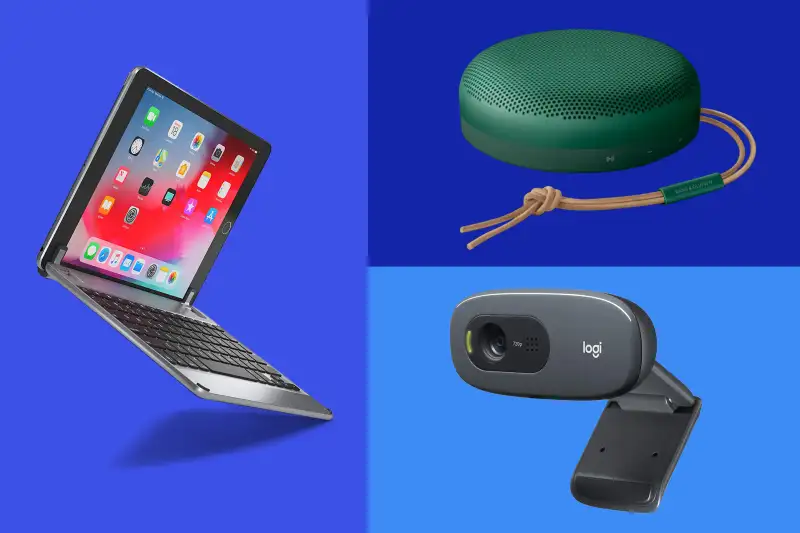 Kids have started going "back to school," and what that phrase means, exactly, depends on where you live.
While some states such as Colorado and Alabama plan to reopen schools in person with social distancing measures and perhaps reduced class sizes, many districts plan to stick with online learning. Others are going with the hybrid approach, using a combination of in-person and virtual classrooms. What this means is that many parents should expect children to be "in school" at home this year, at least part of the time.
Virtual learning is tough on both parents and children. Even in school districts with internet access and virtual learning plans in place, parents and students have to contend with issues such as lack of motivation, distraction, feeling isolated due to lack of in-person interaction and not seeing friends, and the ever-present anxiety that comes with not knowing when things will go back to something at least sort of reminiscent of normal.
As we previously reported, the most important things parents can do for their children at the moment is to provide them with structure and make them feel as safe and comfortable as possible. It's also important to put together a nice homeschool workstation, to help kids get the most out of online learning.
"The most beneficial thing a parent can do to make their home more learning-friending for the child, regardless of age, is to create a designated space for learning. Part of having a routine and structure is to have a place set aside solely for learning," says Dr. Roseann Capanna-Hodge, a child psychologist based in Ridgefield, Connecticut. "When a child or teen sits down to work in a familiar space, we don't have to waste precious brain power thinking about little details: Where should I plug in my computer? Where are the supplies? Instead, their brain can power up and alert them to the task at hand."
The exact needs of this workspace will vary by the age of your kids. "For younger children, their learning space needs to be near where you are. For some families, that is at the kitchen table and others is next to a parent at their work desk. Many parents have found that working in tandem in an organized office space works for themselves and their children," Dr. Capanna-Hodge says. "Parents want to think about having access to art supplies, paper, pencils, markers, etc. in organized containers at their learning space. Having brightly colored folders with their printed dittos or whatever else they will be using needs to be within hand's reach."
Teenagers, on the other hand, tend to want their space and will tell parents to get out of their room! Dr. Capanna-Hodge says it's important to honor their needs for privacy while still keeping an open line of communication.
"While most teens want to retreat to their bedrooms, you need to communicate with them about where is the best place for them to think," she says. "This is especially important when the house is full of multi-age children that may be noisy and interfere with their learning. Headphones are an essential for learning for most teens because they give them both privacy and can help with concentration."
When your kid retreats to their rooms, make sure they are sitting at a desk and not lying on the bed during their lessons, which can make it difficult to retain information and can sometimes contribute to sleeping disorders, according to Dr. Capanna-Hodge.
Kami Kaid, a mother of two young children as well as a San Francisco-based architect and K-12 Practice Leader at the design firm Perkins and Will, says that when setting up an area for learning, parents need to ask themselves the following questions:
Is there good light or the possibility for a view?

Are the students comfortable, e.g. comfy chair and sturdy table?

Is the furniture appropriately sized? Many parents started off at the dining room table, but this can be extremely uncomfortable for smaller students (preschool and elementary kids).

Are materials comfortable to the touch?

Is there airflow? Is the temperature comfortable — not too hot or cold?

Lastly, do they have the right tools to learn?
So what, exactly, are the right tools to help your child learn? We asked education experts to suggest products that will help maximize your child's education experience, without busting your household's budget. Here are some of the top recommendations.
Best Homeschool Workstation Ideas: Laptops, Headphones & More
Among the first considerations you should have for online learning is to make sure make sure that your child's teacher can simply see the student. Steven Cox, the founder and CEO of the San Diego-based TakeLessons, a global online marketplace for online or in-person lessons for adults and kids, recommends the Logitech HD Webcam C270. "A webcam can help to ensure high-quality video streaming for class lectures and virtual activities," he says. "Consider upgrading to a new HD webcam for reliability."
Asus Laptop: Prices Vary by Size and Model
"Consider investing in a new laptop computer with an ethernet port. Asus offers affordable options for kids," says Cox. He also stresses that nothing can mess up online learning like spotty internet service, and you may not want to rely simply on Wi-Fi. "Wi-Fi is convenient, but not always consistent. For at-home education, an ethernet hardwire connection ensures your student is always logged in and ready to learn."
On the other hand, it might not be necessary to buy a new laptop. Perhaps your child is more comfortable using tablets like the Apple iPad. If so, then Dr. Rebecca Mannis, founder of the New York-based Ivy-Prep.com, suggests the Brydge Tablet Keyboard/Case. Just slide it on and the tablet will basically work like a regular laptop. (For more online learning tips, you can download her free e-book "Tech Tools for Learning Success" right here, if you're interested.)
"The keys feel like real computer keyboard keys and give kids sensory feedback as they type, so that location of keys and finger position stay in their brains. That way they can focus on writing their creative ideas rather than hitting the 'delete' button," says Dr. Mannis. "The case closes with a hinge to securely protect the tablet, which means less slipping out of the case. The case is very durable and has helped our Ivy Prep iPads survive many drops by over the years."
It's important that your kids hears their teachers, so make sure they have a good pair of headphones. "In addition to clear video and a consistent internet connection, video conferencing requires great sound," Cox says. "One headset accessory with a built-in microphone solves this problem, so students can hear and be heard in the online classroom."
Courtesy of Bang & Olufsen
Or another option is to invest in a Bluetooth speaker that pairs seamlessly with your child's laptop, so they can hear teachers in full, crisp sound. It's not the same as being in the same room as them, but a good speaker enhances the virtual experience.
Dr. Mannis likes the Bang and Olufsen wireless speaker, which makes the Beosound A1 "to stream videos that help kids learn to read with engaging songs and stories, especially when the subtitles are embedded in the videos or when subtitles are turned on in YouTube preferences. It helps kids increase their sight word knowledge."
Make sure your child can see and be seen clearly, and aren't straining their eyes, by picking up a LED light. "Your K-12 students may already want a ring light for selfies, but a laptop light extension will also help with school video conferencing," Cox says. "Choose a soft light that attaches in the front of the laptop, to make your students' faces shine bright in every online classroom."
Your child is likely missing their friends, but one of the small upshots of home-schooling is that they can sit on something more comfy than the standard school desk. "Adults know the value of a comfortable chair during a long workday," Cox says. "Set your kids up for success with an ergonomic cushion to layer on their home desk chair."
"Older students — those in junior high and beyond — need to master note-taking, whether through remote learning or as school meets in person," Dr. Mannis says. "Homeschooling time is the perfect time to develop this skill, so that students have tech tools and learning strategies 'back pocket' ready for use as they move up the learning ladder."
One tool that Dr. Mannis recommends is Livescribe's SmartPen, which is a lot more advanced than the plain old ink pen you likely grew up with. "This digital pen is used to write notes on specialized paper as the pen records the conversation or the class. Upload the file to your computer, and through OCR (optical character recognition), the notes are transcribed," she says. "Need to check details you missed? Click on the text, and voila! The audio file plays the exact part of the class."
A lot of us are now having to think about some of the drawbacks of spending the day staring at a screen, and one downside is eye strain. "Before the pandemic, K-12 students were not spending this much time learning online," Cox says. "Help relieve their eye stress with blue-light blocking glasses that really work."
More From Money:
The Best Standing Desks for Your Money, According to Home Office Experts
The Best Online Grocery Delivery Services for Your Money: A Comprehensive Guide to Fees, Prices and Availability
How to Buy a Bike in the Middle of the Largest Shortage in U.S. History