The Best Beginner's Pickleball Paddles for Your Money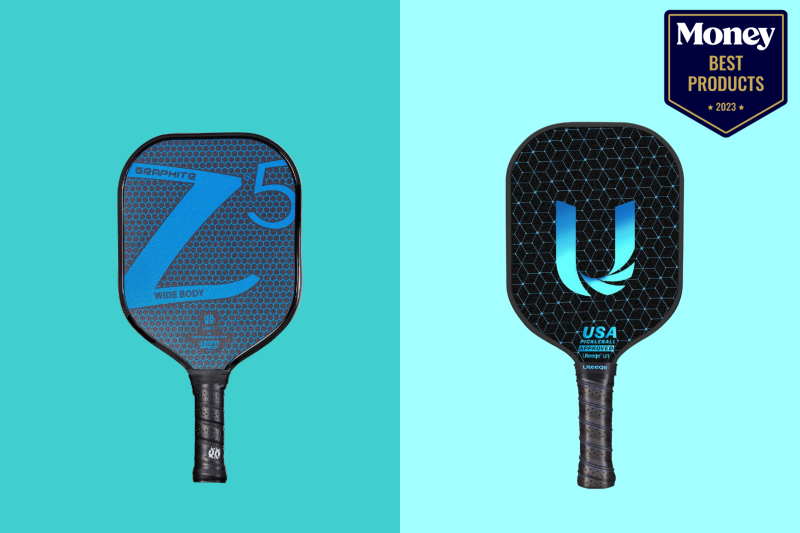 Landing that perfect shot in pickleball hinges not just on your skill but also on the paddle you wield. The right beginner's pickleball paddle can make a world of difference in your performance on the court. That's where our comprehensive guide steps in, serving up the scoop on the top-rated beginner's pickleball paddles of 2023. These paddles not only stand out for their quality and user-friendly designs, but they also cater to a variety of preferences and budgets. So, if you're new to the world of pickleball, read on to find the right paddle to help you take your game to the next level.
Best Overall: Champion Sports Rhino Vapor Pickleball Paddles for Beginners
Most Powerful: HEAD Radical Elite Beginner-Friendly Pickleball Paddle
Most Stylish: ONIX Graphite Z5 Pickleball Paddle for New Players
Most Ergonomic: Niupipo MX-07 Pickleball Paddle for Beginners
Best Design: Uteeqe U1 Beginners Pickleball Racket
Comparing the Best Pickleball Paddles for Beginners of 2023
Our top spot goes to the Champion Sports Rhino Vapor Pickleball Paddles for Beginners for its lightweight, comfortable design. Weighing only 0.83 pounds each, these paddles are easy to hold and swing without feeling heavy or causing hand strain. Their 6-inch handle is made from padded EVA material, adding to the products' ergonomic comfort.
Experience power and control like never before with this high-performance pickleball set. The dual-plated aluminum surface and robust honeycomb core guarantee strength and responsiveness, transforming every stroke into a winning shot. With an innovative, durable edge guard, your paddle is protected during games and on your journey to the court. These versatile rackets are suitable for indoor and outdoor use as well as players of all skill levels, whether for practice or competitive games. The set includes two beginner-friendly paddles and two yellow pickleballs.
Pros
Durable aluminum construction
Comfortable padded EVA handle
Suitable for indoor and outdoor use
Easy to hold and swing
Cons
Strong initial odor
Only available in a set
List Price: $64.95
If you're looking for a paddle that packs plenty of punch, consider the HEAD Radical Elite Beginner-Friendly Pickleball Paddle. Made from a polymer material with a fiberglass frame and a carbon fiber shaft, this racket features a composite hitting surface designed to deliver maximum power with every swing, making it a solid choice for players of all skill levels.
The handle measures 4.13 inches and is crafted with ergonomic foam for a secure, comfortable grip. The paddle weighs only 8.1 ounces, making it easy to carry and wield without straining your hand or wrist. The tubular core features a polypropylene honeycomb design for optimal performance and comfort regardless of your skill level. It measures a total of 16 inches, offering plenty of coverage, and it's available in orange-and-black and yellow-and-black styles. Best of all, the product is backed by a 1-year manufacturer's warranty, allowing you to purchase with confidence and peace of mind.
Pros
Two color options
One-year warranty coverage
Ergonomic foam handle
Durable fiberglass frame
Cons
Handle could be longer
No cover included
List Price: $89.99
Next up on our list is the ONIX Pickleball Paddle for New Players, which comes in 13 vibrant color selections, allowing you to practice or play in style. Its superior control and touch make it a solid pick for new and advanced players alike. It's backed by a 1-year limited warranty so you can rest assured that your purchase is protected.
Perfectly balancing speed and power, this racket is approved by USA Pickleball (USAP) and is suitable for official play. The handle's design is similar to that of a tennis racket, offering excellent grip, spin, and control. Plus, it's cushioned for maximum comfort and easy handling. The paddle is fitted with a durable edge guard to prevent chips and damage, ensuring a long-lasting service life. Its extra-wide face provides impressive coverage and enhanced contact for better overall performance.
Pros
Thirteen color options
Wide-face design for better contact
Cushioned handle for comfort
Edge guard for damage prevention
Cons
Heavier than comparable products
Handle tape may come off over time
List Price: $44.38
The Niupipo MX-07 Pickleball Paddle for Beginners is designed with comfort in mind. It distributes weight optimally to prevent shoulder and elbow strain, providing you with a more enjoyable playing experience. Additionally, the 4.8-inch handle is padded, perforated, and absorbent to ensure a secure and comfortable grip throughout your game.
This racket features an edge guard to shield it from impact-related damage. Plus, it also comes with a neoprene cover with a zipper closure to protect it while it's in storage and while you're on your way to and from the court. The polymer honeycomb core provides excellent control and power while the medium-weight construction enables quick hand changes, wrist actions, and flexibility. With the included 1-year warranty, you can rest assured that you're covered should you experience any post-purchase issues with the product.
Pros
Comes with a protective cover
Includes a 1-year warranty
Designed for comfortable use
Offers excellent spin, power, and speed
Cons
May have an initial odor
May be too heavy for some users
List Price: $39.99
Featuring a durable construction and an innovative design, the Uteeqe U1 Beginner's Pickleball Racket strikes a perfect balance between control and power. Unlike comparable products, this paddle has a textured, slightly abrasive face for improved spin. Plus, the larger-than-average sweet spot enables better contact and hits.
One of the best features of this racket is its handle, which isn't only cushioned for optimal comfort but also features raised ribs and sweat-absorbing perforations to ensure a secure grip and optimal traction. The polypropylene honeycomb core is surrounded by durable graphite layers, which are sealed around the edges by a protective guard to prevent impact-related damage. The paddle measures 15.8 inches in length and 7.8 inches wide, offering plenty of coverage for better contact and a larger sweet spot. Plus, with a low weight of 7.8 ounces, holding and swinging this racket couldn't be easier, even for a novice.
Pros
Edge guard for protection against impact
Extra-large sweet spot
Easy to hold and swing
USA Pickleball-approved design
Cons
No additional styles or colors available
No cover included
Pickleball Paddles for Beginners: A Buying Guide
Embarking on your pickleball journey can be exciting and a tad confusing, especially when it comes to choosing your first paddle. From grip size to materials, every feature impacts your performance and game enjoyment. This comprehensive guide aims to simplify your decision-making process, shedding light on the key features to consider when buying your first pickleball paddle.
Weight
The weight of your paddle plays a critical role in your game. Lighter paddles weighing up to seven ounces offer increased maneuverability, making it easier to control and swing the paddle. However, they might lack power. Conversely, heavier paddles weighing between eight and nine ounces give you more power but might compromise on control. For beginners, a mid-weight paddle of around 7.5 ounces usually strikes the best balance between power and control.
Materials
The racket's material impacts its performance and durability. Wood options are affordable but heavier, making them less beginner-friendly. Composite models, made from materials like aluminum and polymer, offer a balance of power and control. Graphite paddles are lightweight and provide excellent control, but they tend to be pricier. Composite rackets are typically recommended for beginners due to their balanced attributes.
Grip size
A paddle's grip size can influence your comfort and control during the game. Generally, the grip size should align with your hand size. A too-small grip can cause unnecessary wrist action and reduce control, while a too-large grip can lead to a poor swing and possible hand strain. It's easier to increase a grip size with tape if needed than it is to decrease it, so we recommend sizing down if you're caught between two size choices.
Edge guard
Edge guards offer durability and protection from ground hits. However, a larger edge guard can result in a higher chance of mishits, and the extra weight can affect the paddle's balance. For beginners, a paddle with a smaller edge guard is typically advisable, as it reduces the possibility of mishits and improves control.
Price
Quality, not price, should be the deciding factor in your purchase. As a beginner, you don't need an excessively expensive paddle. Instead, select a paddle that offers a good balance between price and quality. The most expensive paddle won't necessarily make you a better player. Conversely, the right paddle can significantly aid in your improvement.
Accessories
Some pickleball paddles for beginners come with useful extras or accessories such as pickleballs, protective covers or carry bags. Consider whether you have use for these additional items to help you decide if you should purchase an individual racket or a complete pickleball set.
People Also Ask
How do I use a beginner's pickleball paddle?
To use a beginner's pickleball paddle, hold it like you would hold a table tennis paddle, with your index finger along the back of the handle for control. The face of the paddle should be perpendicular to the ground. When the ball comes your way, swing the paddle from your shoulder, not your wrist, to hit the ball.
What material should a beginner's pickleball paddle be made of?
Beginner's pickleball paddles are usually made from composite, graphite, or polymer materials. Composite paddles are generally more affordable and provide excellent durability; graphite paddles are lighter, offering better control; and polymer paddles are known for their power and durability. As a beginner, your choice depends on what aspect of the game you want to focus on.
How do I maintain my pickleball racket?
Regularly clean the surface of the pickleball racket with mild soap and warm water. Avoid submerging the racket or exposing it to extreme temperatures. Store the paddle in a cool, dry place when it's not in use.
What's the average lifespan of a beginner's pickleball paddle?
With proper care and maintenance, a beginner's pickleball paddle can last anywhere from 1 to 5 years. This largely depends on how often the paddle is used and how hard it's played with.
How do I choose the right size paddle?
The right size paddle is usually determined by two factors: your height and your playing style. If you're taller, a longer paddle can help you reach further. If you prefer playing at the net, a lighter, shorter paddle might suit you better. It's also important that the grip feels comfortable in your hand.
Are pickleball paddles for beginners different from professional ones?
Yes, they're different. Beginner paddles are designed with an emphasis on comfort and ease of use, whereas professional paddles are typically more focused on performance characteristics such as power and precision. However, it's not uncommon for some beginners to start with more advanced paddles if they feel comfortable doing so.
Can wear and tear of the paddle affect the gameplay?
Yes, excessive wear and tear can affect your gameplay. Cracks, chips, or a worn-out grip can impact the paddle's performance, reducing your control and power. It's recommended to replace your paddle if it displays significant signs of wear and tear.
Why Trust Us
Our commitment to customers begins with a carefully curated product selection process, ensuring we provide high-quality and reliable options. We meticulously vet each pickleball paddle, analyzing quantitative aspects, such as star ratings and review count, and qualitative factors, including review content and product features. Our dedicated team of bargain hunters consistently prioritizes your budget by meticulously scouring the market and identifying the best pickleball paddles available without compromising on quality or performance. Our panel focuses on presenting the pros and cons of each pickleball paddle and converting technical specs into understandable insights. We aim to ensure remarkable gameplay and performance on the court with top-rated pickleball equipment.