The Best Walking Shoes for Men for Your Money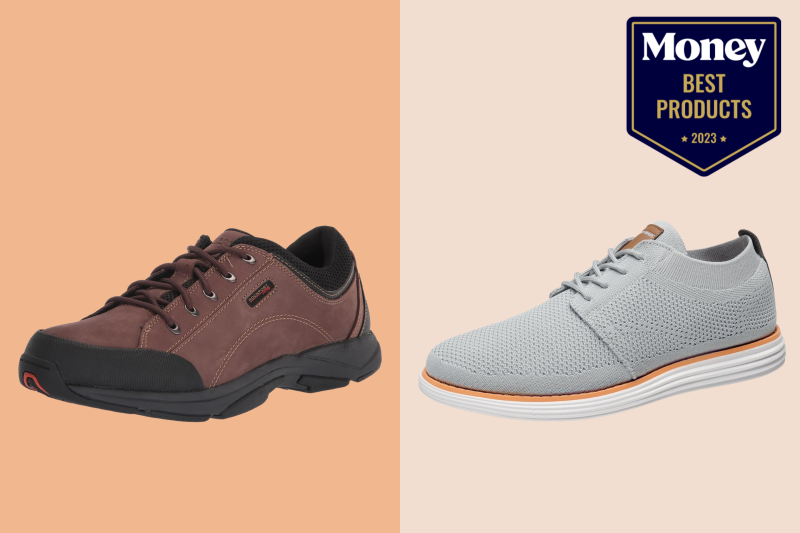 When it comes to walking, it's essential to have well-designed, supportive shoes to keep your feet protected. As an investment in your health and comfort, these shoes aren't just a fashion statement, they're a testament to the value we place on our feet — the unsung heroes of our daily lives. Whether you're trying to increase your daily steps or walking around town running errands, each stride, each step you take, relies on the support and durability that walking shoes offer.
With so many stylish yet functional options available, the right pair should cater to your specific needs — from the average office worker seeking relief during his commute to the enthusiastic wanderer looking for his next adventure. In this article, we'll take a look at the highest-rated walking shoes for men in 2023 to keep you comfortable while you tackle the miles ahead. We'll also share some buying tips to help you compare each product and select the right one for you.
Best Overall: New Balance Mens 877 V1 Walking Shoes
Best Support: Skechers Mens GOwalk Duro Walking Shoes
Best Value: Reebok Mens Walk Ultra 7 DMX Max Shoes
Most Durable: Rockport Mens Chranson Walking Shoes
Best Lightweight Design: Bruno Marc Mens Mesh Casual Walking Shoes
Comparing the Best Walking Shoes for Men of 2023
List Price: $79.95
The New Balance Men's 877 V1 Walking Shoes are the top choice on our list thanks to their blend of retro aesthetics and modern technology, offering both style and support. With over a century's worth of experience and dedication to helping athletes reach their goals, New Balance pours money into research and development to design shoes that fit well. Made with a vintage suede/mesh upper, this option is durable and breathable for long-lasting comfort. The 11 mm heel-to-toe drop is an optimal height for most walking strides, making this an excellent all-around pair of men's walking shoes.
Available in standard, wide, and extra-wide sizes, the 877 V1 has a spacious toe box to accommodate a range of foot shapes. The rubber sole provides reliable grip and traction, allowing you to walk on a variety of surfaces. Besides being available for under $100, this pick is eligible for Medicare reimbursement under HCPCS code A5500, so you can enjoy quality craftsmanship at a budget-friendly price. These walking shoes for men are also proudly assembled in the USA. Between their durable and supportive construction, comprehensive sizing, and affordability, this is the best overall product available on the market.
Pros
Durable sole and breathable upper
Ample space in toe box
Lightweight and comfortable material
Cons
Shock absorption could be better
The shoe's tongue is too short for some
List Price: $51.95 - $58.95
What really sets Skechers apart from other shoe manufacturers is their commitment to quality and affordability. Since its inception in 1992, Skechers has grown from a utility-style boot brand to a global leader in lifestyle footwear. This includes a diverse range of athletic, casual, and fashion sneakers, which are premium options that won't break the bank. The Skechers Men's GOwalk Duro Walking Shoes are no exception, designed to provide unrivaled support and practical features for long-term use.
Crafted from durable woven canvas fabric and sport suede upper, these shoes are designed to keep up with you mile after mile. They're also water-repellent, making this pick the ideal footwear for those unexpected rainy days. One of the standout features is the Skechers Performance technology, which is specifically aimed at enhancing athletic walking. The Air Cooled Goga Mat Technology insole and ULTRA GO midsole provide high-rebound cushioning, making every step comfortable. These men's walking shoes have a slip-on design with dual side stretch fabric panels, offering convenience and a sleek, modern look. At only 9.5 ounces, each shoe is also lightweight to help you walk further without as much fatigue.
Pros
Water-repellent yet soft material
Fantastic arch support and cushioned sole
Practical slip-on design for easy use
Cons
Insoles are not removable
Heel height may be uncomfortable for some
List Price: $39.97
For under $40, the Reebok Men's Walk Ultra 7 DMX Max Shoes deliver premium comfort at an affordable price. This pick features a soft cushioning system that cleverly transfers air between the heel and toe with each step you take. Ideal for long days spent on your feet, the MemoryTech foam insoles enhance this comfort to offer an even softer feel. Together, these features ensure that every step is well-cushioned, making these shoes ideal for men who value their comfort as much as their wallet.
But that's not all — the Ultra 7 DMX Max are built to last. These shoes are crafted with imported leather and textiles to withstand the wear and tear of many miles. The robust and durable rubber outsole also gives you traction across various surfaces. From smooth pavement to rough trails, these walking shoes for men are ready for whatever adventure you throw at them. So, gentlemen, step up your walking game with these budget-friendly shoes that prioritize comfort, durability, and versatility.
Pros
Comfortable and supportive cushioning
Affordable and high-quality design
Durable and long-lasting construction
Cons
May be too stiff for some individuals
May not be ideal for wide feet
List Price: $49.59 - $89.95
If you're an avid walker, consider investing in the Rockport Men's Chranson Walking Shoes. Ideal for long strolls in the great outdoors, this pair is made from 100% genuine leather nubuck for natural comfort and long-lasting durability. These shoes come equipped with the latest TruFLEX technology, a ground-breaking feature that provides shock-absorbing heel cushioning, protecting your feet from the hard impacts of each step. Resting atop a rubber EVA outsole, these shoes offer a durable grip on almost any surface, ensuring you have the confidence and security to tackle trails and other tough terrain.
These men's walking shoes don't compromise on comfort either. They boast a soft textile and latex footbed that cushions your feet, reducing fatigue and ensuring all-day comfort. The mesh lining enhances breathability and wicks away moisture to keep your feet dry and comfortable. This feature also helps keep them odor-free, reducing maintenance needs. Plus, the adjustable lace-up closure offers a personalized fit for your foot shape. Whether worn for casual strolls, brisk walking, or busy days at work, this product is a great choice.
Pros
Comfortable for long-standing periods
Durable for heavy usage
Good for casual walking and hiking
Cons
Shoelaces may loosen often if not double-knotted
Not suitable for running
List Price: $38.69
This final option isn't your average pair of men's walking shoes. The Bruno Marc Men's Mesh Casual Walking Shoes are excellent for everyday wear thanks to their incredibly lightweight design. Each shoe weighs only 7.8 ounces, ensuring your feet stay fatigue-free no matter how long you're on the go. The stretchy, knitted fabric upper and full mesh paneling allow your feet to breathe freely and offer medial and lateral stability owing to its tightly knitted base area. The honeycomb design on the insole's underside also helps keep your feet dry and comfortable throughout the day.
With an elastic collar and pull tab, these men's walking sneakers are easy to slip on and off. The padded detail ensures your back heel is protected from chafing. Inside, the memory foam insole provides extensive cushioning to reduce fatigue. Available in 11 neutral colors, the sleek design of these shoes makes them extremely versatile as they can be paired with jeans, shorts, dressy or casual pants. This product is the ideal choice for a range of occasions, whether a date, work, a night out, commuting, or traveling.
Pros
Super light and comfortable
Good for casual office wear
Attractive and modern design is versatile
Cons
Not a lot of rear heel support
Mesh makes shoes feel cheaply made
Buying Guide: Walking Shoes for Men
Over are the days when walking was just a means of transportation. Nowadays, men everywhere are taking strides toward a healthier lifestyle — and walking is a major part of it. Whether it's for general fitness, weight loss or just to get a breath of fresh air, a good walk can do wonders for your mental and physical health. However, the key to a comfortable and successful walk lies in the shoes you wear.
Walking shoes for men are specifically designed to provide comfort, support, and stability for prolonged periods of walking. They are typically more flexible and supportive than running shoes, allowing for a more natural stride and roll of the foot. Walking shoes come in a variety of styles and designs to cater to different preferences and needs. To help you find the best pair that suits your needs, we've outlined the key features to consider when selecting a pair of men's walking shoes.
Comfort
Comfort is also paramount in a walking shoe. Features such as cushioning, arch support, and flexibility all contribute to a shoe's comfort. Cushioning helps absorb shock, reducing the impact on your joints. Arch support is essential in preventing foot pain, especially for those with high arches or flat feet. A flexible shoe adapts to your foot's natural movement, making your strides more comfortable and efficient.
Durability
Walking can be hard on shoes, especially if you're putting in many miles each day. Look for shoes made from high-quality materials that can stand the test of time. Details such as stitching, reinforcement in high-wear areas, and a sturdy outsole can indicate a shoe's durability. If you plan to walk in wet weather or on rough terrain, look for men's walking shoes that are water-resistant and easy to maintain over time.
Breathability
A breathable shoe is essential for maintaining comfort during your walks. Breathable materials such as mesh allow air to circulate, keeping your feet cool and dry and reducing odor buildup in your walking shoes. A sweaty foot can lead to discomfort and even fungal infections, so don't underestimate the importance of breathability.
Traction
A shoe with good traction helps avoid slips and falls, especially in wet or uneven terrains. Look for shoes with a non-slip outsole to provide good grip. Also, consider the sole's tread pattern, as it plays a role in the shoe's grip and stability.
Style
While it may not affect the shoe's performance, style is still a significant factor for many men — especially if you plan to wear your shoes around town or at work. Walking shoes come in a variety of designs, from sporty to casual, so you can choose a pair that suits your personal style and needs.
Price
While it's essential to invest in a quality pair of walking shoes, this doesn't necessarily mean you should opt for the most expensive pair. Consider all the other factors and find a shoe that offers the best value for money and fits your budget.
People Also Ask
What features should I look for in men's walking shoes?
The best walking shoes for men should have a comfortable fit, a roomy toe box, good arch support, and excellent cushioning. They should also have a durable and flexible outsole suitable for a variety of walking surfaces.
How should my walking shoes fit?
Your walking shoes should fit well with enough room to wiggle your toes. They should be snug around your heel and midfoot but not tight. There should be a gap of about a thumb's width between the end of your longest toe and the end of the shoe.
How do I maintain my walking shoes?
To maintain your walking shoes, clean them regularly using a soft brush and mild detergent. Avoid putting them in the washing machine or dryer as this can damage the shoe structure. Allow them to air dry away from direct sunlight. It's also good practice to rotate between two pairs of shoes to allow each pair time to air out and recover.
When should I replace my walking shoes?
Walking shoes typically last between 500-800 miles, depending on how often you walk and on what surfaces. You should replace your shoes if you notice the cushioning has reduced, the outsole is worn out, or if they become uncomfortable to wear.
Can I use men's running shoes for walking?
Yes, you can use running shoes for walking. However, walking shoes may provide better comfort and support for long walks because they're designed specifically for the heel-to-toe motion of walking.
Are there specific men's walking shoes for different types of terrain?
Yes, there are walking shoes designed for different types of terrain. For example, off-road or trail walking shoes have a thicker tread for better grip on uneven surfaces, while urban walking shoes are designed for comfort and cushioning on pavement.
Can I wear men's walking shoes casually or for work?
Yes, many walking shoes for men have a stylish design and can be worn casually or for work. However, you should check your workplace dress code to ensure they're appropriate.
Why Trust Us
Our commitment to customers begins with a carefully curated product selection process, ensuring we provide high-quality and reliable options. We meticulously vet each pair of walking shoes, analyzing quantitative aspects, such as star ratings and review count, and qualitative factors, including review content and product features. Our dedicated team of bargain hunters consistently prioritizes your budget by meticulously scouring the market and identifying the best walking shoes available without compromising on quality or performance. Our panel focuses on presenting the pros and cons of each pair and converting technical specs into understandable insights. We aim to ensure you are equipped with walking shoes that merge remarkable comfort and performance.