5 Signs McDonald's Is Totally Bailing on Health-Conscious Dining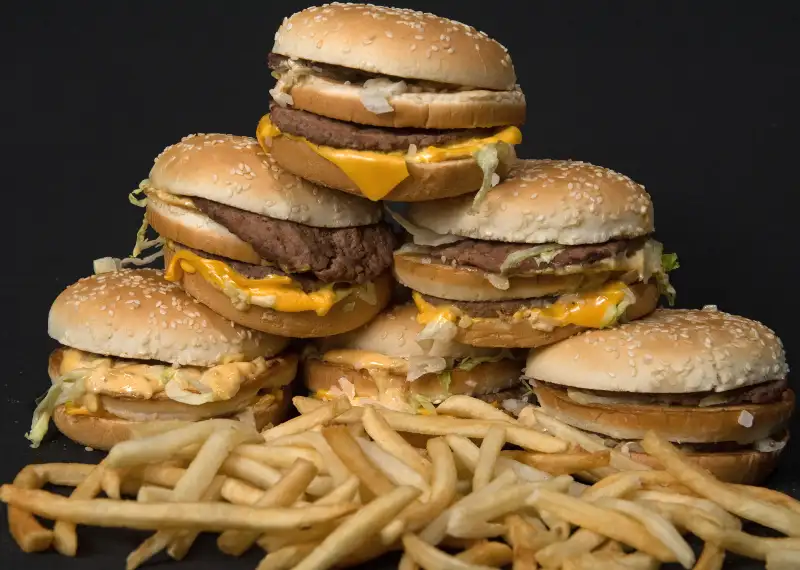 Paul J. Richards—AFP/Getty Images
In early 2015, when McDonald's announced that it would be hiring a new CEO, one of the biggest challenges facing the next boss was the criticism that the company—and, in particular, the menu—lacked focus. Franchise owners complained that the menu had grown too large and complex. And a big reason the menu had expanded significantly is that McDonald's seemed to be going to extraordinary lengths to woo younger, more health-minded customers with items like the McWrap.
The Premium McWrap arrived in 2013 as McDonald's much-hyped, supposedly healthy answer to Subway and Chipotle. It was in that same year, however, that McDonald's CEO Don Thomson told investors that salads sell poorly, constituting only 2% to 3% of U.S. sales.
Restaurant analysts were puzzled by the health initiative, which appeared to muddle McDonald's classic mission of providing cheap quick-serve burgers and fries. "They've gone so far afield from their core menu that they're not really resonating with anyone," Howard Penney, managing director at investment research firm Hedgeye Risk Management, explained to the Wall Street Journal a few years ago. "McDonald's is never going to be perceived as healthy, so for them to spend too much time on healthy items doesn't make a lot of sense to me."
Here are a handful of indications that McDonald's has been buying into this line of thinking lately, in which appealing to core customers is key, and health should pretty much be an afterthought. Judging by the recent strong performance of McDonald's stock and restaurant sales, the newfound focus is resonating well with the people it's trying to reach.
Unlimited French Fries
Declaring the menu option one key part of the "McDonald's of the future," the owner of a McDonald's franchise in St. Joseph, Missouri, announced that his restaurant will offer all-you-can-eat fries when it opens this summer. The restaurant has since clarified that unlimited fries will only be a limited-time promotion, but it would be surprising if we didn't see this option pop up in other McDonald's in the future.
Read next: The Sad History of Healthy Fast Food
Bigger Big Macs
Another test product in the works is a supersized Big Mac, dubbed the Grand Mac, priced at $4.89. It's packed with one-third of a pound of beef (compared to one-fifth of a pound for the regular Big Mac), as well as extra toppings and a larger bun. The Grand Mac is available for a limited time in 127 restaurants in central Ohio and the Dallas-Ft. Worth area in Texas. If it proves popular, customers should look for the gargantuan burger to go national.
No More Wraps
In mid-April, McDonald's pulled the plug on a product it had internally called the "Subway buster" because it was supposed to be the Golden Arches' answer to Subway's seemingly healthier fare. The McWrap was particularly unpopular with millennials, the demographic it was targeted to tempt, and wraps were extremely time-consuming to assemble compared to burgers. So executives decided to remove wraps from the menu three years after they were added.
Salad Clogged with Calories
Yes, McDonald's has even managed to make a kale salad unhealthy. Earlier this year, CBC News pointed out that a new salad featuring the buzziest of all greens actually has more calories, fat, and sodium than a Double Big Mac. In addition to kale, the salad comes with crispy chicken and Asiago Caesar dressing, packing in 730 calories, compared to 680 in the Double Big Mac.
All Day Breakfast
On the surface, it would seem that last fall's nationwide introduction of all-day breakfast to the menu would have no ill effect on the health of customers. Heck, offering breakfast all day might, in fact, improve nutrition as some of the menu choices are healthier than the typical burger and fries combo. Yet, as many fast food customers are prone to do, McDonald's breakfastarians may be overdoing things.
Read next: McDonald's Is Making a Power Move to Compete with Starbucks
Sales of afternoon and late-night McMuffins have shot through the roof, indicating that customers aren't simply viewing breakfast items as alternatives to lunch or dinner options. Instead, they are eating McDonald's breakfast as a snack in addition to the usual three meals a day—meaning more fast food consumption overall. The company even noted that some customers treat the Egg McMuffin as an add-on side order, consumed on top of a combo meal.
So in a way, the old "Want fries with that?" question is being replaced, or supplemented with another query: "Want a McMuffin with that?"