5 Things to Know About Trump's New Budget Plan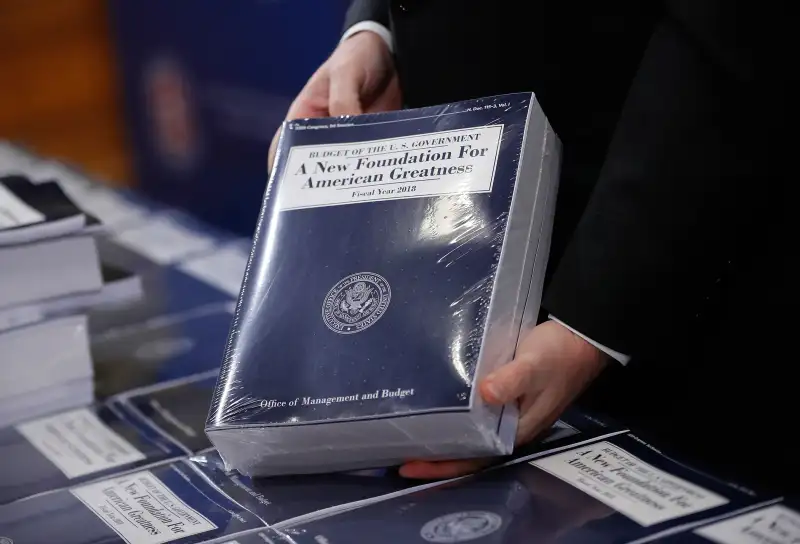 Pablo Martinez Monsivais—AP
President Trump won election based on his promise to reinvigorate the American economy. On Tuesday, his White House delivered to Congress its first full budget -- and with it, the road map for how he plans to do it.
Getting Americans back to work was a driving force behind many of the budget provisions, Office of Management and Budget Director Mick Mulvaney said during a conference call with reporters Monday. "If you are on food stamps and you are able-bodied, we need you to go work," he said. "If you are on disability insurance and you are not supposed to be -- if you are not truly disabled -- we need you to go back to work. We need everybody pulling in the same direction."
Trump's budget proposal doubles down on his tax plan, and outlines cuts to federal spending in areas that touch many Americans directly -- like Medicaid, disability and food stamps. It leaves Medicare intact, along with Social Security's retirement benefits, and spells out plans for more government spending on the military and security, plus subsidized parental leave.
In all, the Trump administration says, savings could amount to more than $3 trillion over the next decade. But not everyone agrees. Our sister publication, Time, calls it a "long-shot budget" that "relies on rosy assumptions"; the New York Times describes its math as "wishful thinking."
Here is what you need to know about the Trump administration's 2018 budget.
Medicaid Will Take a Big Hit
While the budget factors in the removal of Obamacare -- including the $839 billion (over 10 years) in cuts to Medicaid under the American Health Care Act, the GOP replacement plan for the Affordable Care Act -- the new budget also cuts federal Medicaid and Children's Health Insurance Program spending by an additional $610 billion over the same time period. It does this by shifting to a per capita or block grant program, giving states more flexibility to determine how Medicaid funds are spent.
In doing so, the budget specifically encourages states to consider stricter work requirements on Medicaid recipients, emphasizing "personal responsibility." Such work requirements could ultimately reduce the number of people with health coverage. Yet because the majority of Medicaid funds go to the elderly and disabled, cutting Medicaid would affect far more people than just those able-bodied adults currently out of work.
Food Stamps Are on the Chopping Block
The Trump administration expects to save nearly $200 billion over the next decade with a big shift on food stamps, formally known as the Supplemental Nutrition Assistance Program (or SNAP). The program helps feed 44 million Americans, including millions of children -- and while the White House hasn't proposed slashing benefits directly, the new budget calls for tightening work requirements for recipients.
Trump is also asking states, which administer the program, to shoulder part of the costs, as an incentive for them to root out abuse. While about 6% of Americans claimed benefits in 2000, the number shot up to about 15% in 2013, amid the Great Recession. And while the economy has gradually healed, Americans have been slow to leave the program, which costs the federal government $75 billion a year, roughly three times what it did in 2000.
Social Security's Disability Benefits Get Cut
Another safety-net program in the crosshairs is Social Security Disability Insurance, which pays an average monthly benefit of about $1,200 to roughly 9 million Americans who have a significant disability that prevents them from working.
The program is funded through a payroll tax, and recipients' benefits are based on an individual's work record, just like Social Security benefits for seniors. (Although budget director Mick Mulvaney tried to distance the disability portion of Social Security from its retirement benefits -- in order to assert that Trump was keeping his promise not to cut Social Security -- both parts of the program share a financing structure and fall under the Social Security umbrella, experts say.)
Proposed changes to the program include reducing an existing 12-month retroactive disability benefit to six months, and testing "new approaches to increase labor force participation," according to materials distributed by the White House. The White House didn't spell out those "new approaches"; beneficiaries already get regular re-evaluations to maintain eligibility, says Kate Lang, senior staff attorney with Justice in Aging.
Structural changes to the disability program are expected to reduce the deficit by a modest $22 billion in aggregate by 2027, according to materials provided by the White House.
Big Savings Expected From Student Loan Changes
The budget incorporates big shifts in student loans, with a trio of changes that the White House says will cut expenditures by roughly $142.7 billion in the next 10 years. Many of the changes were actually revealed last week, in advance of the budget proposal.
The largest savings -- $76 billion over the decade -- follows up on a campaign promise Trump made to simplify the confusing number of student loan repayment plans, streamlining five income-driven repayment plans into a single option. Undergraduate borrowers would be able to pay 12.5% of their disposable income for 15 years before the remaining debt would be forgiven. That is a slight increase (of 2.5 percentage points) for month-to-month payments above what the most generous current plans offer, but the repayment plan's length is at least five years shorter.
For most undergraduate borrowers, the change means lower total payments over the long run. Much of the federal budget savings would come at the expense of borrowers who took out significant debt to earn graduate-level degrees; they would pay that same 12.5% of income as undergraduate borrowers, but their repayment term gets longer rather than shorter. Under Trump's proposal, they'd need to pay for 30 years before reaching loan forgiveness.
The remaining education-related savings are largely tied to two other programs. The Trump budget eliminates Public Service Loan Forgiveness, a program that forgives the debt of government and public sector workers after 10 years, as well as the subsidized loan program, through which the government pays the interest on loans for needy undergraduate students while they're still in school.
Defense and Security Spending Is Set to Rise
Many of the above cuts are needed to balance out the budget, which also factors in -- as part of the Obamacare repeal -- a nearly $600 billion tax cut for the nation's wealthiest citizens over the next decade. But the White House plan also includes increased spending in a few key areas.
The budget seeks a 10% increase in military funding over the existing spending level -- bringing total spending for the next fiscal year to $639 billion, and yielding a total $6.7 trillion in spending over the next decade. The proposal also reverses "sequestration," which automatically reduces government spending across the board, for the Department of Defense -- a change that alone will cost $469 billion over the next 10 years.
The expanded military spending is expected to cover more service members, aircraft and "battle force" ships, according to the White House.
An additional $2.6 billion in new funds would be spent on border protection, bringing the total 2018 bill to $44.1 billion for the Department of Homeland Security and $27.7 billion for the Department of Justice. Most notably, the budget allocates $1.6 billion for wall construction in 2018, $239 million for aircraft to track illegal border crossings, and $202 million for other equipment, such as vehicles, radios and weapons.
Last October MIT estimated that a wall, based on Trump's campaign statements, would cost $40 billion to build. Trump's budget does not specify how much of the bill Mexico would cover.