The Average U.S. Home Is Now Worth Over $350,000 — an All-Time High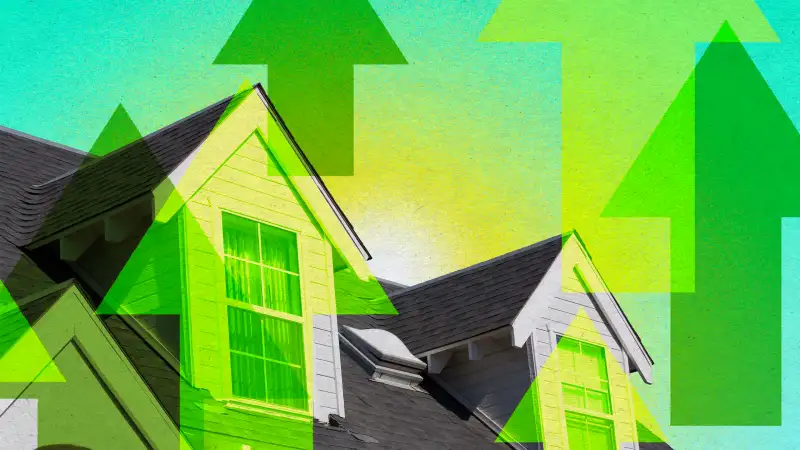 Average home values in America just surpassed $350,000 for the first time ever, according to new estimates from Zillow.
That might seem like good news for sellers who are hoping to score a higher price on their home. However, sellers don't necessarily have the upper hand in today's wild housing market.
Average home value hits record high
Real estate company Zillow's recent report marks a U.S. housing market milestone: As of June, the average American home is now estimated to be worth $350,213, the highest ever.
The high comes after a 1.41% rise in the average home value from May to June, measured with Zillow's Home Value Index. It beats out the previous all-time high of $348,225 set in July of 2022. (Side note: There are some indications that home values could soon decline once again, but perhaps that's to be expected after surging to a new peak.)
All 50 of the largest real estate markets saw home value growth on a monthly basis. Plenty of markets saw higher-than-average increases, though, including Detroit, New Orleans, Buffalo, Chicago and Hartford, Connecticut, all of which saw month-over-month increases of 2% or more.
Zillow also reported that inventory remains depressed across the U.S. June 2023 saw 28% fewer listings than June of 2022.
The company chalked the low inventory up to the mortgage rate trap sellers find themselves in — not wanting to sell for fear of taking on a new mortgage rate almost twice as high as their current one. Earlier this month, mortgage rates reached their highest this year so far, with a 30-year fixed rate mortgage clocking in at an average 6.81%.
Additionally, Zillow suggested that the low inventory could be a result of sellers waiting for their properties to reach their full price potential before selling. That time could be coming soon; the average price of a U.S. house is reportedly now at a new record high, and a majority of the largest markets are at their personal price highs, too.
Keep in mind
Zillow's Home Value Index, like other real estate company estimates, is a rough approximation of value — and not necessarily how much a home would actually sell for on the market. While they are helpful resources, estimated home values can be inaccurate and should be taken with a grain of salt by both buyers and sellers.
Also, while the average U.S. home value is at a record high, it doesn't mean sellers in all markets are at record high values. In fact, Zillow reported that over half of the 50 largest markets in the country are still valued below their levels from June of 2022. So, while $350,213 stat is eye-popping, it doesn't give an accurate picture of all U.S. real estate markets.
More from Money:
9 Best Home Equity Loans of 2023
A Record-High Share of Homebuyers Are Looking to Relocate Right Now
3 Sneaky Homebuying Fees You Can Negotiate Away