Money's Best Autos of 2023, From Sports Cars to SUVs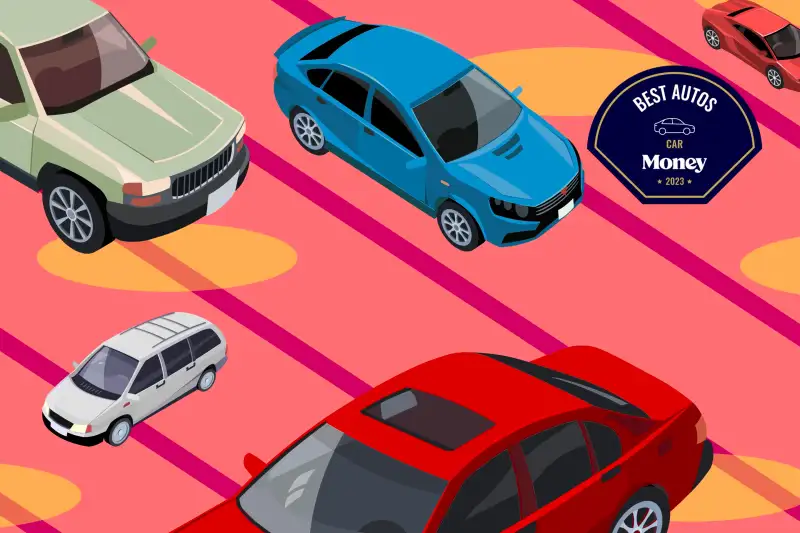 Shopping for a car? Your choices have never been more diverse. New vehicle categories are hitting the market even as the old ones remain — albeit with a declining number of models for some fading formats (think minivans, convertibles and big sedans).
Leading the additions are more shapes and sizes than ever of sport-utility vehicles, by far the biggest-selling car type in the U.S. And electric power — whether from batteries or a hybrid of gas and electrical energy — is zapping more areas of the market, creating such once-unthinkable options as battery-powered pickup trucks.
Award-winning automotive writer Jaclyn Trop had no trouble, then, in coming up with more than 100 recommended vehicles in the 25 categories listed below. Even so, not every car type is represented. We skipped convertibles, judging them to be a bit too specialized. For luxury vehicles and sports cars, we skipped Bentleys, Lamborghinis and their ilk to focus on affordable choices — and found satisfying picks at surprisingly low prices.
Appropriate to Money's mission, value was a key consideration for choosing the best cars. So, of course, were their respective features and specifications, especially those related to safety. Finally, Jaclyn — who spends her life at the wheels of new vehicles — applied her experience in driving all of the cars. The observations from those test drives add depth and insight to make the recommendations all the more useful.
We list our top value in each category first, followed by the other picks in alphabetical order. Click on the category name for reviews of the vehicles.
Table of Contents
Best SUVs
Best Sedans and Hatchbacks
Best Pickup Trucks
Best Sports Cars
Best Minivans
How We Chose the Best Autos
The Best Sport-Utility Vehicles (SUVs)
Representing around half of all vehicles sold, the SUV has become America's leading family car. The vehicles now come in a panoply of sizes and power sources. Some models still retain the attributes that put the S (for "sport") into SUV, including all-wheel drive, high ground clearance and powerful V8 engines.
Nissan Kicks Best Value
Buick Encore GX
Hyundai Kona
Mazda CX-30
Volkswagen Taos
Kia Soul Best Value
Ford Bronco Sport
Honda Passport
Subaru Forester
Toyota RAV4
Kia Sportage Best Value
Ford Escape
Hyundai Tucson
Mazda CX-5
Nissan Rogue
Hyundai Santa Fe Best Value
Buick Enclave
Chevrolet Traverse
Honda Pilot
Jeep Grand Cherokee
Kia Telluride Best Value
Chevrolet Suburban
Hyundai Palisade
Jeep Wagoneer
Mazda CX-9
Chevrolet Tahoe Best Value
Ford Expedition
GMC Yukon
Nissan Armada
Toyota Sequoia
BMW X1 Best Value
Audi Q5
Genesis GV70
Mercedes-Benz GLC
Volvo XC60
Kia Sportage Hybrid Best Value
Honda CRV Hybrid EX
Hyundai Santa Fe Hybrid
Kia Sorento Hybrid
Toyota RAV4 Hybrid
Kia Niro Best Value
Ford Mustang Mach-E
Kia EV6
Toyota bZ4X
Volkswagen iD.4
Kia Niro Hybrid Best Value
Ford Escape Hybrid
Kia Sorento Plug-In Hybrid
Mitsubishi Outlander PHEV
Toyota RAV4 Prime
The Best Sedans and Hatchbacks
Edged out by the various flavors of SUV, sedans and hatchbacks occupy a lot less of the road than they once did. An ample selection remains, though, including choices for those who seek a luxurious ride or a reduced environmental impact.
Mitsubishi Mirage Best Value
Kia Rio
MINI Hardtop
Nissan Versa
Kia Forte Best Value
MINI Clubman Cooper S
Volkswagen GTI
Hyundai Elantra Best Value
Acura Integra
Honda Civic
Mazda Mazda3
Toyota Corolla
Kia K5 Best Value
Chevrolet Malibu
Honda Accord
Hyundai Sonata
Toyota Camry
Dodge Charger Best Value
Chrysler 300
Nissan Maxima
Toyota Crown
Volkswagen Arteon
BMW i7 Best Value
Audi e-tron GT
Lucid Air
Mercedes-Benz EQS
Porsche Taycan
Genesis G70 Best Value
Audi A5
Genesis G80
Kia Stinger
Mercedes-Benz C300
Toyota Corolla Hybrid Best Value
Toyota Prius Hybrid
Honda Accord Hybrid
Hyundai Elantra Hybrid
Toyota Camry Hybrid
Toyota Prius Prime Best Value
Volvo S60 Recharge
BMW 530e
BMW 330e
Chevrolet Bolt Best Value
BMW i4
Nissan Leaf
Polestar 2
Tesla Model 3
The Best Pickup Trucks
Though this vehicle class has traditionally been prized for utility and ruggedness, the pickup truck now offers entries that are plusher and more planet-friendly.
Ford Maverick Best Value
Chevrolet Colorado
GMC Canyon
Honda Ridgeline
Toyota Tacoma
Ford F-150 Best Value
Toyota Tundra
Ram 1500
Chevrolet Silverado
GMC Sierra 1500
Ford F-150 Lightning Best Value
Rivian R1T
GMC Hummer EV
The Best Sports Cars
The fanciest nameplates in this class come with price tags that rival those for homes in many places. We passed over the fancy brands in search of vehicles that delivered speed and style for less – and found five affordable sports cars:
Toyota GR86 Best Value
Chevrolet Camaro
Dodge Challenger
Nissan Z
Subaru BRZ
The Best Minivans
The once-ubiquitous minivan arguably tops the list of America's most endangered vehicles. But these people-and-cargo carriers can cost less than an SUV with similar capacity. Here are our picks for the best minivans:
Kia Carnival Best Value
Chrysler Pacifica
Honda Odyssey
Toyota Sienna
How We Chose the Best Autos
We picked the recommended cars through a step-by-step process that involved writer Jaclyn Trop combining data analysis and personal insights. Key distinctions were assigned to the finalists — which numbered between three to five, depending on the category — with accolades typically awarded for best value, best for features, best handling, best for safety and best for technological sophistication. Here's more on our methodology.